SA8000 CERTIFICATION – SOCIAL ACCOUNTABILITY
SA8000 Certification is a universal accreditation standard that urges associations to create, keep up and apply socially satisfactory practices in the working environment. It was made in 1989 by Social Accountability International (SAI), a subsidiary of the Council on Economic Priorities, and is seen as the most all around acknowledged autonomous working environment standard. It tends to be connected to any organization, of any size, around the world.
SA8000 Certification tends to issues including constrained and kid work, word related well-being and security, opportunity of affiliation and aggregate bartering, segregation, disciplinary works on, working hours, remuneration, and the board frameworks.
Just as setting working environment guidelines around the world, SA8000 likewise grasps existing worldwide understandings, including shows from the International Labor Organization, the Universal Declaration on Human Rights and the United Nations.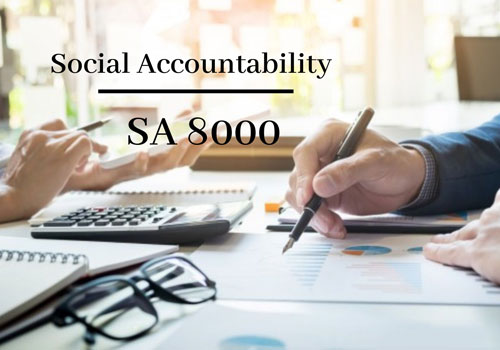 Embracing SA8000 Certification implies an association must consider the social effect of their tasks notwithstanding the conditions under which their workers, accomplices and providers work. It tends to be connected to any organization, of any size, around the world. Confirming your association against SA8000 with a SIS review will enable you to create and improve social responsibility over your activities. Working with our accomplished inspectors to execute the most internationally acknowledged work environment standard exhibits social responsibility when offering for contracts and growing your association.
Advantages OF SA8000 CERTIFICATION STANDARD :
Demonstrates your duty to social responsibility and to treating your workers morally and in consistence with worldwide norms
Improves the administration and execution of your store network
Enables you to guarantee consistence with worldwide guidelines and decrease the danger of carelessness, open presentation and conceivable prosecution
Supports your corporate vision and fabricate and strengthen the reliability of your representatives, clients and partners
Empowers you to exhibit appropriate social responsibility when offering for universal contracts or growing locally to suit new business
Collaborating with SIS to accomplish accreditation prompts better performing procedures, expanding skilful ability, steady and agreeable supply chains and progressively supportable client connections, conveying productive upper hand.
Show your association's pledge to social responsibility by cooperating with SIS to accomplish SA8000 Certification.
Social Responsibility Requirements :
SA8000 Certification gives straightforward, quantifiable, certain models for confirming the presentation of organizations in nine basic regions:
Youngster work: Prohibits tyke work (under age 15 by and large). Ensured organizations should likewise assign assets for the instruction of kids who may lose positions because of this standard.
Constrained or obligatory work: Workers can't be required to give up their character papers or pay "stores" as a state of business.
Well being and security: Companies must satisfy essential guidelines for a sheltered and solid workplace, including drinkable water, bathroom offices, relevant security gear, and vital preparing.
Opportunity of association and ideal to aggregate haggling: Protects the privileges of laborers to shape and join worker's guilds and to deal by and large, without dread of backlashes.
Separation: No segregation based on race, rank, national birthplace, religion, incapacity, sex, sexual direction, organization enrollment, or political association.
Disciplinary practices: Forbids flogging, mental or physical pressure and verbal maltreatment of laborers.
Working hours: Provides for a most extreme 48-hour work week, with a base one free day out of every week, and a top of 12 hours additional time for every week compensated at a superior rate.
Compensation: Wages paid must fulfill all base legitimate guidelines and give adequate pay to fundamental needs, with probably some optional salary.
The board framework: Defines strategies for powerful administration execution and survey of SA8000 consistence, from assigning capable work force to keeping records, tending to concerns and taking restorative activities
SA8000 Certification Process :
An association looking for SA8000 Certification must apply to a SIS -authorize auditing firm (known as an Certification Body). Appraisal of consistence to the measures and codes SIS certifies are just accessible through SIS – licensed accreditation bodies.
When an association has executed any important enhancements to meet the prerequisites in the Standard, it can procure a SA8000 endorsement bearing witness to its consistence. Affirmation goes on for a long time, with a progression of required observation reviews all through the multi year term. Reconnaissance reviews comprise of progressing intermittent audit of the confirmed association's social administration framework to guarantee constant improvement in gathering the Standard. The SA8000 review procedure is directed as per the prerequisites found in SIS Procedure 200 and ISO 17021. Kindly visit the SIS archive library to survey the SA8000 review process necessities.
Keeping up and improving the frameworks set up to accomplish SA8000 Certification is a continuous procedure and substantive laborer investment can be the best way to guaranteeing unconditional change. The advantages of receiving SA8000 are critical and may incorporate improved staff confidence, increasingly solid business associations, upgraded aggressiveness, less staff turnover and better laborer chief correspondence.
The normal period of time for the confirmation procedure changes relying upon the status of the office to meet the prerequisites of SA8000. The review procedure is a 2-arrange review process – the primary stage is for the most part for perusing and arranging the accreditation review and for the Certification Body to further comprehend the association. The second phase of the review is a target appraisal of consistence rehearses against the SA8000 necessities.
On the off chance that restorative activities are issued because of the review, extra time will be expected to set up extra methodology to address those procedures that need revising. These remedial activities should be confirmed as viable. Real remedial activities must be cleared with proof set up before accreditation might be allowed. In this manner, the measure of time required between applying to be ensured and getting to be guaranteed could shift between a while and quite a long while. A considerable lot of the offices that become SA8000 ensured do likewise have different ISO confirmations. This implies these offices have officially executed an administration framework, which is likewise essential in the usage of SA8000.
This SA8000 Certification gives a report of good practice to buyers, purchasers, and different organizations and is planned to be a critical achievement in improving working environment conditions. When affirmed, associations can show their authentication. Be that as it may, singular items can't be named as the accreditation speaks to a work environment process, not an product certification.