SRACO Company Consulting is Certified as ISO 41001:2018 Compliant by SIS Certifications Pvt. Ltd.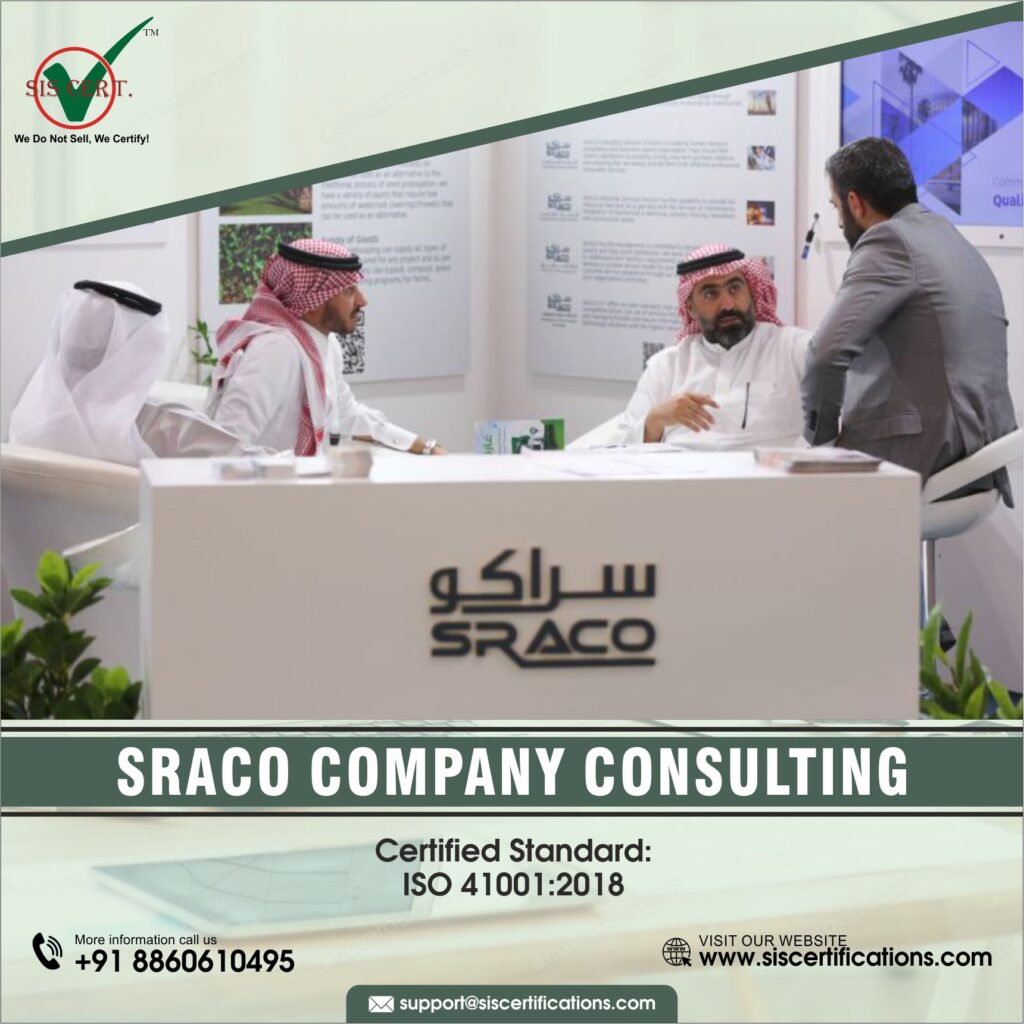 The Heartiest congratulations to SRACO Company Consulting for successfully achieving IAS-accredited ISO 41001:2018 for their services. Now they have manifested assurance towards Facility Management Systems (FMS).
The scope of SRACO Company Consulting encompasses Construction, Operations, Maintenance, Facility Management, Asset and Energy Conservation, Regeneration and Disposal of Assets, Facilities and Decisions relating to Energy Management and Sources.
The standard offers a framework for facility management, allowing the SRACO Company Consulting to increase operational effectiveness. It aids in locating problem areas and putting remedial measures into place to increase the effectiveness of the facility management process. Implementing ISO 41001 contributes to the standardisation of the facility management process, which improves service quality. It makes sure that the services are constant and up to par, which makes the customers satisfied. The standard offers a standardised method for managing facilities, allowing the business to pinpoint areas where expenses may be cut. This helps to cut expenses and optimise the facilities management process.
As per our Lead Auditor, the organization demonstrated a strong commitment to maintaining and continuously improving its management system. The audit revealed a well-documented and organized system that supports efficient operations. Their dedication to compliance was evident throughout the audit.
Various other ISO standards can be applied to enhance credibility. These include ISO 22301 for Business Continuity Management, ISO 37001 for Anti-bribery management systems, ISO 45001 for Occupational Health and Safety Management Systems, ISO 50001 for Energy Management Systems and many others.
SIS CERTIFICATIONS certified the "SRACO Company Consulting", is accredited by both International Accreditation Services (IAS-IAF) and International Organization for Accreditation Services (IOAS). Several certifications, including and not limited to ISO 9001, ISO 14001, ISO 22301, ISO 21001, ISO 37001, ISO 41001, ISO 45001, ISO 50001, ISO 13485, ISO 22000, HACCP, ISO 27001, IATF 16949, CE, RoHS, KOSHER, HALAL, Product Certifications, and training comes under the aegis of its services.