ISO 22301 Certification
SECURITY AND RESILIENCE – BUSINESS CONTINUITY MANAGEMENT SYSTEM
Business interruption is a key worry for some heads. Digital assaults, IT breakdowns, flooding, fire, pandemic infection flare-ups, and significant supply chain issues are instances of episodes that may present considerable dangers to the running of any business. The business progression management system standard.ISO 22301 gives globally accepted procedures to enable your company to react to and recuperate from disturbances viably. The ISO 22301 is implemented to fulfill requirements in accordance with the objective of improvement to make the system effective and more functional. It also covers the entire BCM life-cycle and is applicable to all or any sectors of companies and industry at large.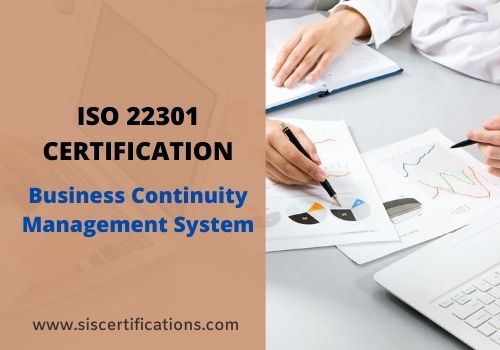 WHO CAN IMPLEMENT THIS STANDARD?
Any kind of organization large or small, for-profit or non-profit, private or public ,can opt for ISO 22301. The standard is represented in such a way that it is applicable to any size or type of organization.
FOR WHAT REASON IS BUSINESS CONTINUITY SIGNIFICANT FOR YOU?
Being confirmed against ISO 22301 gives you the intensity of giving a superior degree of service to your investors regardless of the conditions. ISO 22301 recognizes your capacity to make sure about information reinforcements, limit significant misfortunes, and boost the recuperation time of critical functions. With ISO 22301, you will improve your insight and abilities and you will have the option to prompt your organizations on best practices in the administration of business continuity. Given that, you will improve your capacity to break down and settle on choices with regards to business continuity management.
BENEFITS
Ensure resources, turnover, and benefits: Effective business continuity management (BCM) empowers organizations to secure their pay steam following an episode or calamity while diminishing the danger of further misfortunes.
Guarantee continuity of business tasks: A BCMS keeps up an organization's administration levels to its clients. It likewise encourages business pioneers to survey the possible effects of an operational interruption, settle on the correct choices rapidly, send a viable reaction, and limit the general effect.
Increment the upper hand and upgrade corporate reputation: Organizations with an ISO 22301-consistent BCMS can enhance clients' trust in any company's ability to react to the incidents.
Meet legal and administrative prerequisites: We suggest ISO 22301 consistency as a valuable instrument for actualizing an all-around characterized occurrence reaction and detailing structure, so organizations can show they are finding a way to agree to regulatory requirements.
Acquire an autonomous evaluation of your security pose: Accredited certifications includes normal surveys and interior reviews that give a specialist conclusion regarding whether the BCMS is working appropriately and gives the degree of security expected to ensure the organization's items and administrations.
Recognize and oversee current and future dangers to your business
Adopt a proactive strategy for limiting the effect of unusual incidents
Keep basic capacities fully operational during times of emergencies
Limit personal time during episodes and improve recuperation time
Exhibit versatility to clients, providers and for delicate solicitations