The Lead Auditor Training enables you to develop the necessary expertise to perform an effective management system audit by registering yourself into widely recognized audit procedures, principles, and techniques.
What is the ISO Lead Auditor Training about?
The Lead Auditor training provides comprehensive knowledge about the relevant ISO standards. This training can be undertaken in both the concerned organization as well as certification bodies.
Objectives of ISO 27001:2013 Lead Auditor Training
The goal of ISO 27001:2013 Lead Auditor Certification is to shape individuals in such a way that they can assist a company in adopting, creating, maintaining, and administering the ISO/IEC 27001-based Information Security Management System (ISMS). This course is accredited by IRCA. Training establishes professional responsibilities in the design and execution of the organization's future sustainable development, using knowledge for continuous improvement. Professional development requires sound, informed, and skilled professionals.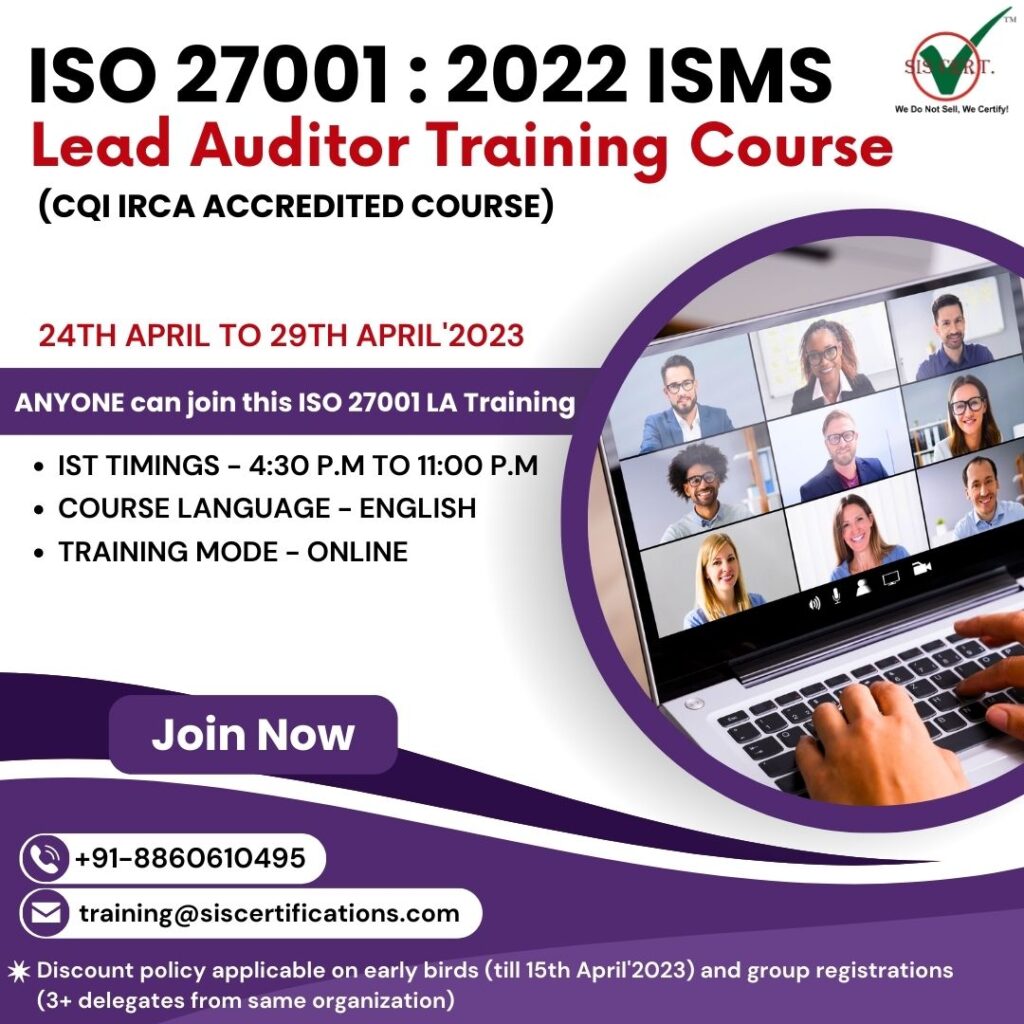 It's a six-day training course to upgrade your skills and enhance your knowledge of Information Security Management Systems(ISMS).
Batch Begins from 24th April'2023 to 29th April'2023
Feel free to join this ISO 27001:2022 ISMS – Lead Auditor Training Course (IRCA Certified Course)
Timings – 4:30 P.M. to 11:00 P.M. ( IST )
Course Language – English
Event Mode – Online
Event Status – Active & Confirmed
Phone No – +91- 8860610495
Email id – [email protected]
NOTES
1. Discount policy applicable on early birds (till 15th April'2023) and group registrations (3+ delegates from same organization)
Significance of ISO 27001 for Industries:-
The ISO 27001 standard is an internationally accepted best practice for information security management. It provides organizations with a set of guidelines and controls to ensure the confidentiality, integrity, and availability of their information. In today's world, where data breaches are becoming increasingly common, organizations need to be extra vigilant when it comes to protecting their sensitive data. The ISO 27001 standard helps them do just that by providing guidelines that they can use to evaluate their current security posture and identify any potential weaknesses that could lead to a breach. It also helps them create a comprehensive strategy for managing and protecting their data going forward. As such, organizations in all industries need to understand the significance of ISO 27001 to protect themselves from cyber threats.
How is the ISO Lead Auditor Training helpful?
ISO Lead Auditor training provides guidance to the candidate to obtain knowledge and acquire skills to perform the audits as per the relevant ISO standards. This training also helps the applicant to strengthen their non-theoretical knowledge of auditing skills and become a globally recognized auditor.
Structure of the ISO Lead Auditor Training:
Scheme for lead auditor registration
Overview of the ISO Standard framework
Definition/types/principles of audit
Preparation & Planning for audit
Tools & Techniques for audit
Performance of the audit
Recording & Reporting Non-Conformities for audit
Report preparation for audit
Corrective Action & audit follow-up
Surveillance audits periodically
Continuous Assessment exercises & feedback for audit,
Syndicate & role-play exercises & feedback for audit
Written Examination for audit
At the very end of the training, the applicants shall get the lead auditor training certificate which will be universally traceable.
To know more about SIS Certifications – Click Here
Looking for ISO Certification or Training Services?
Join one of the India's leading ISO certification bodies for a straightforward and cost-effective route to ISO Certifications.
LATEST NEWS & BLOGS
ISO 41001 Certification outlines the requirements for Facility Management System (FMS) standard. It provides a framework for organizations to integrate...