Align Technology Morocco (SARLAU) achieved ISO 13485:2016 under the guidance of SIS Certifications Pvt. Ltd.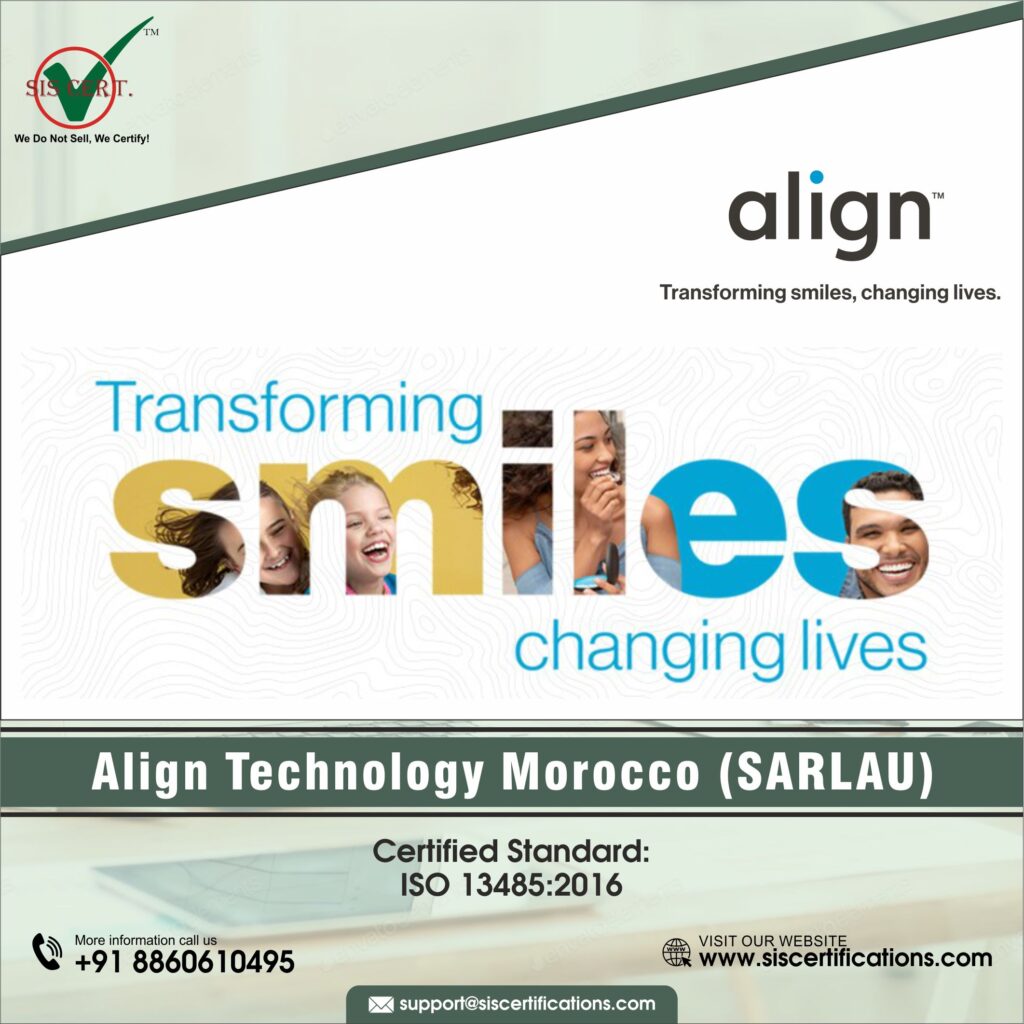 The Heartiest congratulations to ALIGN TECHNOLOGY MOROCCO (SARLAU) for successfully achieving IOAS-accredited ISO 13485:2016 for them. Now they have manifested assurance towards Quality Management for Medical Devices.
The scope of ALIGN TECHNOLOGY MOROCCO (SARLAU) covers the Importation, Distribution and Storage of Dental Medical Devices.
ISO 13485:2016 is compliant with several nations' regulatory standards, notably the European Union's Medical Device Regulation (MDR). The standard may be used by Align Technology Morocco (SARLAU) to certify conformity with certain requirements, allowing for easier market access and regulatory clearances. The standard encourages an organised method of quality management throughout all organisational operations. As a result, all processes involved in the importation, distribution, and storage of dental medical equipment are controlled, uniform, and uphold strict quality requirements.
Risk management is highly prioritised by ISO 13485. Since patient safety is of the utmost importance when it comes to medical equipment, this is vital. Align Technology Morocco (SARLAU) has the ability to recognise hazards that could be connected to its procedures and equipment and put mitigation measures in place. The ISO 13485 certification is widely regarded as a symbol of quality and compliance by clients, partners, and regulatory organisations. Align Technology Morocco (SARLAU) may get a competitive edge in the market by being certified.
According to our Lead Auditor Mr. T.K Sinha, the company showed great dedication to upholding and continuously enhancing its management system. The audit found a system that facilitates organised, well-documented operations. Throughout the assessment, their commitment to compliance was clear.
Various other ISO standards can be applied to enhance credibility. These include ISO 22301 for Business Continuity Management, ISO 14001 for Environment Management Systems, ISO 45001 for Occupational Health and Safety Management Systems, and many others.
SIS CERTIFICATIONS, which certified the "ALIGN TECHNOLOGY MOROCCO (SARLAU)", is accredited by both International Accreditation Services (IAS-IAF) and International Organization for Accreditation Services (IOAS). Several certifications, including and not limited to ISO 9001, ISO 14001, ISO 22301, ISO 21001, ISO 37001, ISO 41001, ISO 45001, ISO 50001, ISO 13485, ISO 22000, HACCP, ISO 27001, IATF 16949, CE, RoHS, KOSHER, HALAL, Product Certifications, and training comes under the aegis of its services.