SIS Certifications awarded ISO 9001:2015 & ISO 45001:2018 to North Of Advance Projects in Oman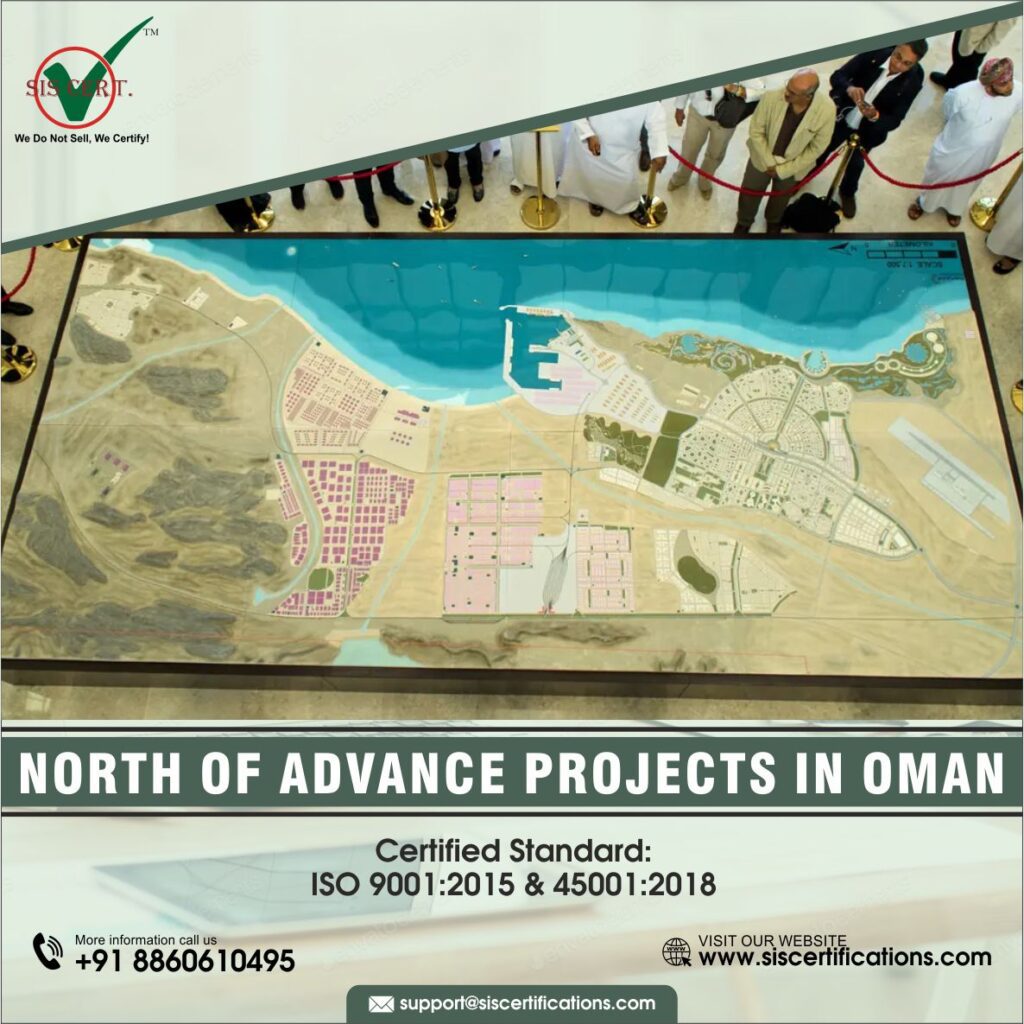 Congratulations to North of Advacne Projects for successfully achieving IAS-accredited ISO 9001:2015 & ISO 45001:2018 for their Fabrication and Storage Facilities.  International industrial and commercial standards are upheld by the ISO (International Standards Organisation), an independent, global organization. The ISO 9001:2015 standard is a global honour bestowed upon businesses that uphold an effective and efficient quality management system.
The ISO 45001:2018 standard outlines the specifications for an occupational health and safety (OH&S) management system and provides instructions for its use, enabling organizations to provide safe and healthy workplaces by proactively enhancing their OH&S performance and preventing work-related injury and illness.
The scope covers Procurement, Porta Cabin Fabrication and Installation, Structural Fabrication, Construction, and Maintenance of Civil, MEP works Including Concrete Precast Fabrication and Storage Facilities.
Achieving ISO 9001:2015 & 45001:2018 demonstrates their commitment to producing high-quality products and delivering consistent service to all their clients.
By meeting 9001:2015 requirements,
Manages risks that threaten processes and customer satisfaction
Controls process critical to customer satisfaction
Monitors and measures processes and key process indicators
Continually improves, thereby holding off competition and becoming more successful
By meeting ISO 45001:2018 requirements,
Manages risks that could cause injury and/or illness to employees and other interested parties
Controls process critical to preventing illness and injury
Monitors and measures processes and key process indicators
Continually improves, thereby preventing injury / illness, improving health / safety performance, potentially reducing costs, and improving public reputation.
Our lead auditor recalled the certification experience as "highly confident, positive, and resilient." He continues, "Conducting an Audit of their Organisation was greatly admirable, collaborative, and extremely informative." And, with their assistance, we were able to complete the certification procedure on time."
SIS Certifications, which certified the NORTH OF ADVANCE PROJECTS. is accredited by both International Accreditation Services (IAS-IAF) and International Organization for Accreditation Services (IOAS). Several certifications, including and not limited to  ISO 9001 certifications, ISO 14001 certifications, ISO 27001 certifications,  ISO 21001 certifications, ISO 37001 certifications, ISO 41001 certifications, ISO 27701 certifications, ISO 45001 certifications, ISO 50001 certifications, ISO 22000 certifications, ISO 22301 certifications, ISO 13485 certifications, HACCP,  IATF 16949, GDPR, SOC, CE, RoHS, KOSHER, HALAL, Product certifications, and training comes under the aegis of its services.