SIS Certifications awarded ISO 9001:2015 and ISO 27001:2013 to Paradiso Software (P) Limited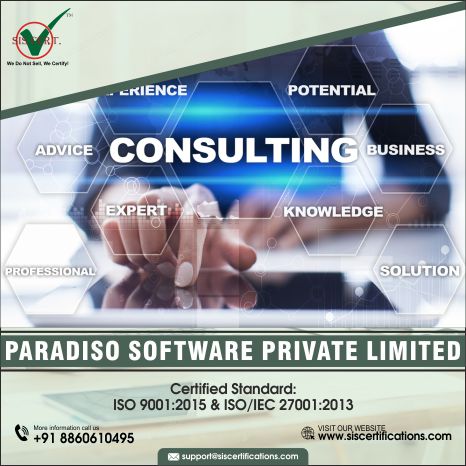 Congratulations to "Paradiso Software Private Limited" for successfully achieving the IAS-accredited ISO 9001:2015 certification to provide quality products and services that meet customer and regulatory requirements, and ISO 27001:2013 certification for better information security.
The scope of the organization covers quality management systems and information security management.
"Paradiso Software Private Limited" is certified to ISO 9001:2015 certifications, which ensures its effectiveness in maintaining the quality of the services provided to the clients. This will bring confidence among the community that "Paradiso Software (P) Limited" assures the best quality services to their employees and IT services to the clients. ISO ISO 9001:2015 certifications are proof of compliance with all the requirements that are aimed at assisting organizations. An Information Security Management System (ISMS) is explicitly specified by the ISO/IEC 27001 standard. This ISMS is a governance system that comprises a structured suite of activities with which to manage information risks. An ISO/IEC 27001-adopting organization can pick from the information security controls provided in the menu, as well as add additional controls from the la carte list, to address the unique information risks faced by the organization.
Our lead auditor, Mr. Ajayender Vats, and auditor Mr. Shivam Gupta share views about the certification experience as, "Confident, incredibly harmonic, and professional to the highest degree." As per them, "We were able to finish the certification procedure in a timely way because of their company's exceptional and persistent audit approach, as well as our mutual understanding of the value of the audit."
There are various other ISO standards that can be applied to enhance credibility. These include ISO 22301 for Business Continuity Management, ISO 41001 for Facility Management Systems, and many others.
SIS CERTIFICATIONS, which certified "Paradiso Software (P) Limited (Pune), India" for strengthening their information security, is accredited by both International Accreditation Services (IAS–IAF) and International Organization for Accreditation Services (IOAS). Several certifications, including and not limited to ISO 9001, ISO 14001, ISO 22301, ISO 21001, ISO 37001, ISO 41001, ISO 45001, ISO 50001, ISO 13485, ISO 22000, HACCP, ISO 27001, IATF 16949, CE, RoHS, KOSHER, HALAL, Product Certifications, and training comes under the aegis of its services.