SIS Certifications Awarded ISO 9001:2015 Certificate To Tamil Nadu House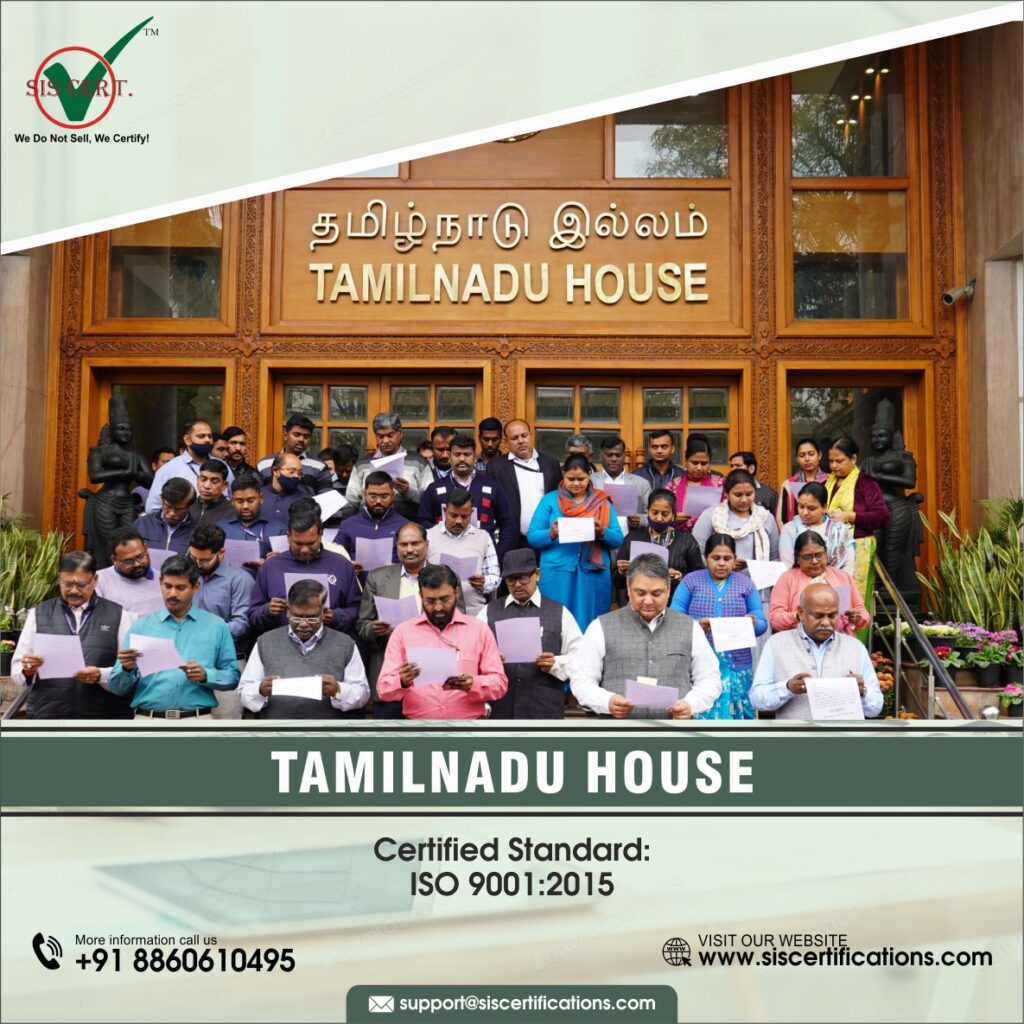 Congratulations to "Tamil Nadu House" for successfully achieving IAS-accredited ISO 9001:2015 certification for their prestigious Guest House of the Government of Tamil Nadu in New Delhi. With this accomplishment, they have manifested assurance towards Quality Management System (QMS).
The scope of this management system involves boarding, lodging, and transport facilities provided to the State Guests, Ministers, People's Representatives, and Government Officials from Tamil Nadu. It liaises with various Ministries of the Government of India to follow up on the proposals of the Government of Tamil Nadu. Moreover, their scope also includes the propagation of the Tamil language, art & culture.
 ISO 9001:2015 certification, ensures the efficiency of Tamil Nadu House, in keeping the quality of their products and services intact, by complying with the standard's requirements. This will bring confidence among the community that the "Tamil Nadu House" assures the best quality products and services to their employees as well as clients.
ISO 9001:2015 is proof of compliance to all the legislations that are aimed to assist the organizations in developing their own Quality Management Systems. One of the expert auditors of the certification body, Mr. T.K Sinha recalls the certification experience as, "smooth, cooperative, and extremely professional". He says, "The audit of their organization has been highly praiseworthy and flexible. Also, with mutual cooperation, we could complete the certification process within the given timeframe." 
There are various other ISO standards that can be applied for its enhanced credibility. These include ISO 14001 for environmental management, ISO 22000 for food safety management, ISO 50001 for energy management, and so on.
SIS Certifications, which certified the Tamil Nadu House for their prestigious Guest House of the Government of Tamil Nadu in New Delhi, is accredited by both International Accreditation Services (IAS-IAF) and International Organization for Accreditation Services (IOAS). Several certifications, including and not limited to ISO 9001, ISO 14001, ISO 22301, ISO 21001, ISO 37001, ISO 41001, ISO 45001, ISO 50001, ISO 13485, ISO 22000, HACCP, ISO 27001, IATF 16949, CE, RoHS, KOSHER, HALAL, Product Certifications, and training comes under the aegis of its services.