BAPAL Blagoj DOOEL achieved ISO 50001:2018 from SIS Certifications Pvt. Ltd.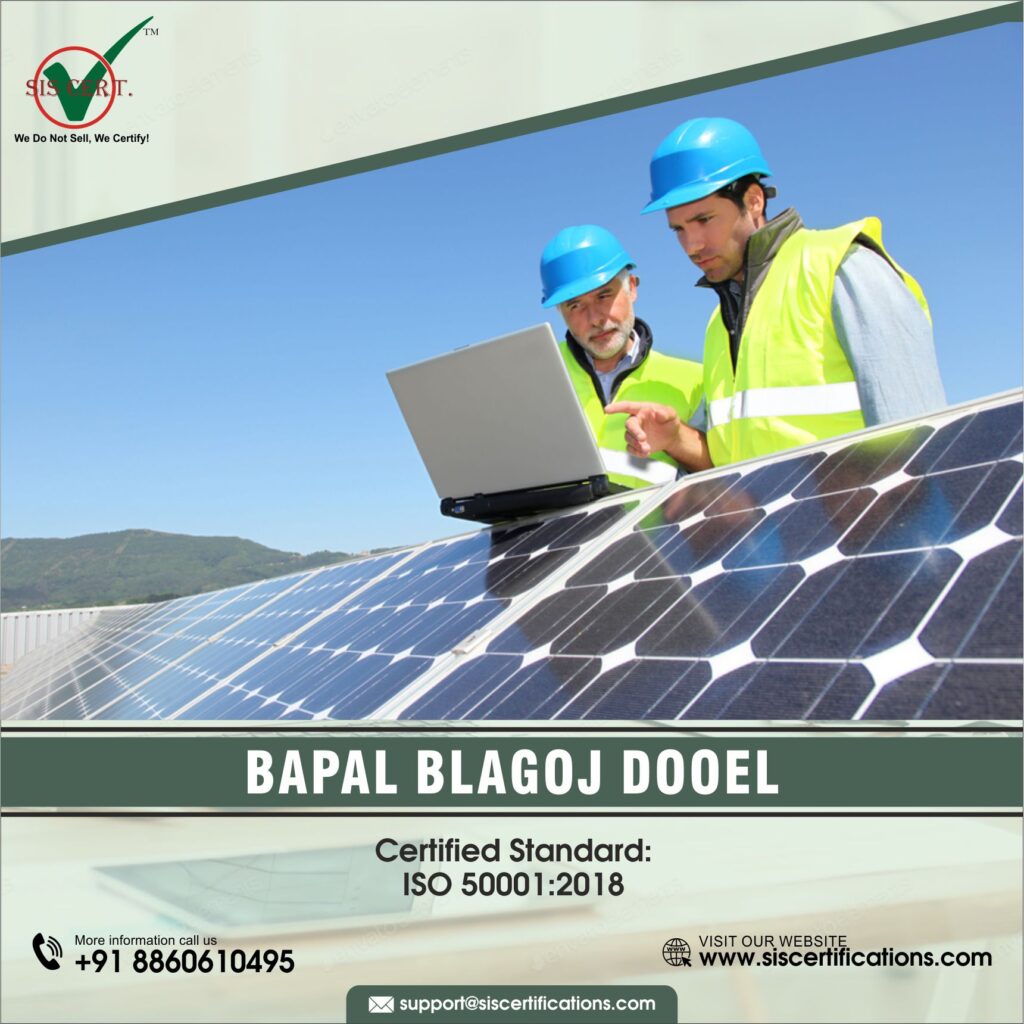 Congratulations to BAPAL Blagoj DOOEL for successfully achieving IAS-accredited ISO 50001:2018 for them. At this point, they have established assurance towards the Energy Management Systems.
The scope of BAPAL Blagoj DOOEL covers the maintenance of Hygiene in Business Premises; Cleaning of Residential, Business and Industrial Premises and Residences; Washing Curtains and Carpets; Machine Cleaning of Hard and Soft Floors; Mountaineering Cleaning of Accessible and Inaccessible Glass Facades; Easy Housekeeping Repairs.
Implementing ISO 50001 can help organisations maximise energy utilisation while minimising energy waste. By putting energy-saving efforts in place and constantly monitoring energy consumption, BAPAL Blagoj DOOEL can identify inefficient areas and act to reduce energy expenses. These savings on expenses could increase the company's profitability. Environmental sustainability objectives are met by ISO 50001 by reducing energy use and related greenhouse gas emissions.
BAPAL Blagoj DOOEL can increase energy performance to save the environment and demonstrate its commitment to sustainability. Concerning environmental responsibility, this can help the firm meet stakeholder expectations and enhance its brand.
The achievement of ISO 50001 certification by STANDARD SH.P.K. demonstrates its commitment to environmental protection and energy efficiency. It can strengthen the brand of the business, distinguish it from the competition, and entice environmentally conscious clients. The BAPAL Blagoj DOOEL 's ISO 50001 accreditation, which gives it a competitive edge in the market, is a clear indication of its commitment to sustainability.
The organisation has shown a strong commitment to maintaining and improving its management system, according to our Lead Auditor. An ordered, well-documented operating system was discovered during the audit. Their dedication to compliance was evident throughout the inspection.
Various other ISO standards can be applied to enhance credibility. These include ISO 22301 for Business Continuity Management, ISO 14001 for Environment Management Systems, ISO 45001 for Occupational Health and Safety Management Systems, and many others.
SIS CERTIFICATIONS, which certified the "BAPAL Blagoj DOOEL", is accredited by both International Accreditation Services (IAS-IAF) and International Organization for Accreditation Services (IOAS). Several certifications, including and not limited to  ISO 9001 certifications, ISO 14001 certifications, ISO 27001 certifications,  ISO 21001 certifications, ISO 37001 certifications, ISO 41001 certifications, ISO 27701 certifications, ISO 45001 certifications, ISO 50001 certifications, ISO 22000 certifications, ISO 22301 certifications, ISO 13485 certifications, HACCP,  IATF 16949, GDPR, SOC, CE, RoHS, KOSHER, HALAL, Product certifications, and training comes under the aegis of its services.