BEE HIVE HUMAN RESOURCES CONSULTANCY obtained ISO 37001:2016 from SIS Certifications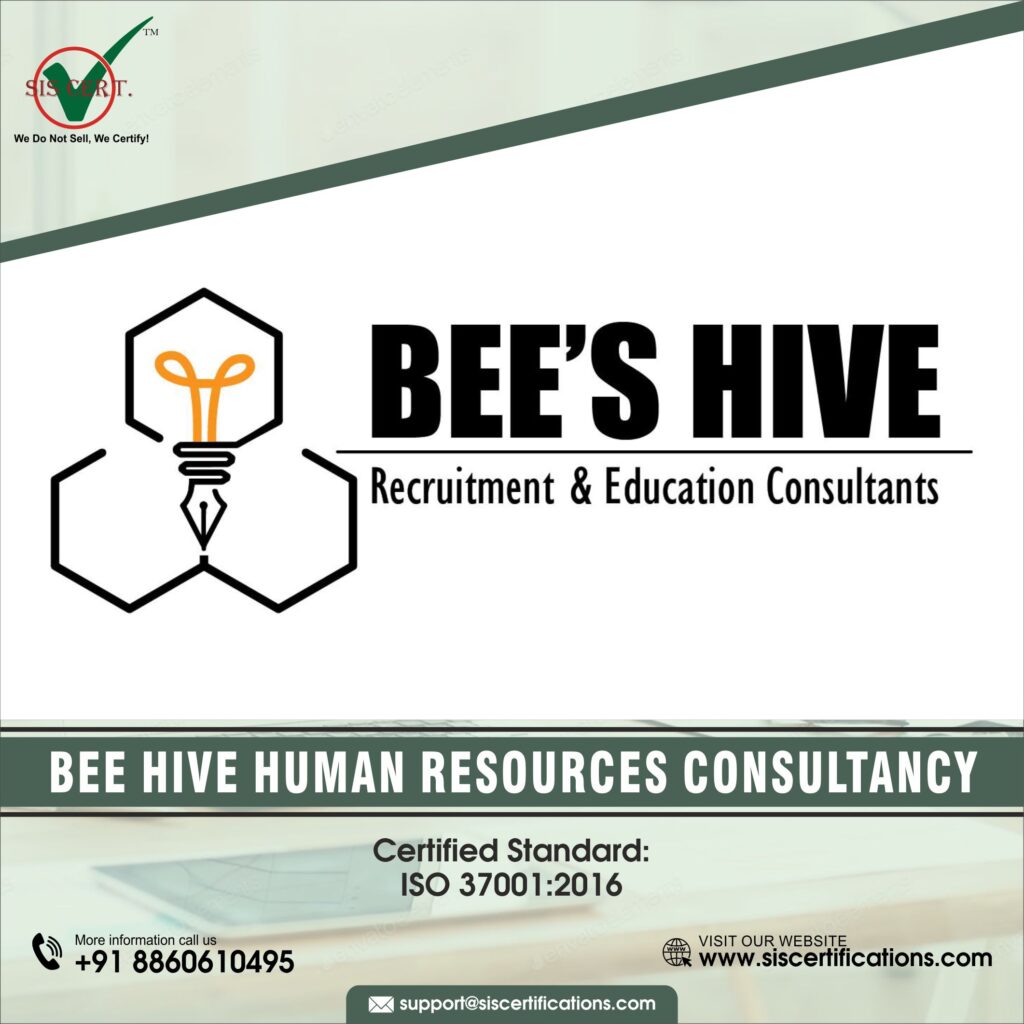 Heartiest congratulations to BEE HIVE HUMAN RESOURCES CONSULTANCY for successfully getting certified to IAS-accredited ISO 37001:2016. Now they have manifested assurance towards Anti-bribery Management Systems (ABMS).
The scope of this management encompasses Providing Human Resource Consultancy, Recruitment and Placement Services.
Adherence to ISO 37001 assures that BEE HIVE HUMAN RESOURCES CONSULTANCY conducts its human resource consulting services with transparency. This standard places a strong emphasis on ethical business practices. It creates a framework for discouraging corruption, fostering openness, and upholding the highest ethical standards.
Implementing ISO 37001 into practice aids in recognising and reducing the risks connected to bribery and corruption during the hiring and placement procedures. It offers an organised approach to risk management, lowering the possibility of legal troubles and damage to reputation. The standard promotes the establishment of effective anti-bribery procedures. This may result in more efficient internal business processes at BEE HIVE HUMAN RESOURCES CONSULTANCY.
The standard is widely accepted, which is advantageous if BEE HIVE HUMAN RESOURCES CONSULTANCY wishes to operate or develop its services abroad. It demonstrates a dedication to ethical conduct on an international level..
Our lead auditor shared his experience and recalled the procedure as challenging, process-oriented and transformative. He added the audit process was amazing with a lot of challenges. I want to thank the whole organisation for their consistent support. They were extremely welcoming and supported us throughout the certification process.
Various other ISO standards can be applied to enhance credibility. These include ISO 22301 for Business Continuity Management, ISO 27001 for Information Security Management Systems, ISO 45001 for Occupational Health and Safety Management Systems, and many others.
SIS CERTIFICATIONS certified the "BEE HIVE HUMAN RESOURCES CONSULTANCY" is accredited by both International Accreditation Services (IAS-IAF) and the International Organization for Accreditation Services (IOAS). Several certifications, including and not limited to ISO 22301 BCMS, ISO 37001 ABMS, ISO 41001 FMS, ISO 13485 MD-QMS, ISO 21001 EOMS, ISO 22000 FSMS, ISO 45001 OHSMS, ISO 9001 QMS, ISO 14001 EMS, ISMS ISO 27001, SOC, VAPT, CMMI Level 3, CMMI Level 5, GDPR, SOC 2 Type 2, CE, RoHS, KOSHER, HALAL, Product Certifications, and training comes under the aegis of its services.