SIS Certifications awarded Re-Certification of ISO 9001:2015 Certificate to CCI Transformer Pvt. Ltd.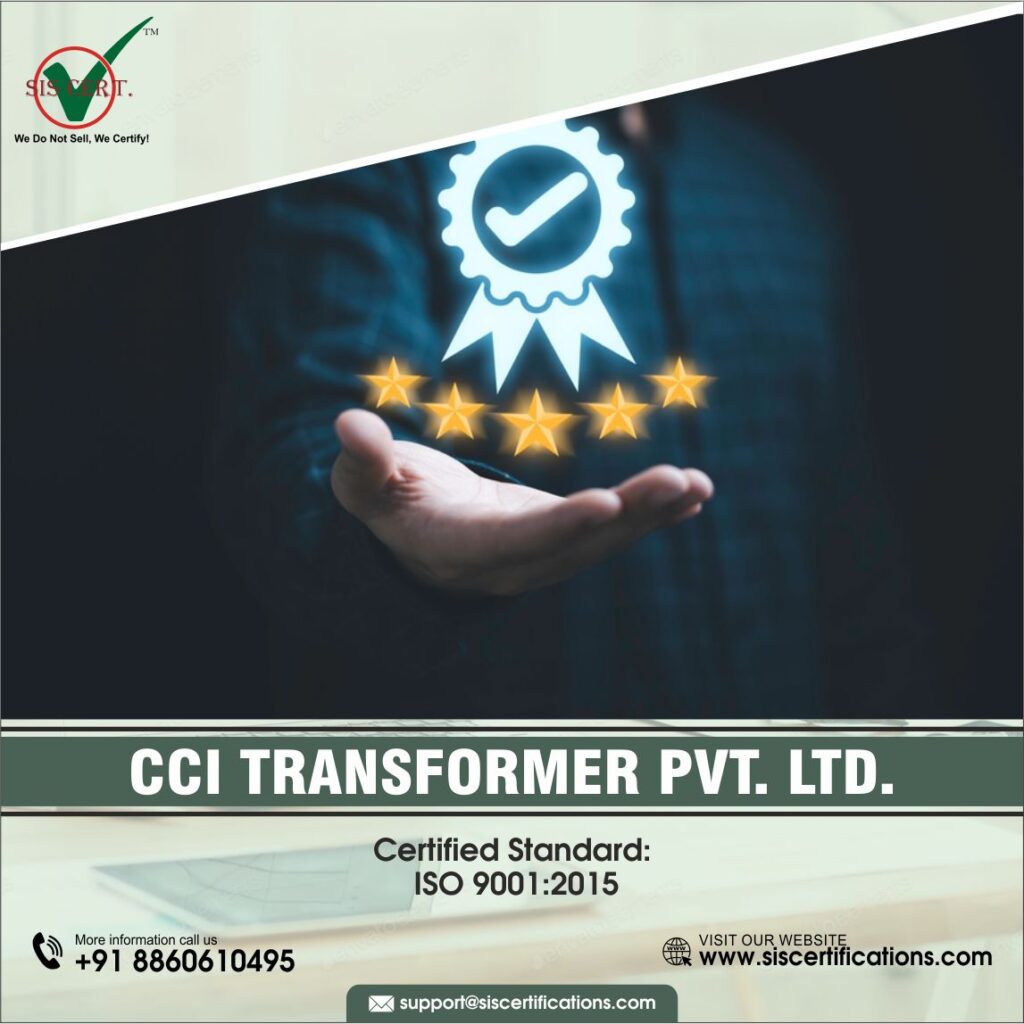 Congratulations to "CCI TRANSFORMER PVT. LTD." for successfully achieving IOAS-accredited Re-Certification of ISO 9001:2015 for the manufacture and repairs of Electrical Transformer. An ISO 9001:2015 QMS Certification manifests their commitment to Quality Management System (QMS).
The scope of this management system covers manufacturing and repairing of electrical transformer.
ISO 9001:2015 Re-Certification offers the following benefits as their ability to produce and deliver defect less products to their clients. It enhances the productivity and efficiency of their employees as it oversees the business process at every level to eliminate undesired results. It will create a better reputation of their organization and offers them a competitive edge.
ISO 9001:2015 is proof of compliance with all the legislation and helps organizations to develop their Quality Management Systems. It exhibits their expertise and boosts the confidence of customers as well as clients in the products and services offered by their organization. Our lead auditor Mr Praveen Kumar recalls the certification experience as "Highly professional and confident". He says, "Auditing their organization has been admirable and resilient. Also, through cooperation, we could successfully achieve the process of certification within the given timeframe."
There are various other ISO standards that can be applied to enhance credibility. These include ISO 22301 for Business Continuity Management, ISO 14001 for Environment Management System, ISO 45001 for Occupational Health and Safety Management System, and many others.
SIS CERTIFICATIONS, which certified the "CCI TRANSFORMER PVT. LTD" for manufacture and repairs of Electrical Transformer, is accredited by both International Accreditation Services (IAS-IAF) and International Organization for Accreditation Services (IOAS). Several certifications, including and not limited to  ISO 9001 certifications, ISO 14001 certifications, ISO 27001 certifications,  ISO 21001 certifications, ISO 37001 certifications, ISO 41001 certifications, ISO 27701 certifications, ISO 45001 certifications, ISO 50001 certifications, ISO 22000 certifications, ISO 22301 certifications, ISO 13485 certifications, HACCP,  IATF 16949, GDPR, SOC, CE, RoHS, KOSHER, HALAL, Product certifications, and training comes under the aegis of its services.