Horiba India Private Limited Nagpur achieved ISO 9001:2015, ISO 13485:2016 & CE Mark by SIS Certifications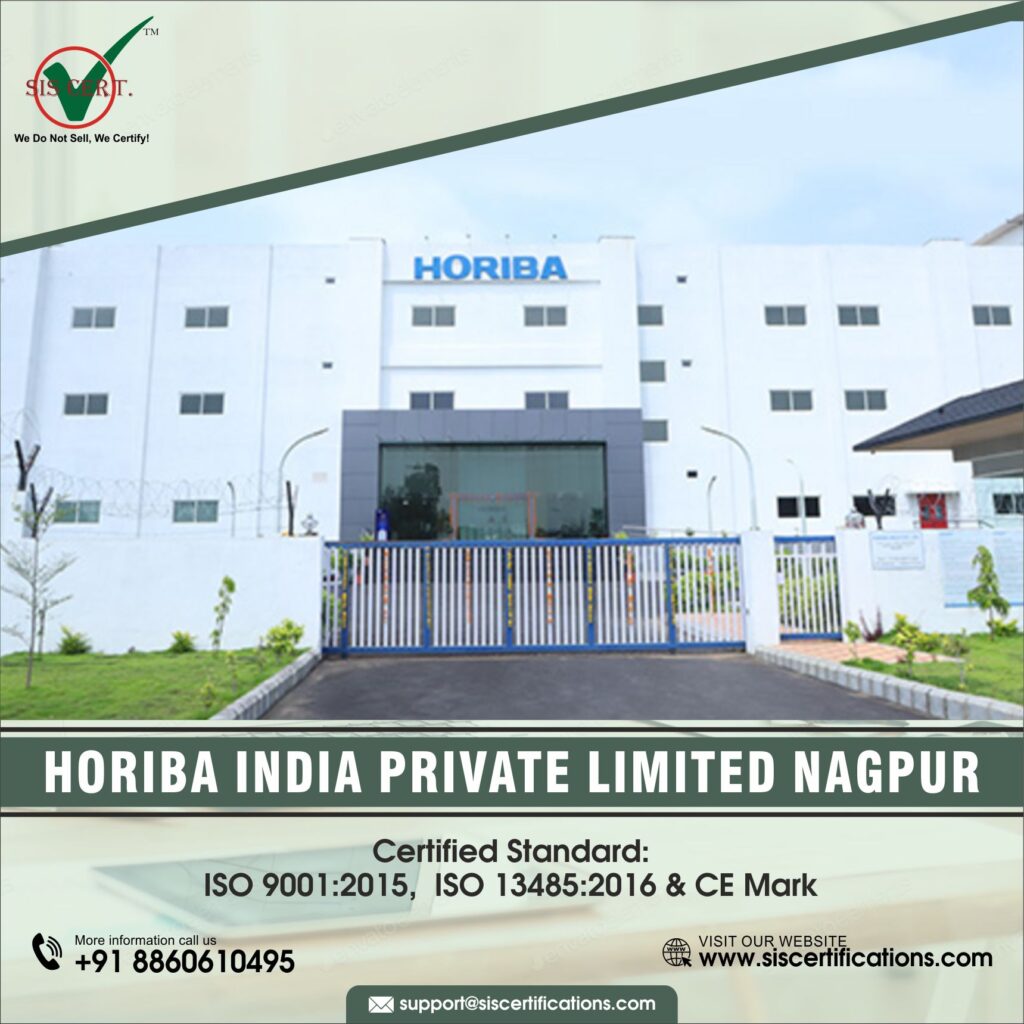 It gives immense pleasure to congratulate and announce that Horiba India Pvt Ltd Nagpur achieved ISO 9001:2015, ISO 13485:2016 & CE Mark for their wide range of products manufacturing.
The scope of this management includes ISO 9001:2015 – Manufacture and distribution of -Vitro Diagnostic Reagents ISO 13485:2016 – Manufacture, distribution, Installation and post-sale support of In-vitro diagnostic medical devices i.e., Clinical Chemistry Analyzer CE Mark – CE Compliance Certification for Semi-Automatic Analyzer.
The ISO 9001:2015 quality management system provides assurance that the client is getting a good quality product and service. It improves the company's reputation and increases consumers' and clients' trust in the company. It serves as a benchmark for all quality management systems and serves as evidence of an organization's adherence to regional, national, and global quality standards.
ISO 13485 assists them to show that they comply with medical device regulations and legal requirements, eliminating uncertainty for all stakeholders. It ensures the Consistent manufacture of medical devices that are safer, more dependable, and more effective. It provides assurance of manufacturing process stability and, as a result, consistent and high-quality services and goods get delivered to clients; A product that has the CE marking ensures that Horiba India Pvt Ltd has evaluated it and determined that it complies with EU safety, health, and environmental protection standards. Products made anywhere in the world and marketed in the EU must comply with it. Its sole objective is to promote free trade inside the European Economic Area.
Our lead auditor – "Mr C.P Sanduja supported by Mr Praveen Kumar" performed the certification process and the certification experience, according to them, was "competent and optimistic." Mr C.P. Sanduja says, "The audit process was compulsive with mutual cooperation and provided valuable insights into the effectiveness of their internal processes." I want to express my personal gratitude for believing in us".
There are various other ISO standards that can be applied to enhance credibility. These include ISO 22301 for Business Continuity Management, ISO 37001 Anti-bribery management systems, ISO 22000 Food safety management systems, and many others.
SIS CERTIFICATIONS, which certified the "HORIBA INDIA PRIVATE LIMITED" for their wide range of products manufacturing of Abx diluent 20l, Abx minidil lmg 10l etc is accredited by both International Accreditation Services (IAS-IAF) and International Organization for Accreditation Services (IOAS). Several certifications, including and not limited to ISO 9001, ISO 14001, ISO 22301, ISO 21001, ISO 37001, ISO 41001, ISO 45001, ISO 50001, ISO 13485, ISO 22000, HACCP, ISO 27001, IATF 16949, CE, RoHS, KOSHER, HALAL, Product Certifications, and training comes under the aegis of its services.