SIS Certifications awarded ISO 41001:2018 Certification to AIM United Company Ltd.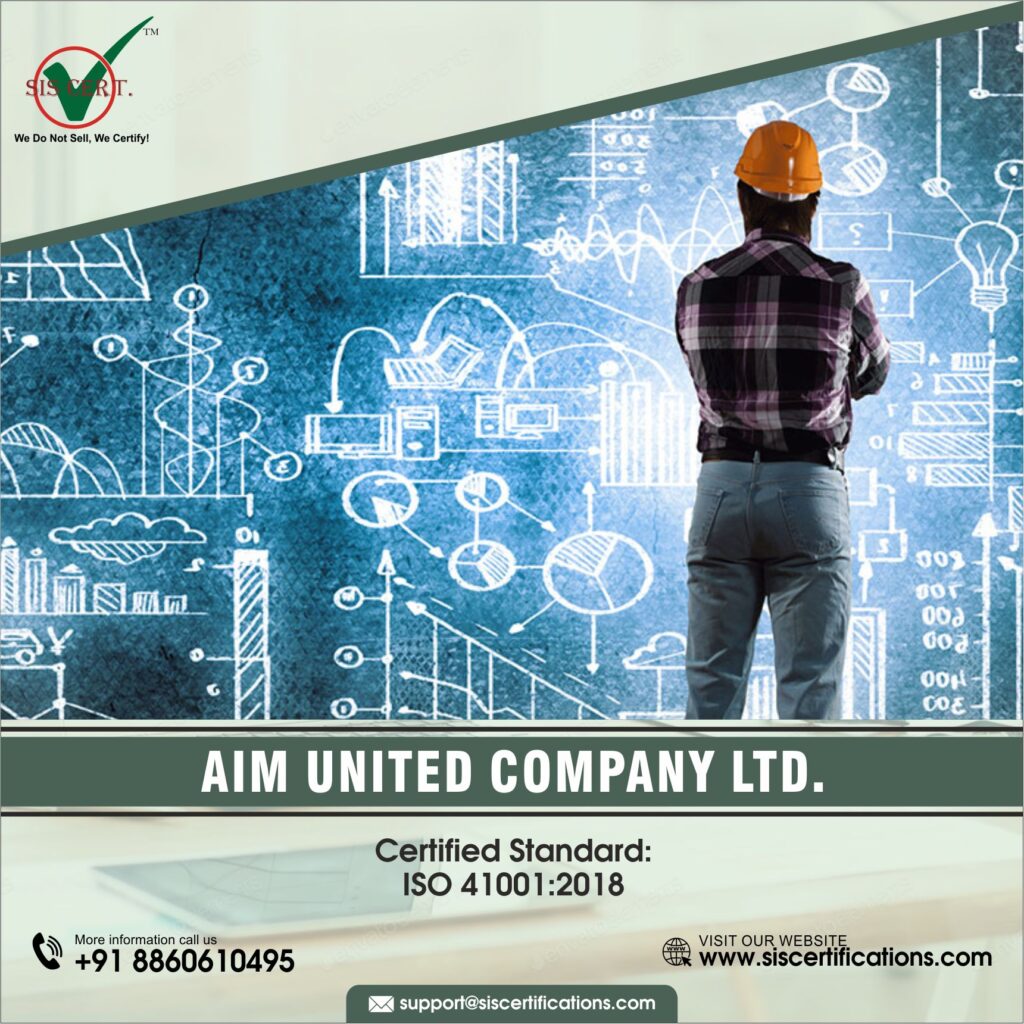 Congratulations to AIM United Company Ltd for successfully getting certified to IAS accredited ISO 41001:2018.
The scope of this management covers the Design, Engineering, BIM Modelling Services, Contracting, Construction, Infrastructure, Supply, Installation, Testing and Commissioning for Electromechanical MEP works, HVAC, Maintenance for all Mechanical and Electrical works including HVAC works, Facility Management Services for Residential, Commercial, Industrial and Infrastructure Projects
The sustainability of structures and infrastructure is greatly influenced by facility management. Organisations can follow the criteria provided by ISO 41001 for sustainable facility management practices to lessen their impact on the environment and preserve natural resources. AIM UNITED COMPANY LTD. may save operational expenses and boost financial performance with the aid of effective facilities management.
AIM UNITED COMPANY LTD. may use ISO 41001 as a set of principles to implement cost-effective facility management strategies that will help them meet their financial targets. AIM UNITED COMPANY LTD. may enhance their facility management procedures and guarantee that its structures and machinery are well-maintained, secure, and effective by following the recommendations offered in ISO 41001.
Our lead auditor recalled the certification experience as "highly confident, positive, and resilient." He continues, "Conducting an Audit of their Organisation was greatly admirable, collaborative, and extremely informative." And, with their assistance, we were able to complete the certification procedure on time."
Various other ISO standards can be applied to enhance credibility. These include ISO 22301 for Business Continuity Management, ISO 37001 for Anti-bribery management systems,  ISO 45001 for Occupational Health and Safety Management Systems, ISO 50001 for Energy Management Systems and many others.
SIS CERTIFICATIONS certified the "AIM UNITED COMPANY LTD.", is accredited by both International Accreditation Services (IAS-IAF) and International Organization for Accreditation Services (IOAS). Several certifications, including and not limited to  ISO 9001 certifications, ISO 14001 certifications, ISO 27001 certifications,  ISO 21001 certifications, ISO 37001 certifications, ISO 41001 certifications, ISO 27701 certifications, ISO 45001 certifications, ISO 50001 certifications, ISO 22000 certifications, ISO 22301 certifications, ISO 13485 certifications, HACCP,  IATF 16949, GDPR, SOC, CE, RoHS, KOSHER, HALAL, Product certifications, and training comes under the aegis of its services.