SIS Certifications successfully awarded ISO 9001:2015 Certificate to Industrisafe Management Company Limited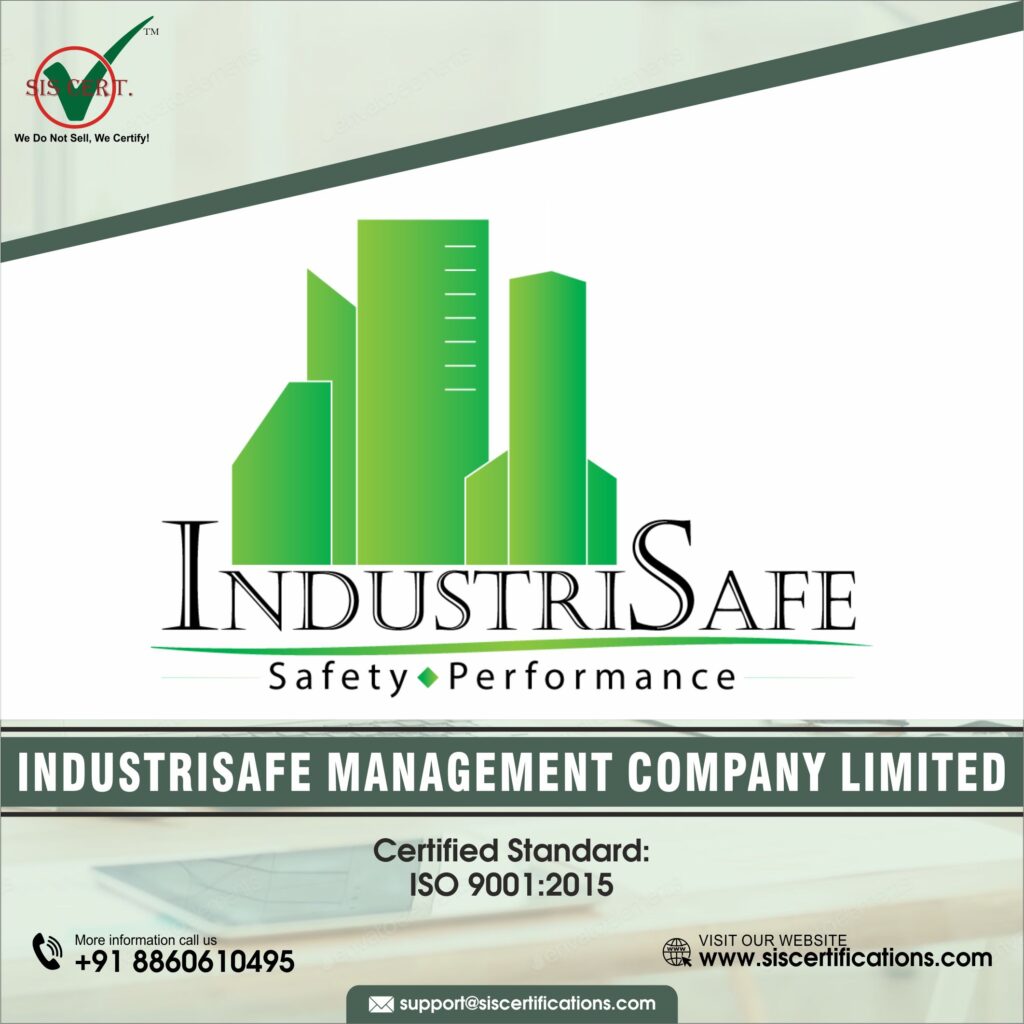 SIS Certifications congratulates " INDUSTRISAFE MANAGEMENT COMPANY LIMITED" for successfully achieving IAS-accredited ISO 9001:2015 for their business. With this accomplishment, they have demonstrated their devotion to Quality Management Systems (QMS).
The scope of this management encompasses the Business of Importation, Sales and Supply of Health and Safety Equipment Products.
ISO 9001 certification enables " INDUSTRISAFE MANAGEMENT COMPANY LIMITED to demonstrate their dedication to quality and continual improvement, which may assist in strengthening their reputation and boost client confidence. Customers are more likely to pick a certified provider than a non-certified one, which can lead to improved business chances. It also emphasises the significance of understanding and controlling process interactions within an organisation, which may aid in identifying areas for improvement and generating efficiency improvements. ISO 9001:2015 certification can enhance the credibility of INDUSTRISAFE MANAGEMENT COMPANY LIMITED for talent management, demonstrating to customers and stakeholders that the organization is committed to quality and continuous improvement.
Our lead auditor Ms. Sapna Sawhney accompanied by Ms. Kajal Yadav gave a brief overview of his auditing background and continued, "As a lead auditor, I have had the honour of leading ISO audits for several organisations. Helping INDUSTRISAFE MANAGEMENT COMPANY LIMITED PRIVATE comprehend the significance of ISO standards and how they may be implemented in their company has been a gratifying experience. I have noticed that INDUSTRISAFE MANAGEMENT COMPANY LIMITED is willing to learn and implement best practices during this process to achieve its aims and objectives. "They were incredibly helpful throughout the entire process and helped us identify the gaps so that we could complete our work appropriately and timely".
Various other ISO standards can be applied for enhanced credibility. These include ISO 14001 for environmental management, ISO 45001 for occupational health & and safety management, and so on.
SIS Certifications, which certified the INDUSTRISAFE MANAGEMENT COMPANY LIMITED is accredited by both International Accreditation Services (IAS-IAF) and International Organization for Accreditation Services (IOAS).  Several certifications, including and not limited to ISO 9001, ISO 14001, ISO 22301, ISO 21001, ISO 37001, ISO 41001, ISO 45001, ISO 50001, ISO 13485, ISO 22000, HACCP, ISO 27001, IATF 16949, CE, RoHS, KOSHER, HALAL, Product Certifications, and training comes under the aegis of its services.