IntelliSmart Infrastructure Pvt Ltd achieved ISO 41001:2018 under the directions of SIS Certifications Pvt. Ltd.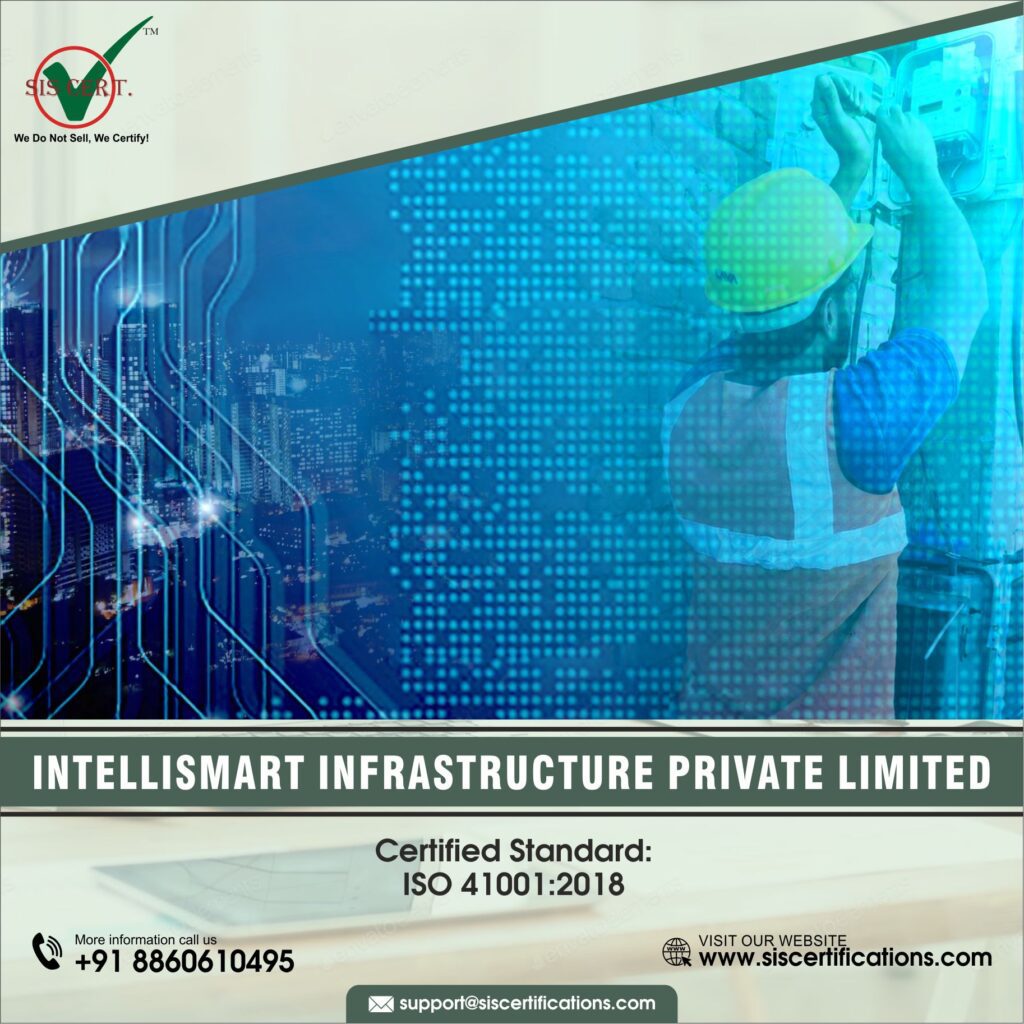 SIS Certifications congratulates INTELLISMART INFRASTRUCTURE PRIVATE LIMITED for victoriously achieving IAS-accredited ISO 41001:2018 for their services of smart metering and digital solutions. With this accomplishment, they have proven their adherence to Facility management systems.
The scope of INTELLISMART INFRASTRUCTURE PRIVATE LIMITED consists of the Installation, Operation and Maintenance of Utilities and Advance Metering Infrastructure (AMI) Including Smart Meter Projects and their Support Services.
ISO 41001:2018 will assist in improving workforce productivity, safety and health, and well-being of Intellismart Infrastructure Private Limited. It offers all companies a single platform. ISO 41001 allows organisations to take proactive steps to provide facilities to the management before they become a problem. Additionally, the standard provides guidance on developing policies and procedures that all stakeholders can use in the organisation.
It provides higher efficacy and efficiency, which results in greater cost savings for the organisation. By implementing ISO 41001:2018, they may ensure that the FM services they provide are secure for users of the workplace and workers.
The audit process was performed by our lead auditor Mr T.K Sinha along with our auditor Mr Praveen Kumar. They called the audit process outstanding and resilient. Mr T.K Sinha added that it is an immense pleasure to serve the organisation and expressed their gratitude for having faith in SIS Certifications Pvt. Ltd. management of Intellismart Infrastructure Private Limited was very much supportive and very skilful.
There are various other ISO standards that can be applied to enhance credibility. These include ISO 22301 for Business Continuity Management, ISO 14001 for Environment Management Systems, ISO 45001 for Occupational Health and Safety Management Systems, and many others.
SIS CERTIFICATIONS, which certified the "INTELLISMART INFRASTRUCTURE PRIVATE LIMITED" for their services of smart metering and digital solutions, is accredited by both International Accreditation Services (IAS-IAF) and International Organization for Accreditation Services (IOAS). Several certifications, including and not limited to  ISO 9001, ISO 14001, 27001 ISO ,  ISO 21001, ISO 37001, ISO 41001, ISO 27701, 45001 ISO, ISO 50001, ISO 22000, ISO 22301, ISO 13485, HACCP,  IATF 16949, GDPR, SOC, CMMI, CE, RoHS, KOSHER, HALAL, Product certifications, and training comes under the aegis of its services.