SIS Certifications Awarded ISO 9001:2015 and and ISO/IEC 27001:2013 Certification to Empezar Digital Pvt Ltd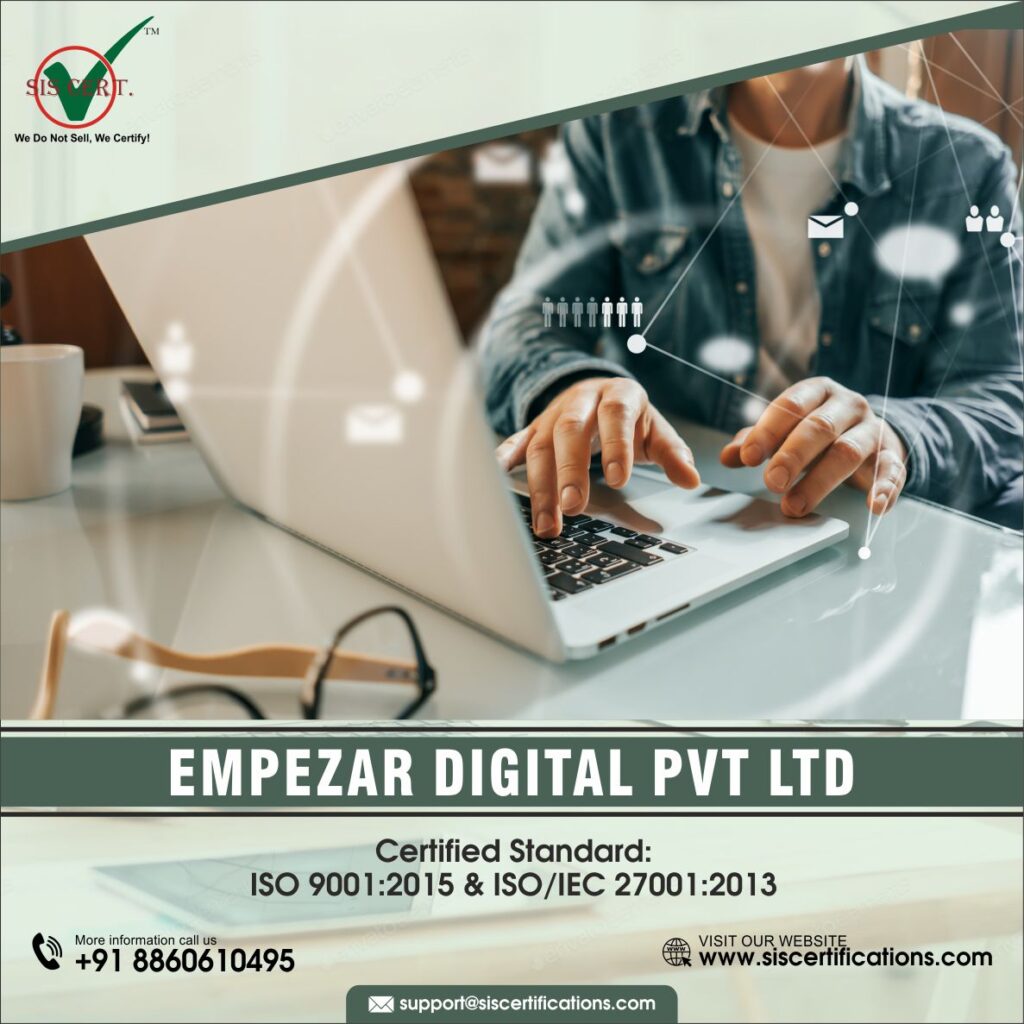 Heartfelt congratulations to EMPEZAR DIGITAL PVT. LTD. for receiving IAS-accredited ISO 9001:2015 and ISO/IEC 27001:2013 certifications for their IT Management services. ISO/IEC 27001:2013 certification proves their capacity to preserve information assets and ensure data security, whereas ISO 9001:2015 certification displays their ability to make the company more efficient and productive.
The scope of activities covered by these certifications is Software Development, Cloud Solutions, Digital Process Development, Mobile App Development, Project Management Information system, Document Management, Process Workflow Management, Security & Risk Management, BI Data Analytics, Quality Control & Data Protection, Business Consulting, Technical Support, Training & Implementation Services of Project Management Systems & End to End Digital Process Management.
ISO 9001:2015 assures the best quality products and services to their employee as well as clients. EMPEZAR DIGITAL will benefit from this Accreditation in sustaining quality and delivery standards. It will give them a competitive advantage and aid in the acquisition of new customers and clients.
ISO 27001:2013 serves as a clear declaration of EMPEZAR DIGITAL's abilities and assures that they follow internationally recognised best practices. It helps them to protect their critical information assets and comply with applicable legal and regulatory requirements. A very safe data security management system may be created with the aid of ISO 27001 certification. By deploying, they'll be able to better grasp their own security environment and the newest digital defence strategies. It helps to reassure sure their customers, workers, investors and other stakeholders of their commitment to cyber security.
Our Lead auditor -Ms. Sharmista More performed the audit process and according to her, the certification experience was "process-oriented and optimistic". The audit process was compulsive with mutual cooperation and provided valuable insights into the effectiveness of their internal processes and wants to thank the whole organisation for their consistent support.
Various other ISO standards can be applied to enhance credibility. These include ISO 27701 for Privacy Information Management Systems, ISO 22301 for Business Continuity Management, ISO 31000 for Risk Management Systems, and many others.
SIS CERTIFICATIONS certified the "EMPEZAR DIGITAL PVT LTD".is accredited by both International Accreditation Services (IAS-IAF) and International Organization for Accreditation Services (IOAS). Several certifications, including and not limited to ISO 9001, ISO 14001, ISO 22301, ISO 21001, ISO 37001, ISO 41001, ISO 45001, ISO 50001, ISO 13485, ISO 22000, HACCP, ISO 27001, IATF 16949, CE, RoHS, KOSHER, HALAL, Product Certifications, and training comes under the aegis of its services.