SIS Certifications awarded ISO 41001:2018 Certification to S K Solutions Facility Services L.L.C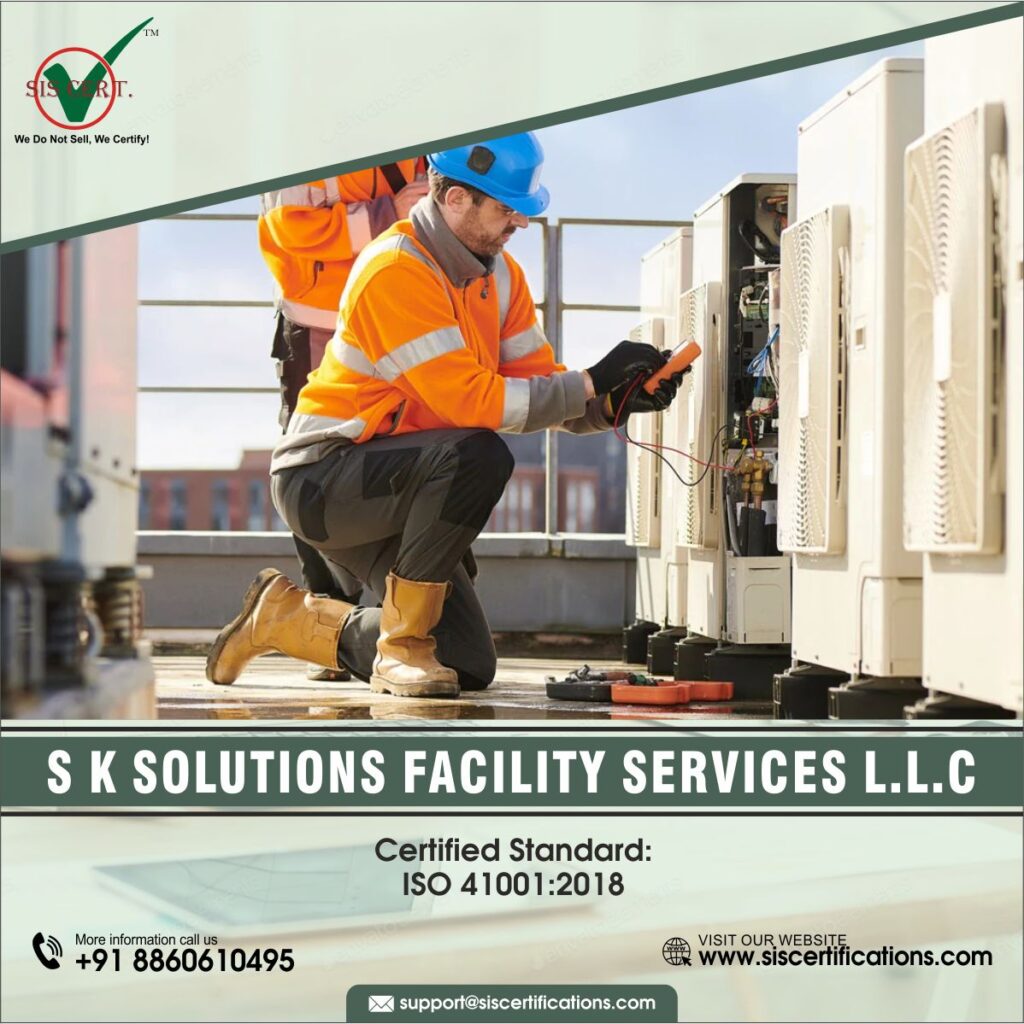 Congratulations to S K SOLUTIONS FACILITY SERVICES L.L.C for successfully getting accredited to ISO 41001:2018 for their Facility Management services. They have demonstrated their devotion to Facility Management Systems (FMS) with this accomplishment.
The scope of this management includes Providing Facility Management Services, Logistics Services, Delivery and Packing Services, Security Services, Foodstuff Supply Services, Hospitality and Maintenance Services.
The requirements for the creation, adoption, and certification of Facility Management Systems for S K SOLUTIONS FACILITY SERVICES L.L.C are laid out in the ISO 41001 management system. It is also advantageous to them to provide them with a standard global idea and structure of facility management and to raise the level of effectiveness and efficiency in the delivery of facility management services. By implementing the suggestions provided in ISO 41000, S K SOLUTIONS FACILITY SERVICES L.L.C may improve their facility management practices and ensure that its structures and machines are well-maintained, secure, and functional. For instance, the standard underlines the need for regular equipment maintenance, inspection, and testing to ensure peak performance. It also assists in cost-cutting and achieving economies of scale.
Our lead auditor described the certification process as " process-oriented, certain, and smooth". Our organisation was able to offer certification on schedule and without encountering any problems since the audit process was engaging and excellent and fostered mutual understanding. I appreciate that you chose us.
Various other ISO standards can be applied to enhance credibility. These include ISO 22301 for Business Continuity Management, ISO 37001 for Anti-bribery management systems,  ISO 45001 for Occupational Health and Safety Management Systems, ISO 50001 for Energy Management Systems and many others.
SIS CERTIFICATIONS certified the "S K SOLUTIONS FACILITY SERVICES L.L.C.", is accredited by both International Accreditation Services (IAS-IAF) and International Organization for Accreditation Services (IOAS). Several certifications, including and not limited to ISO 9001, ISO 14001, ISO 22301, ISO 21001, ISO 37001, ISO 41001, ISO 45001, ISO 50001, ISO 13485, ISO 22000, HACCP, ISO 27001, IATF 16949, CE, RoHS, KOSHER, HALAL, Product Certifications, and training comes under the aegis of its services.