NorthCool Technologies Inc. achieved ISO 9001:2015 accreditation from SIS Certifications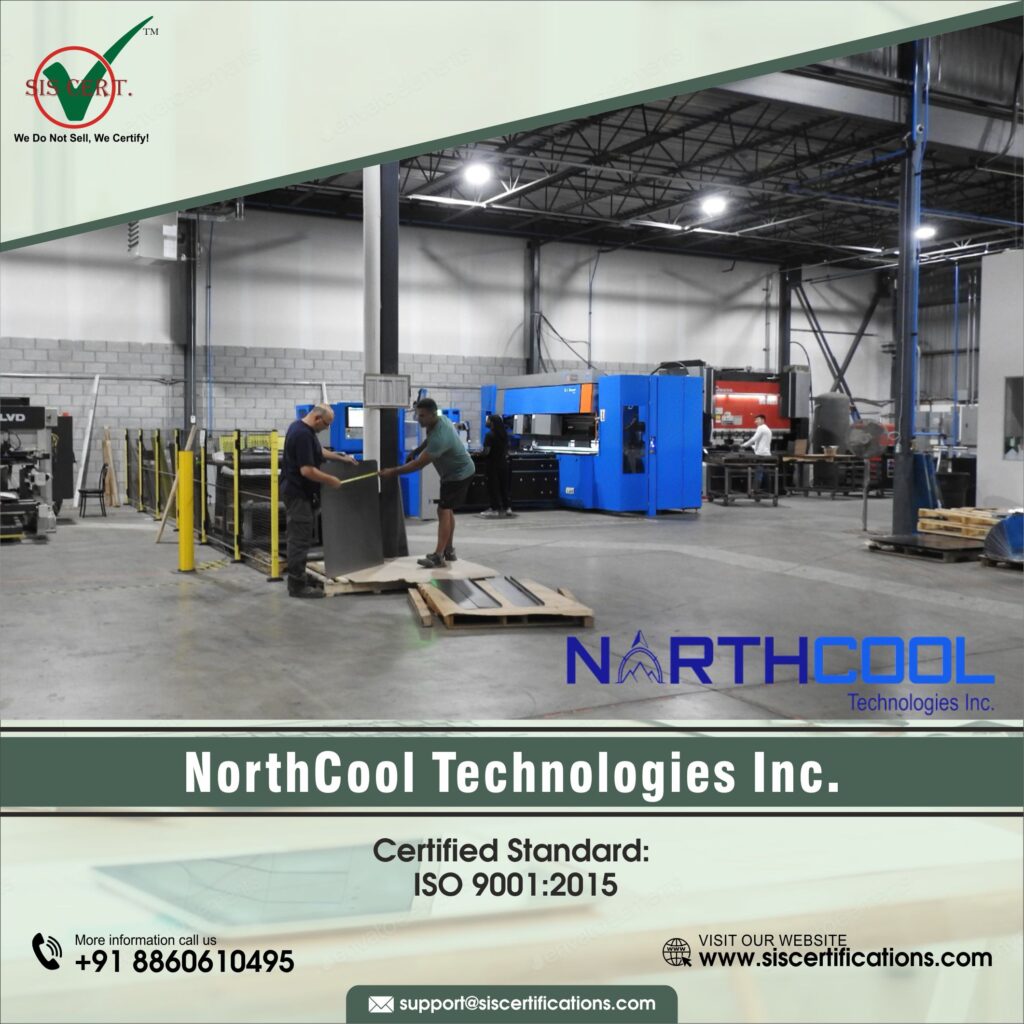 SIS Certifications congratulates " NorthCool Technologies Inc." for successfully achieving IAS-accredited ISO 9001:2015 for manufacturing commercial refrigeration reach-in coolers. Now they have manifested assurance towards Quality Management Systems (QMS).
The scope of NorthCool Technologies Inc. comprises Manufacturing of commercial refrigeration Reach-in Coolers, Sheet Metal processing for other customers (Service), Battery Packs and PWR units.
The company began its operations in 2020, manufacturing parts for the automotive industry from sheet metal. Investments in machinery, equipment, and leasehold improvements, totalling nearly 2.5 million dollars, were financed solely by the shareholders' equity and their partners. Since the company's inception, the development of commercial refrigerators is underway for marketing in 2024.
Nature of Business Activities :-
– Manufacturing of custom parts from sheet metal
– Use of modern and efficient machines
-Development and marketing of commercial refrigerators for the food industry
-Production of charging "stations" from recycled automotive battery cells
NorthCool Technologies Inc. utilizes systematic procedures that demonstrate its capabilities to both existing and prospective clients. ISO 9001 certification enables " NorthCool Technologies Inc." to demonstrate their dedication to quality and continual improvement, which may assist in strengthening their reputation and boosting client confidence. Customers are more likely to pick a certified provider than a non-certified one, which can lead to improved business chances. It also emphasises the significance of understanding and controlling process interactions within an organisation, which may aid in identifying areas for improvement and generating efficiency improvements. All staff members play a crucial role in maintaining high-quality standards, each responsible for the excellence of their work.  ISO 9001:2015 certification can enhance the credibility of NorthCool Technologies Inc. for talent management, demonstrating to customers and stakeholders that the organization is committed to quality and continuous improvement.
As per our Lead Auditor, Mrs Sapna Sawhney, the organization demonstrated a strong commitment to maintaining and continuously improving its management system. The audit revealed a well-documented and organized system that supports efficient operations. Their dedication to compliance was evident throughout the audit.
There are various other ISO standards that can be applied for enhanced credibility. These include ISO 14001 for environmental management, ISO 45001 for occupational health & safety management, and so on.
SIS Certifications, which certified the NorthCool Technologies Inc. is accredited by both International Accreditation Services (IAS-IAF) and International Organization for Accreditation Services (IOAS). Several certifications, including and not limited to  ISO 9001 certifications, ISO 14001 certifications, ISO 27001 certifications,  ISO 21001 certifications, ISO 37001 certifications, ISO 41001 certifications, ISO 27701 certifications, ISO 45001 certifications, ISO 50001 certifications, ISO 22000 certifications, ISO 22301 certifications, ISO 13485 certifications, HACCP,  IATF 16949, GDPR, SOC, CE, RoHS, KOSHER, HALAL, Product certifications, and training comes under the aegis of its services.