SIS Certifications awarded ISO/IEC 27701:2019 Certification QSHIELD LLC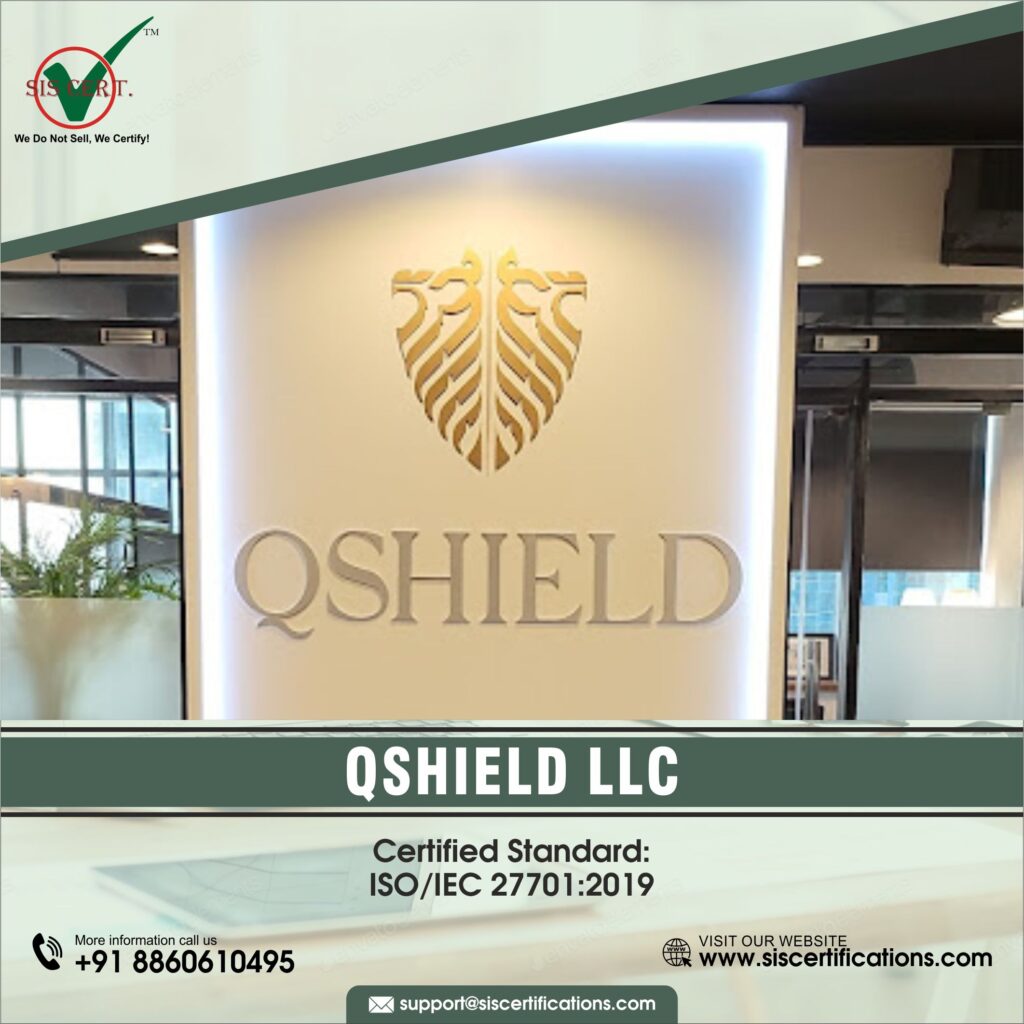 SIS Certification extends heartfelt congratulations to "QSHIELD LLC" for obtaining IOAS-accredited ISO/IEC 27701:2019 certification for the Privacy Information Management System (PIMS).
The scope of the certification includes Trading in electronic equipment and spare parts, Providing telecommunication services of all kinds to the public Clearing Transactions (General Services), Corporate Immigration Services Provider, Managing and operating the professionals, labours Human Resources Consultancy Creating, owing and operating telecommunications networks inside and outside the State of Qatar.
ISO/IEC 27701:2019 exhibits QSHIELD LLC's commitment and ability to implement appropriate privacy protection measures to safeguard users' sensitive information. The certification facilitates innovative development while ensuring user data security and privacy. Moreover, the ISO/IEC 27701 standard offers adequate tools and controls for organizations to maintain compliance with data privacy laws and regulations. PIMS monitors business activities to detect potential threats and address them appropriately.
ISO/IEC 27701:2019 standard is one of the most authoritative privacy protection standards, jointly issued by the International Organization for Standardization (ISO) and the International Electrotechnical Commission (IEC). Achieving an ISO 27701 certification will bring confidence to the community that the "QSHIELD LLC" effectively protects and processes the collected personal information.
Our lead auditor characterized the certification process as highly confident, positive, and resilient. He further added conducting an audit of their organization was admirable, collaborative, and extremely informative. Their valuable assistance throughout the certification process helped us complete the certification procedure on time.
There are various other ISO standards that can be applied to enhance the credibility of QSHIELD LLC. These include ISO 9001 for Quality Management System (QMS), ISO 22301 for Business Continuity Management System (BCMS), ISO 14001 for Environment Management System (EMS), and many others.
SIS CERTIFICATIONS certified the "QSHIELD LLC" is accredited by both International Accreditation Services (IAS-IAF) and the International Organization for Accreditation Services (IOAS). Several certifications, including and not limited to ISO 9001, ISO 14001, ISO 22301, ISO 21001, ISO 37001, ISO 41001, ISO 45001, ISO 50001, ISO 13485, ISO 22000, HACCP, ISO 27001, IATF 16949, CE, RoHS, KOSHER, HALAL, Product Certifications, and training comes under the aegis of its services.