SIS Certifications awarded ISO 9001 Certification to Shri Krishna Auto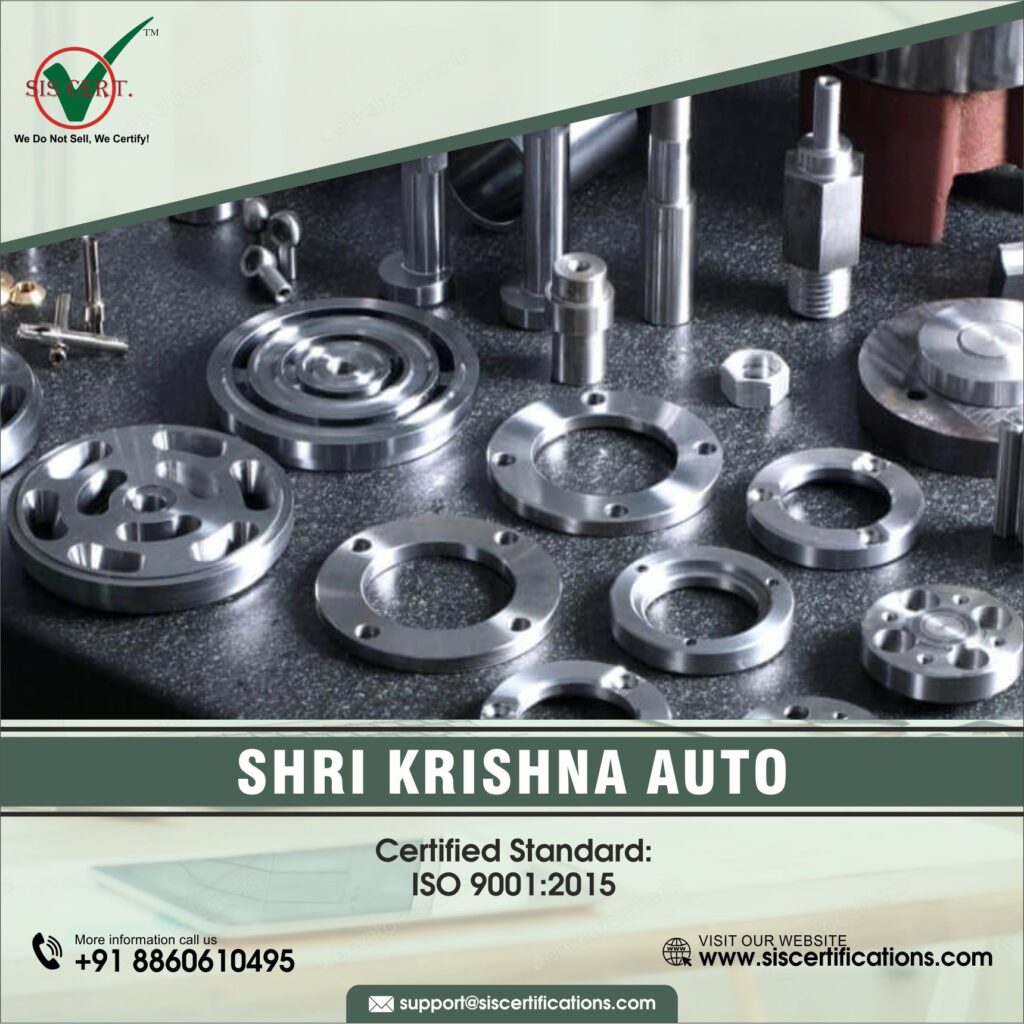 "SHRI KRISHNA AUTO" recently received IAS-accredited ISO 9001:2015 Certification for the Quality Management System (QMS). SIS Certifications awarded ISO 9001:2015 to "SHRI KRISHNA AUTO" for their manufacturing and supply of Machined Components and Assembly of Supporting Parts. Achieving this certification strengthens their ability to exceed customer quality expectations, and requirements and fosters a culture of growth.
The scope of this certification includes manufacturing of TVS bike auto part services and paddle operated hand sanitizing attachment. The services include automotive battery repairing service. It outlines a process-based approach to provide high-quality products to its customers and demonstrates their commitment to consistently provide products that meet customer and applicable statutory and regulatory requirements.
ISO 9001:2015 certification ensures the efficiency of "SHRI KRISHNA AUTO", in keeping the quality of their products and services intact. This will bring confidence to the community that the "SHRI KRISHNA AUTO" assures the best quality products and services to their employees and clients. ISO 9001:2015 is proof of compliance with all the legislation that is aimed at assisting the organizations in developing their own Quality Management Systems.
Our lead auditor Mr Ravi Pratap Chaturvedi recollects the certification experience as "Comprehensive, effortless and highly professional". He says, "Auditing their organization has been highly admirable and resilient. Also, with mutual cooperation, we could successfully achieve the process of certification within the given timeframe."
There are various other ISO standards that can be applied to enhance credibility. These include ISO 22301 for Business Continuity Management, ISO 14001 for Environment Management System, ISO 45001 for Occupational Health and Safety Management System, and many others.
SIS CERTIFICATIONS, which certified the "SHRI KRISHNA AUTO" for their manufacturing and supply of Machined Components and Assembly of Supporting Parts, is accredited by both International Accreditation Services (IAS-IAF) and International Organization for Accreditation Services (IOAS). Several certifications, including and not limited to ISO 9001, ISO 14001, ISO 22301, ISO 21001, ISO 37001, ISO 41001, ISO 45001, ISO 50001, ISO 13485, ISO 22000, HACCP, ISO 27001, IATF 16949, CE, RoHS, KOSHER, HALAL, Product Certifications, and training comes under the aegis of its services.