SIS Certifications successfully awarded ISO 9001:2015 and ISO/IEC 27001:2013 Certificates to Tri O Tech Solutions Pvt. Ltd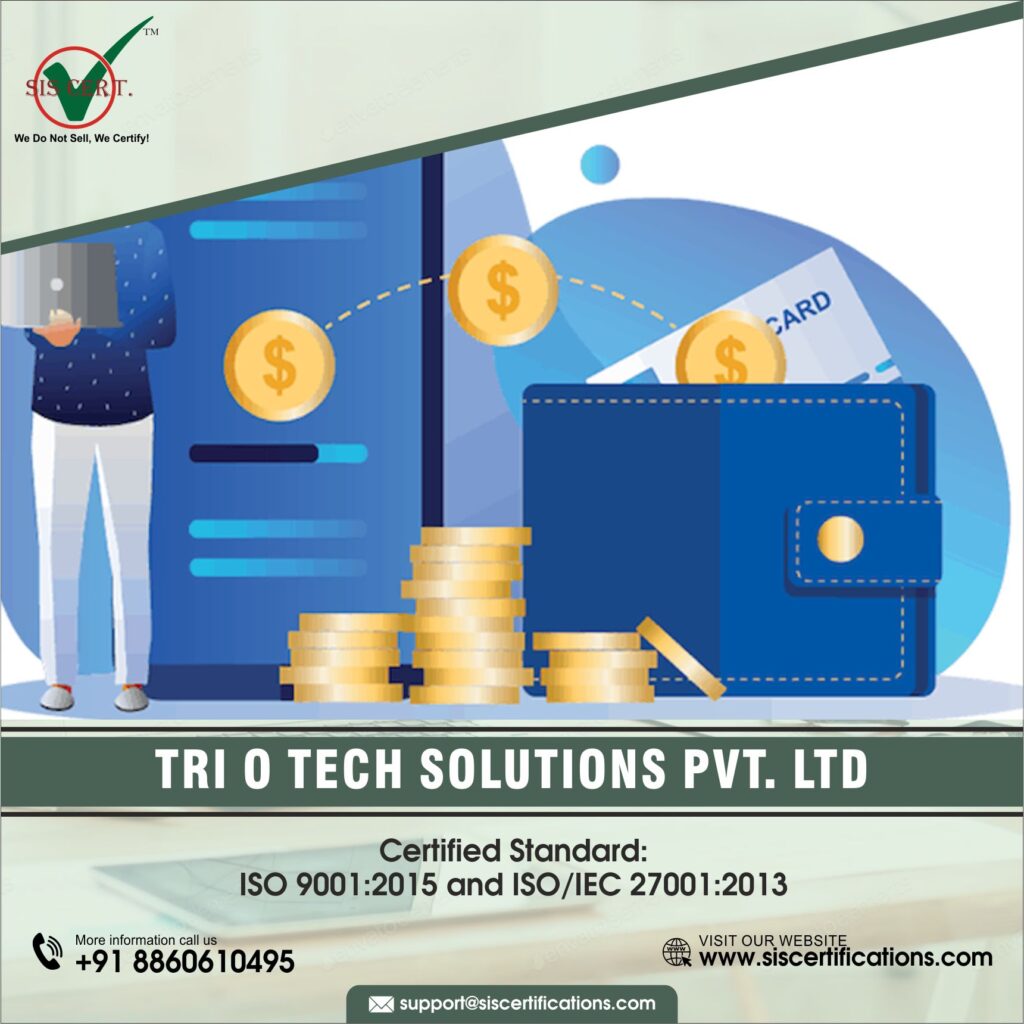 Congratulations to "TRI O TECH SOLUTIONS PVT LTD" for successfully achieving IAS-accredited ISO 9001:2015 and ISO/IEC 27001:2013 certification for their Design and Development of Online Wallet Services. ISO/IEC 27001:2013 manifests their ability to protect information assets and provide data security, while ISO 9001:2015 Certification demonstrates their ability to make business more efficient and increase productivity.
ISO 9001:2015 and ISO/IEC 27001:2013 will offer the following benefits to TRI O TECH SOLUTIONS PVT LTD. It demonstrates their ability to continually improve and gain a competitive edge. ISO 9001:2015 Certification compliance will ensure efficiency in their business while increasing customer satisfaction and retention. ISO/IEC 27001:2013 certification will provides tools and appropriate controls to them to safeguard user's data and ensure data security and privacy.
ISO 9001:2015 along with ISO/IEC 27001:2013 aims to identify all the factors that might cause unexpected or undesired outcomes and implements appropriate controls to address them. It will help them to achieve desired outcomes and establish an effective management system. ISO certification compliance with all the legislation helps organizations to develop their Management Systems. It boosts the confidence of customers as well as clients in the products and services offered by the organization.
Our lead auditor Mr Praveen Kumar supported by Mr Shivam Gupta recollect the certification experience as "Admirable, effortless and highly professional". They say, "The organization was highly professional and welcoming, and the audit has been great and resilient. Also, through cooperation, we could successfully achieve the process of certification within the given timeframe."
There are various other ISO standards that can be applied to enhance credibility. These include ISO 22301 for Business Continuity Management, ISO 14001 for Environment Management System, ISO 45001 for Occupational Health and Safety Management System, and many others.
SIS CERTIFICATIONS, which certified the "TRI O TECH SOLUTIONS PVT LTD" for their Design and Development of Online Wallet Services. As per the SoA: MS/ISMS/SOA/01/1.0 (30/06/2021) Excluded Controls are: 14.2.7, 15.1.1, 15.1.2, 15.1.3, 15.2.1, 15.2.2., is accredited by both International Accreditation Services (IAS-IAF) and International Organization for Accreditation Services (IOAS).  Several certifications, including and not limited to  ISO 9001 certifications, ISO 14001 certifications, ISO 27001 certifications,  ISO 21001 certifications, ISO 37001 certifications, ISO 41001 certifications, ISO 27701 certifications, ISO 45001 certifications, ISO 50001 certifications, ISO 22000 certifications, ISO 22301 certifications, ISO 13485 certifications, HACCP,  IATF 16949, CMMI Certifications, GDPR, SOC, CE, RoHS, KOSHER, HALAL, Product certifications, and training comes under the aegis of its services.