Viraj Constructions Pvt. Ltd. achieved ISO 9001:2015, ISO 14001:2015 and ISO 45001:2018 from SIS Certifications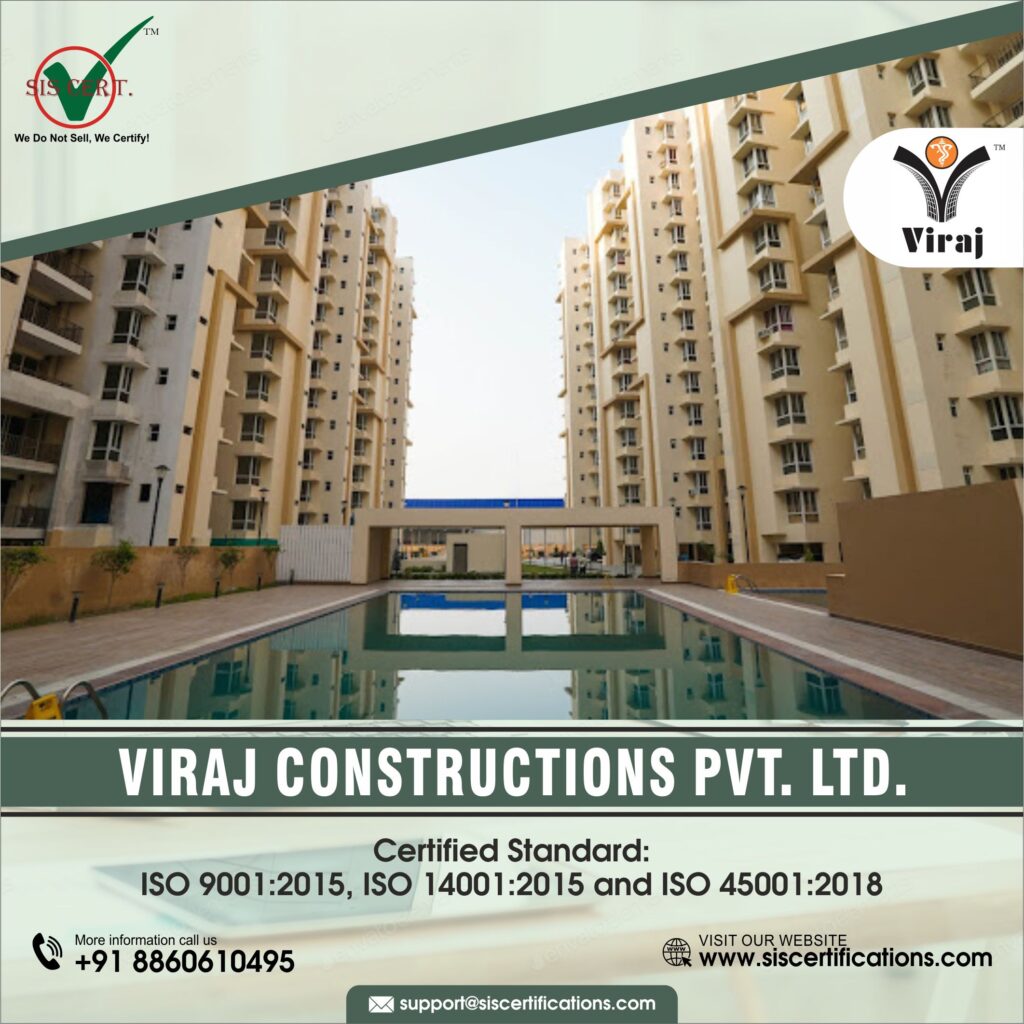 Heartiest congratulations to Viraj Constructions Pvt. Ltd. for successfully getting certified to IAS accredited "ISO 9001:2015, ISO 14001:2015 and ISO 45001:2018.
The scope of Viraj Constructions Pvt. Ltd. covers the Development and construction of Mega Townships, Commercial, Industrial, Institutional, Residential, Roads, Dams, Colonies, Bridges, STP, ETP, Airports, and All Government, Semi Government and Private Infrastructure Development Projects.
ISO 9001:2015 is essential for any organisation wishing to develop a quality management system (QMS). Implementing ISO 9001:2015 may assist Viraj Constructions Pvt. Ltd. in guaranteeing that the organisation consistently fulfils client demands and expectations, as well as increasing customer satisfaction. It may also aid in the improvement of internal processes and the development of operational efficiency, resulting in increased profitability and growth.
ISO 14001 is a helpful management tool from which to achieve a level of environmental performance. Implementing an EMS, Viraj Constructions Pvt. Ltd. may provide the impression that their company cares about the environment to their customers, which will probably result in increased sales. Organizations can identify the environmental issues that concern them with the help of ISO 14001.
ISO 45001 will improve OHS performance and organisational resilience by promoting proactive risk avoidance. The key goals are to protect employees' health and prevent them from dying, being injured, or being disabled. However, by obtaining ISO 45001 accreditation, Viraj Constructions Pvt. Ltd. demonstrated their concern and care for this issue. It reduces workplace accidents and infections.
As per our Lead Auditor, Mr. Raj Kumar & Mr. Kriti Pant, the organization demonstrated a strong commitment to maintaining and continuously improving its management system. The audit revealed a well-documented and organised system that supports efficient operations. Their dedication to compliance was evident throughout the audit.
Various other ISO standards can be applied to enhance credibility. These include ISO 22301 for Business Continuity Management, 37001 Anti-bribery management systems and many others.
SIS CERTIFICATIONS, which certified the "Viraj Constructions Pvt. Ltd.", is accredited by both International Accreditation Services (IAS-IAF) and International Organization for Accreditation Services (IOAS). Several certifications, including and not limited to ISO 22301 BCMS, ISO 37001 ABMS, ISO 41001 FMS, ISO 13485 MD-QMS, ISO 21001 EOMS, ISO 22000 FSMS, ISO 45001 OHSMS, ISO 9001 QMS, ISO 14001 EMS, ISMS ISO 27001, SOC, VAPT, CMMI Level 3, CMMI Level 5, GDPR, SOC 2 Type 2, Product Certifications, and training comes under the aegis of its services.