SIS Certifications certified PT BALARAJA SARANA BAJA as ISO 37001:2016 compliant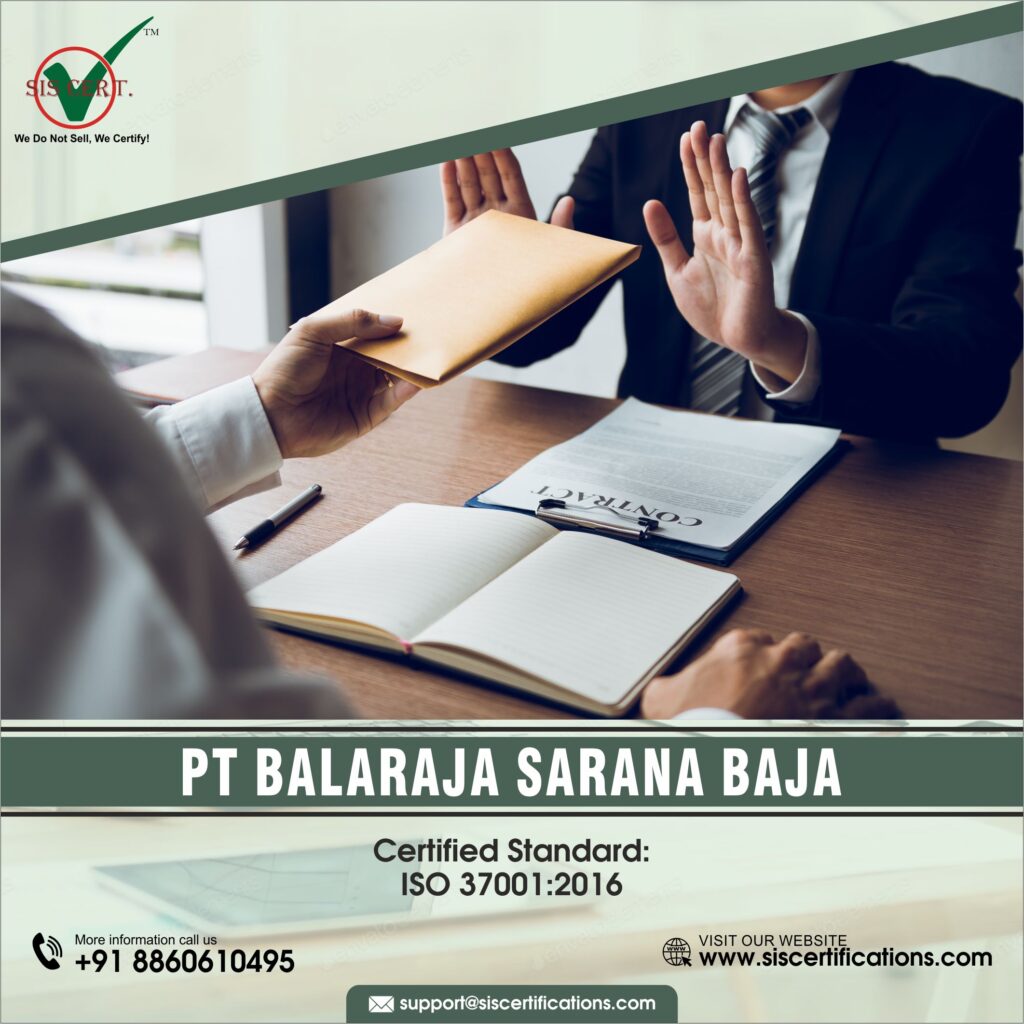 The warmest congratulations to PT BALARAJA SARANA BAJA for successfully achieving IAS-accredited ISO 37001:2016. has demonstrated their dedication to accuracy, consistency, and top-notch client satisfaction.
The scope of assists in Provision of Steel Frame Installation, Road and Railway Construction Building, Wholesale Trade of Metal Goods, Mechanical Installation.
PT Balaraja Sarana Bali helps ensure compliance with pertinent anti-bribery laws and regulations on a national and international level by complying to ISO 37001 standards. This is essential in sectors like construction and wholesale commerce where corruption concerns may be considerable. Obtaining ISO 37001 accreditation shows a dedication to moral business conduct and honesty. Building trust with customers, partners, and stakeholders may help the business' reputation. Trust and reputation are crucial for a business engaged in the trade of metal items and building materials. An organised method for locating, evaluating, and reducing bribery risks is provided by ISO 37001.
By wisely handling these risks, PT BALARAJA SARANA BAJA may lessen the possibility of expensive legal disputes, monetary losses, and harm to their company. A marketing benefit may result from ISO 37001 certification. It might set PT BALARAJA SARANA BAJA apart from rivals who lack such a certification, increasing the company's appeal to clients and business partners.
Our lead auditor shared his experience and recalled the procedure as challenging, process-oriented and transformative. He added the audit process was amazing with a lot of challenges. I want to thank the whole organisation for their consistent support. They were extremely welcoming and supported us throughout the certification process.
Various other ISO standards can be applied to enhance credibility. These include ISO 22301 for Business Continuity Management, ISO 27001 for Information Security Management Systems, ISO 45001 for Occupational Health and Safety Management Systems, and many others.
SIS CERTIFICATIONS certified the "PT BALARAJA SARANA BAJA".is accredited by both International Accreditation Services (IAS-IAF) and International Organization for Accreditation Services (IOAS). Several certifications, including and not limited to ISO 22301 BCMS, ISO 37001 ABMS, ISO 41001 FMS, ISO 13485 MD-QMS, ISO 21001 EOMS, ISO 22000 FSMS, ISO 45001 OHSMS, ISO 9001 QMS, ISO 14001 EMS, ISMS ISO 27001, SOC, VAPT, CMMI Level 3, CMMI Level 5, GDPR, SOC 2 Type 2, CE, RoHS, KOSHER, HALAL, Product Certifications, and training comes under the aegis of its services.