CATRA S.R.L. obtained ISO 37001:2016 from SIS Certifications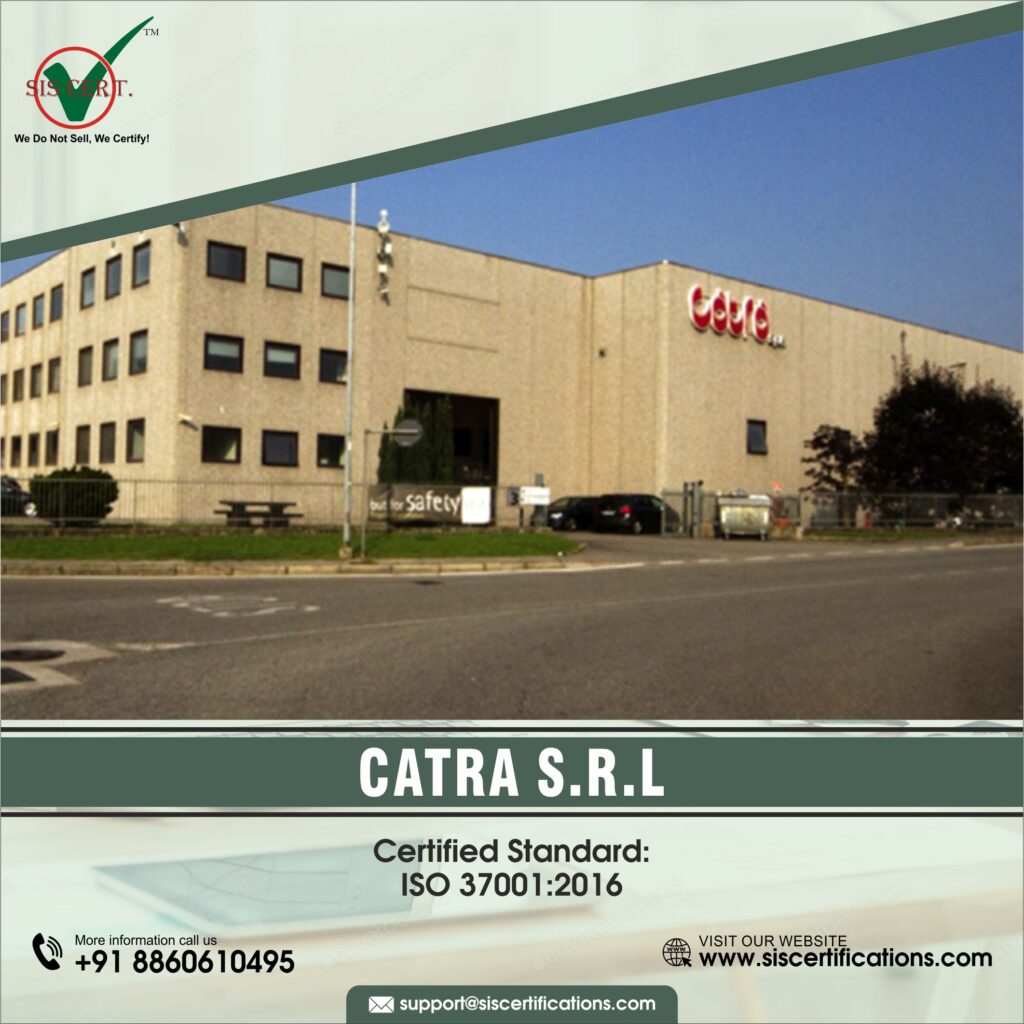 Heartiest congratulations to CATRA S.R.L for successfully getting certified to IAS-accredited ISO 37001:2016. Now they have manifested assurance towards Anti-bribery Management Systems(ABMS).
The scope of this management covers the Implementation of an Anti-Bribery Management System in the Context of Providing Field Service Management Services in IT Infrastructure Space for Workspace, Data Centres and cloud Infrastructures.
The company's operations benefit from identifying and addressing bribery and corruption issues using ISO 37001. The norm can help reduce the dangers of bribery and corruption given the delicate nature of trading chemical and biotechnological products, where adherence to ethical and legal standards is vital. The company's adherence to anti-bribery laws and regulations is demonstrated by conformity with ISO 37001, which is crucial in a sector where stringent regulatory compliance is required. It assists CATRA S.R.L. in avoiding legal problems and possible penalties related to bribery and corruption. By demonstrating to stakeholders, partners, and clients that CATRA S.R.L. conducts ethically and openly, ISO 37001 helps improve the company's reputation. This can be crucial in fields where building trust is essential.
Our lead auditor shared his experience and recalled the procedure as challenging, process-oriented and transformative. He added the audit process was amazing with a lot of challenges. I want to thank the whole organisation for their consistent support. They were extremely welcoming and supported us throughout the certification process.
Various other ISO standards can be applied to enhance credibility. These include ISO 22301 for Business Continuity Management, ISO 27001 for Information Security Management Systems, ISO 45001 for Occupational Health and Safety Management Systems, and many others.
SIS CERTIFICATIONS certified the "CATRA S.R.L".is accredited by both International Accreditation Services (IAS-IAF) and International Organization for Accreditation Services (IOAS). Several certifications, including and not limited to ISO 22301 BCMS, ISO 37001 ABMS, ISO 41001 FMS, ISO 13485 MD-QMS, ISO 21001 EOMS, ISO 22000 FSMS, ISO 45001 OHSMS, ISO 9001 QMS, ISO 14001 EMS, ISMS ISO 27001, SOC, VAPT, CMMI Level 3, CMMI Level 5, GDPR, SOC 2 Type 2, CE, RoHS, KOSHER, HALAL, Product Certifications, and training comes under the aegis of its services.