SIS Certifications successfully awarded ISO 9001:2015 to Window Mechanix Pvt Ltd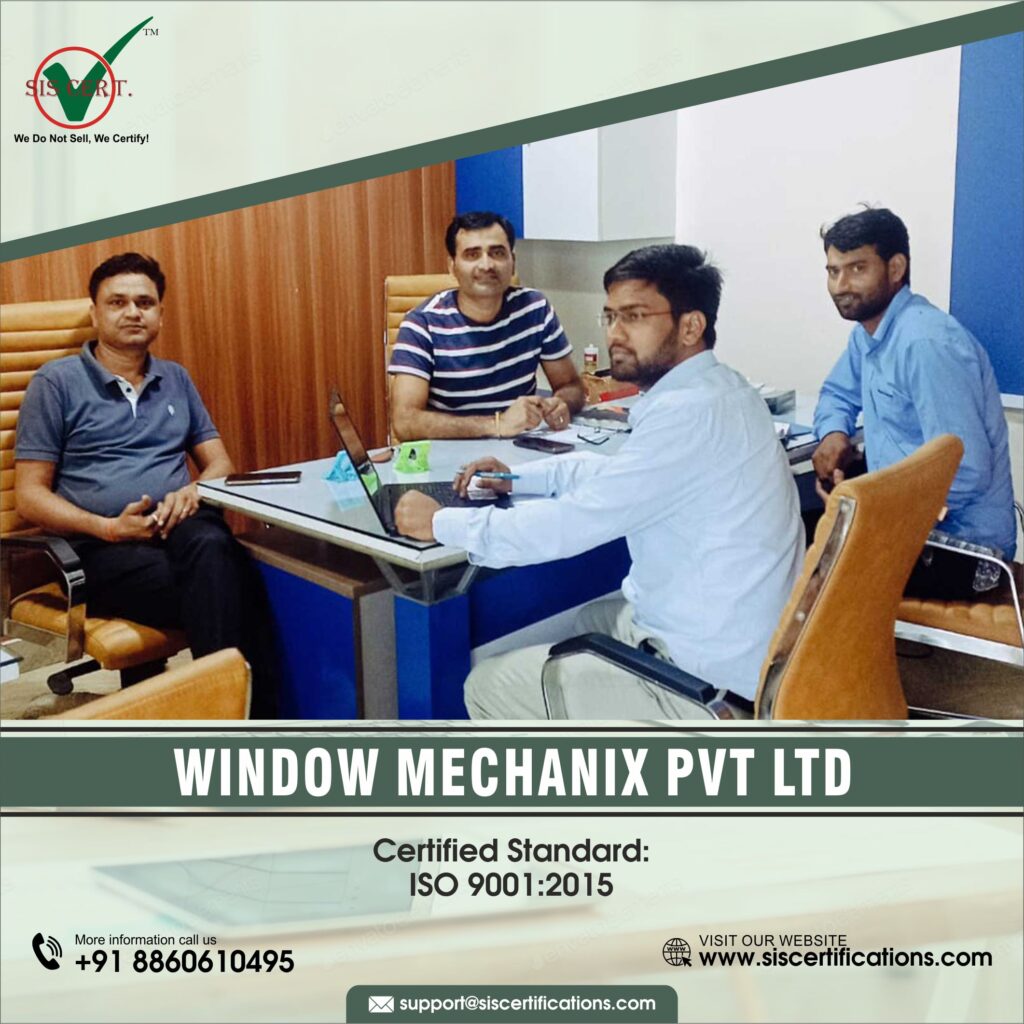 Congratulations to Window Mechanix Pvt Ltd for successfully getting certified with IAS-accredited ISO 9001:2015 for the Manufacturing and trading of Window Hardware. Now they have achieved assurance of quality management systems (QMS).
ISO 9001 certification enables " Window Mechanix Pvt Ltd" to demonstrate their dedication to quality and continual improvement, which may assist in strengthening their reputation and boosting client confidence. Customers are more likely to pick a certified manufacturer than a non-certified one, which can lead to improved business chances. It also emphasises the significance of understanding and controlling process interactions within an organisation, which may aid in identifying areas for improvement and generating efficiency improvements. ISO 9001:2015 certification can enhance the credibility of Window Mechanix Pvt Ltd for talent management, demonstrating to customers and stakeholders that the organization is committed to quality and continuous improvement.
According to our Lead Auditor Mr. Mayank Kumar, the company showed great dedication to upholding and continuously enhancing its management system. The audit found a system that facilitates organised, well-documented operations. Throughout the assessment, their commitment to compliance was clear.
Various other ISO standards can be applied for enhanced credibility. These include ISO 14001 for environmental management, ISO 45001 for occupational health & safety management and so on.
SIS Certifications, which certified "Window Mechanix Pvt Ltd" is accredited by both the International Accreditation Services (IAS-IAF) and the International Organization for Accreditation Services (IOAS). Several certifications, including and not limited to ISO 22301 BCMS, ISO 37001 ABMS, ISO 41001 FMS, ISO 13485 MD-QMS, ISO 21001 EOMS, ISO 22000 FSMS, ISO 45001 OHSMS, ISO 9001 QMS, ISO 14001 EMS, ISMS ISO 27001, SOC, VAPT, CMMI Level 3, CMMI Level 5, GDPR, SOC 2 Type 2, Product Certifications, and training comes under the aegis of its services.