Carrier Airconditioning and Refrigeration Limited achieved ISO 14001:2015 under the guidance of SIS Certifications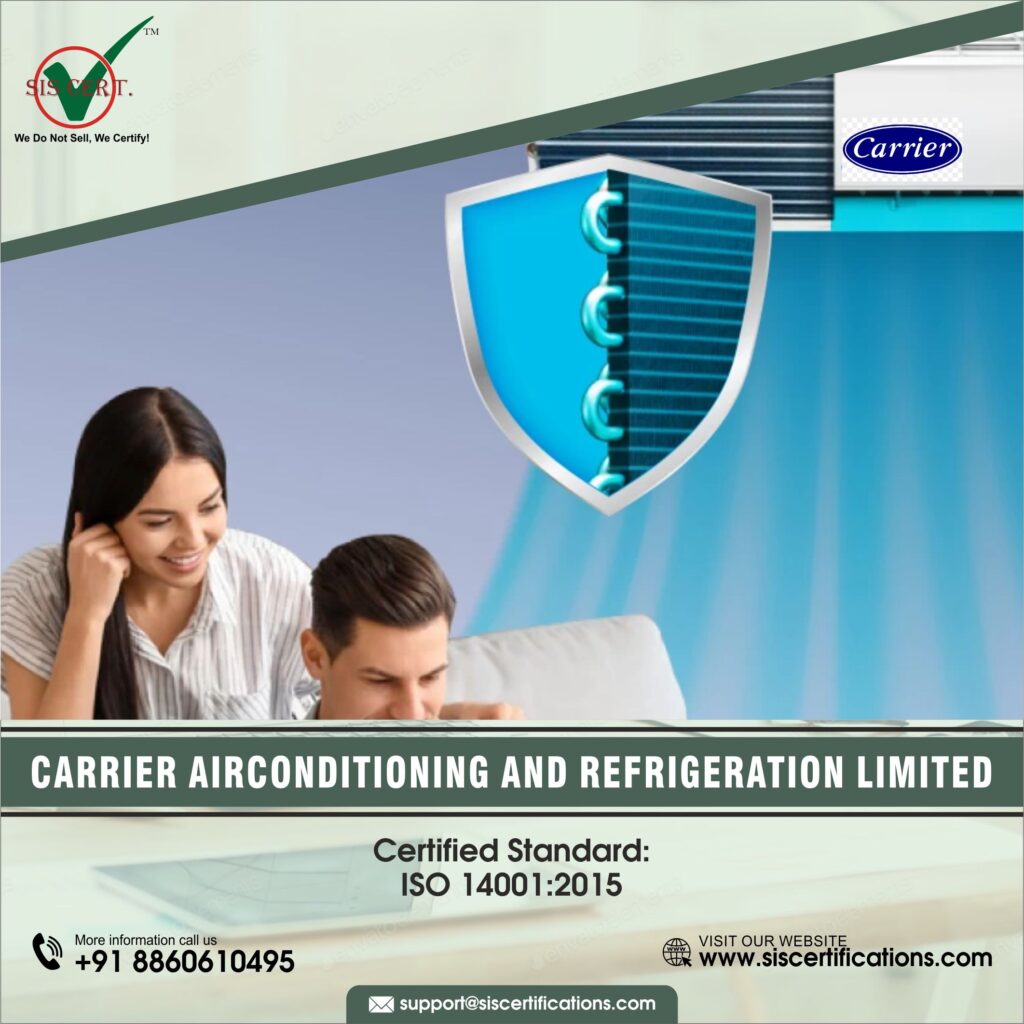 SIS Certifications congratulates Carrier Airconditioning and Refrigeration Limited for successfully achieving IAS-accredited ISO 14001:2015 for their Manufacture and Supply of Air Conditioners and Commercial Refrigeration. They now appear confident in the Environmental Management System(EMS).
For every organisation, but particularly those in the manufacturing industry, adherence to environmental rules and regulations is essential. Carrier Airconditioning and Refrigeration Limited benefits from ISO 14001:2015 by lowering the danger of penalties and legal troubles by ensuring that they abide by all relevant environmental laws and regulations. Organisations are encouraged by the standard to evaluate their environmental impacts and attributes. ISO 14001:2015 can assist a business in lowering resource consumption, energy use, and waste creation for items it manufactures and supplies that may have a substantial environmental impact. As a result, there may be less damage done to the environment and a lower carbon imprint. The ISO 14001 accreditation is a widely acknowledged sign of a company's dedication to environmental sustainability.
It can improve Carrier Airconditioning and Refrigeration Limited's standing in the marketplace and among clients, partners, and other stakeholders who support environmentally friendly companies. All levels of staff participate in environmental management under ISO 14001:2015. Participating workers in sustainability projects may improve corporate morale, output, and creativity.
The certification experience was "process-oriented and constructive," according to our Lead auditor, Mr T.K Sinha accompanied by Shivam Gupta, who oversaw the audit process. The audit process was conducted with mutual collaboration and gave useful insights into the efficacy of their internal systems. They applaud the whole organisation for their persistent assistance.
There are various other ISO standards that can be applied for enhanced credibility. ISO 45001 for Occupational Health & Safety Management, ISO 22301 for Business Continuity Management Systems (BCMS), ISO 37001 for Anti-Bribery Management Systems (ABMS), and so on.
SIS Certifications, which certified the Carrier Airconditioning and Refrigeration Limited is accredited by both the International Accreditation Services (IAS-IAF) and International Organization for Accreditation Services (IOAS). Several certifications, including and not limited to ISO 22301 BCMS, ISO 37001 ABMS, ISO 41001 FMS, ISO 13485 MD-QMS, ISO 21001 EOMS, ISO 22000 FSMS, ISO 45001 OHSMS, ISO 9001 QMS, ISO 14001 EMS, ISMS ISO 27001, SOC, VAPT, CMMI Level 3, CMMI Level 5, GDPR, SOC 2 Type 2, CE, RoHS, KOSHER, HALAL, Product Certifications, and training comes under the aegis of its services.