What is Environmental Audit?
Environmental Audits are very important, especially if we want a healthy and safe environment for your organization. Nowadays, almost everyone is concerned about the environment and its safety. Consequently, the organizations are under high pressure for minimizing the harmful effects of their activities on the environment.
Environmental audit provide your organization with third-party verification and reviewing of your environmental initiatives and improvements. The experienced environmental auditors of the particular certification body that you will choose, will guide you to work on maintaining lower energy and raw materials use, minimizing waste and pollution, and preventing risks of accidents and emergency situations. Your business operations will not only be environmentally sustainable, but it will also result to be more efficient and productive.
Benefits of an environmental audit:
 This helps you to safeguard the environment and preserve the natural resources that are very much essential for maintaining a healthy environment in your organization.
 It can also assist you to identify and address actual or potential problem areas.
 It can help your organization in reducing cost expenses and minimizing organizational waste and other activities.
It helps you to be up-to-date with all the required information to stay in compliance with the current environmental laws.
It helps you to prove that your organizational processes are totally environment friendly and assure environmental protection and safety.
Process of Environmental Audit:
Fill the application form
You will be required to fill the application form provided by us. This form will seek information about the type of your work, the size of your organization, etc.
Review of the application
Our operations team will review every aspect of your organization by analyzing the information provided by you. On its basis, we will quote the best price for you
Performance of the audit
One of our auditors will visit your organization and conduct documentation reviews, walkthroughs, inspections, and interviews (as and when required).
Report Submission
Based on the audit, the auditor will submit a detailed report of the same.
Types of Environmental Audit
There are three types of Environmental Audits. These are:
Environmental Compliance Audits– It reviews an organization's environmental performance and environmental responsibility. It ensures that an organization adheres to all the laws, regulations, guidelines, policies and procedures.
Environmental Management Audits– Environmental Management Audits Evaluate EMS and ensure the efficiency of the system. It helps the organization to understand its performance on its own environmental performance standards. It reviews and evaluates the organization's environmental legal requirements and assesses compliance with those requirements.
Functional Environmental Audits– Functional Environmental Audits are conducted to evaluate compliance with the specific aspects and ensure implementation of corrective actions. It evaluates the effect of a particular activity or process.
Phases of Environmental Audit
Environmental Audit consists of three phases. These are: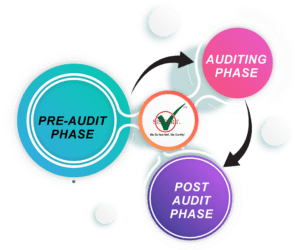 1. Pre-Audit– It includes:
Creation of an Auditing team
Construction of an Audit plan
Documentation review- It includes
– Permit application
– Records related to production
– Reports
– Reports of previous audits(if any) along with proof of the corrective actions taken
Preparing a list of possible questions and follow-ups related to prior audits conducted
Filing the 'Disclosure of Violation Table' of identified issues
2. Audit– It includes:
Setting ground rules
Determining solutions for the identified issues
Regular meetings to document data
Evaluation of the following documents
– Environmental policies
– Compliance
– Reports related to training
– Monitoring and storing records of Air, Water and Noise pollution
– Determining the emergency response process
– Addressing environment-related complaints
– Evaluating documents to ensure legal compliance
Site inspection
Evaluating operations to ensure compliance
Collecting samples if required
Cross-examining EHS personnel, operation, management, maintenance and policies
Identifying issues of concern
Conduction of a closing meeting enlisting and discussing all the identified issues and implementing corrective actions
3. Post-Audit– It includes
Preparation of Environment Audit reports and the Disclosure of Violation Table
Listing identified issues and concerned areas
Listing action taken and required follow-ups
Looking for ISO Certification or Training Services?
Join one of the India's leading ISO certification bodies for a straightforward and cost-effective route to ISO Certifications.
LATEST NEWS & BLOGS
ISO 41001 Certification outlines the requirements for Facility Management System (FMS) standard. It provides a framework for organizations to integrate...