Bharat Certis Agriscience Limited Kathua obtained multiple certifications from SIS Certifications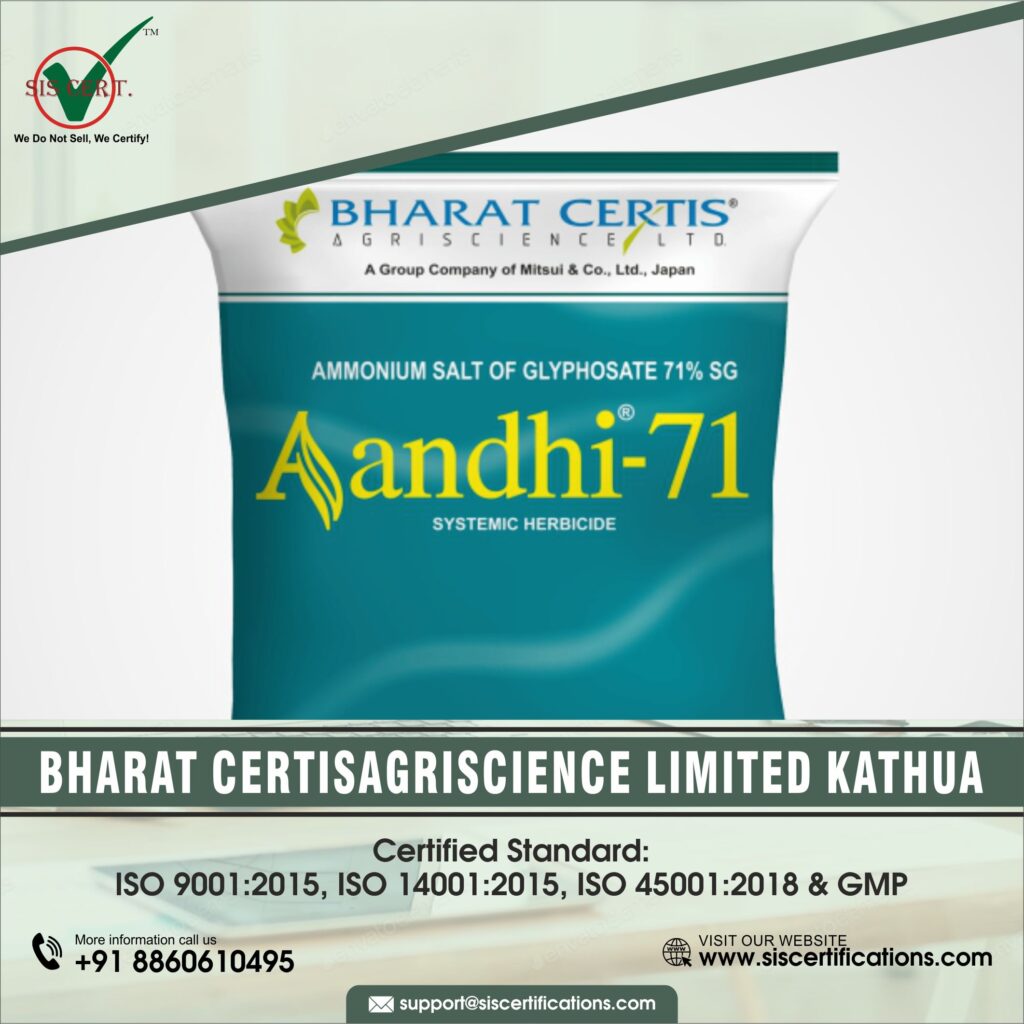 SIS Certifications congratulates BHARAT CERTIS AGRISCIENCE LIMITED KATHUA for achieving IAS accredited ISO 9001:2015, ISO 14001:2015, ISO 45001:2018 and GMP_Self for their manufacturing and supply of agricultural chemicals. It produces a range of insecticides, herbicides, fungicides, and plant growth regulators.
The scope of this management encompasses the manufacture and supply of Pesticides.
The best goods and services are guaranteed by ISO 9001:2015 to the company's staff and BHARAT CERTIS AGRISCIENCE LIMITED Kathua's customers. The quality management system ensures that the customer receives high-quality goods and services. It acts as a standard for all quality management programmes and provides proof of a company's compliance with local, national, and international quality standards. ISO 14001:2015 is a helpful management tool from which to achieve a level of environmental performance.
Implementing an EMS, an organisation may provide the impression that their company cares about the environment to their customers, which will probably result in increased sales. ISO 45001:2018 will improve OHS performance and increase organisational resilience through proactive risk avoidance. Protecting employees' health and avoiding their passing, injuries, or disabilities are the main priorities. They will have a deeper understanding of their operations and better make crucial decisions for their company by developing their management system.
GMP Goods Manufacturing practices, GMP makes sure they get products of uncompromisingly high quality. Compliance with these quality requirements is essential throughout product production, processing, packing, and storage. GMP requirements urge manufacturing businesses to ensure that their products are regularly manufactured in secure settings and comply with rigorous processes.
According to our lead auditor Mr. Upendra Singh, the organisation has shown a solid commitment to maintaining and improving its management system, according to our Lead Auditor. An ordered, well-documented operating system was discovered during the audit. Their dedication to compliance was evident throughout the inspection.
There are various other ISO standards that can be applied to enhance credibility. These include ISO 22301 for Business Continuity Management, ISO 27001 for Information Security Management Systems and many others.
SIS CERTIFICATIONS, which certified the "BHARAT CERTIS AGRISCIENCE LIMITED KATHUA." for their supply and manufacturing of concrete sleepers of all types, is accredited by both International Accreditation Services (IAS-IAF) and International Organization for Accreditation Services (IOAS). Several certifications, including and not limited to ISO 9001, ISO 14001, ISO 22301, ISO 21001, ISO 37001, ISO 41001, ISO 45001, ISO 50001, ISO 13485, ISO 22000, HACCP, ISO 27001, IATF 16949, CE, RoHS, KOSHER, HALAL, Product Certifications, and training comes under the aegis of its services.