Total IT Global obtained ISO 37001:2016 and ISO 9001:2015 from SIS Certifications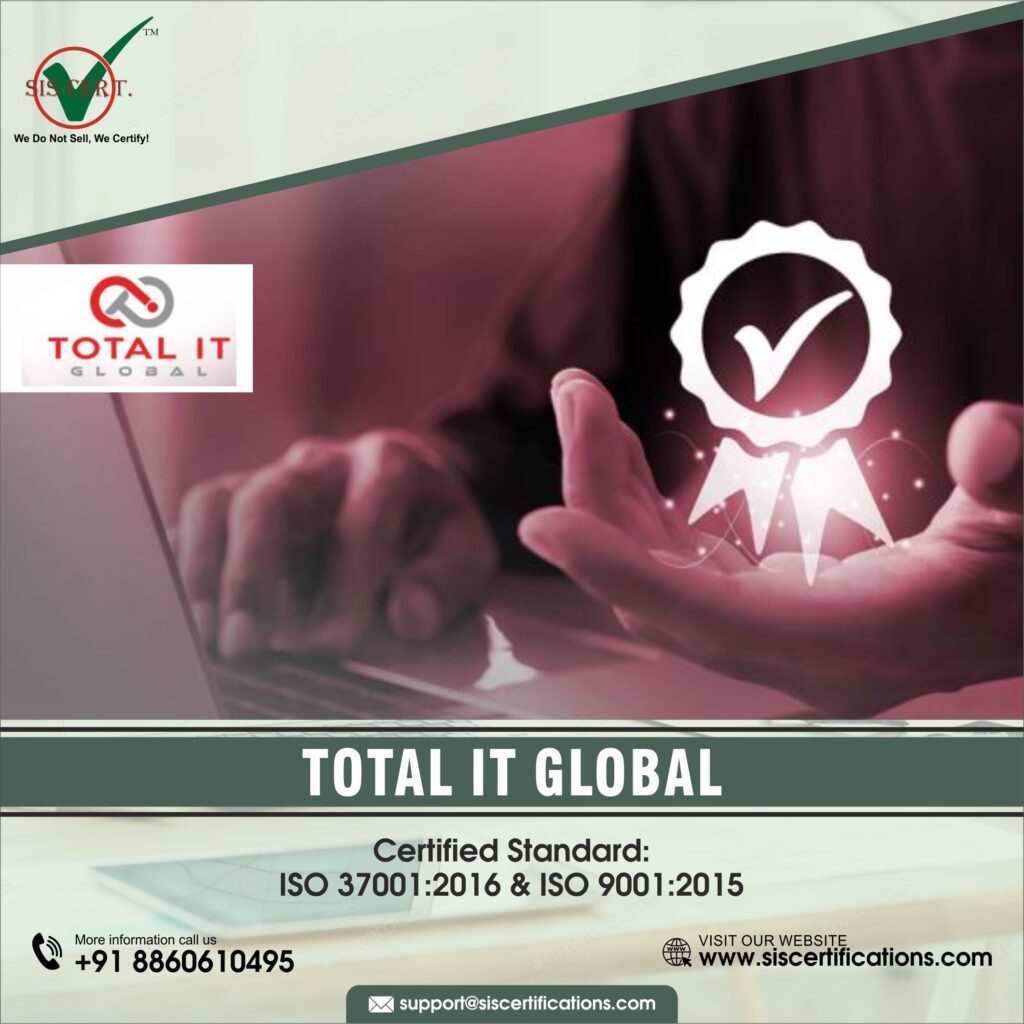 Congratulations to "Total IT Global" for successfully getting certified with IAS-accredited ISO 37001:2016 and ISO 9001:2015.With this accomplishment, they have proven their adherence to Quality Management Systems (QMS) and Anti Bribery Management systems (ABMS).
The scope of this management covers the Implementation of an Anti-Bribery Management System in the Context of Providing Field Service Management Services in IT Infrastructure Space for Workspace, Data Centres and cloud Infrastructures.
The company's reputation is enhanced by the ISO 9001:2015 accreditation of its Quality Management System, enabling it to compete on a par with its rivals. The Quality Management System provides assurance that the client is getting a good quality product and service. ISO 9001 can help businesses make sure they are providing their customers with the best possible product or service. Establishing processes and procedures, can also improve employee morale and reduce errors while helping to save money on production costs. With ISO 9001 certification, businesses can gain a competitive edge in the market by demonstrating excellent quality standards.
Total IT Global must uphold a solid reputation for integrity and ethical behaviour to remain a dominant force in the mobile telecommunications infrastructure sector. Implementing an ABMS based on ISO 37001 can assist in showing the organization's dedication to preventing and identifying bribery and corruption, enhancing its reputation with clients, partners, investors, and other stakeholders. The telecommunications sector is frequently vulnerable to corruption and bribery threats, especially in developing nations where the regulatory framework may be less robust.
TOTAL IT GLOBAL may detect and reduce such risks by implementing an ABMS based on ISO 37001, including by putting in place strict due diligence procedures for third-party suppliers and agents as well as safeguards to thwart bribery and corruption. Governments and numerous businesses are putting more and more pressure on suppliers to have effective anti-bribery and corruption policies and processes in place. Implementing an ABMS based on ISO 37001 will help Total IT Global establish a reputation as a dependable and trustworthy provider, improving its chances of landing new business.
The audit was conducted by our lead auditor Mr. Praveen, he said as an ISO lead auditor, it has been a rewarding experience to be able to help Total IT Global understand and comply with the international standards set by ISO. My role was to ensure that all processes were in line with the requirements of the ISO standard and that any non-conformances were addressed. After an audit, I got a sense of satisfaction knowing that I have assisted Total IT Global to become more efficient and compliant.
Various other ISO standards can be applied to enhance credibility. These include ISO 22301 for Business Continuity Management, ISO 27001 for Information Security Management Systems, ISO 45001 for Occupational Health and Safety Management Systems, and many others.
SIS CERTIFICATIONS certified the "Total IT Global".is accredited by both International Accreditation Services (IAS-IAF) and International Organization for Accreditation Services (IOAS). Several certifications, including and not limited to ISO 22301 BCMS, ISO 37001 ABMS, ISO 41001 FMS, ISO 13485 MD-QMS, ISO 21001 EOMS, ISO 22000 FSMS, ISO 45001 OHSMS, ISO 9001 QMS, ISO 14001 EMS, ISMS ISO 27001, SOC, VAPT, CMMI Level 3, CMMI Level 5, GDPR, SOC 2 Type 2, CE, RoHS, KOSHER, HALAL, Product Certifications, and training comes under the aegis of its services.