Creative International has been Productively awarded ISO 9001:2015 Certification by SIS Certifications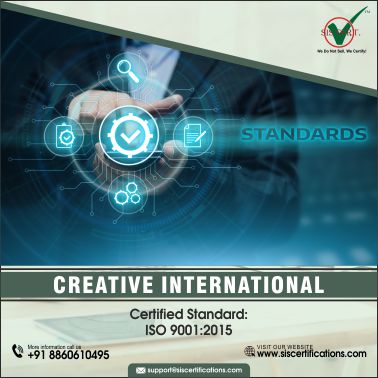 Sincere congrats to CREATIVE INTERNATIONAL for obtaining IAS-accredited ISO 9001:2015 certification for their import and distribution of car care products. They have demonstrated their dedication to Quality Management methods by achieving this success (QMS).
The scope of this management encompasses the Application of a Quality Management System to their Business of importing and Distribution of Premium Car Care Products to the Indian Market.
The company's reputation is enhanced by the ISO 9001:2015 accreditation of its Quality Management System, enabling it to compete on a par with its rivals. The Quality Management System provides assurance that the client is getting a good quality product and service. ISO 9001 can help businesses make sure they are providing their customers with the best possible product or service. Establishing processes and procedures, can also improve employee morale and reduce errors while helping to save money on production costs. With ISO 9001 certification, businesses can gain a competitive edge in the market by demonstrating excellent quality standards.
Our lead auditor Mr Praveen Kumar recalled the certification process as "challenging,  process-oriented and time-saving. The audit process was quite amazing with mutual understanding and thanks for showing faith in us which helped us to serve better."
There are various other ISO standards that can be applied to enhance credibility. These include ISO 22301 for Business Continuity Management, ISO 14001 for Environment Management Systems, ISO 45001 for Occupational Health and Safety Management Systems, and many others.
SIS CERTIFICATIONS, which certified the "PARAMOUNT RAIL INFRA PVT. LTD" for their supply and manufacturing of concrete sleepers of all types, is accredited by both International Accreditation Services (IAS-IAF) and International Organization for Accreditation Services (IOAS). Several certifications, including and not limited to  ISO 9001 certifications, ISO 14001 certifications, ISO 27001 certifications,  ISO 21001 certifications, ISO 37001 certifications, ISO 41001 certifications, ISO 27701 certifications, ISO 45001 certifications, ISO 50001 certifications, ISO 22000 certifications, ISO 22301 certifications, ISO 13485 certifications, HACCP,  IATF 16949, GDPR, SOC, CE, RoHS, KOSHER, HALAL, Product certifications, and training comes under the aegis of its services.