SIS Certifications awarded ISO/IEC 27001:2013 and ISO 22301:2019 to Xpertdox India Private Limited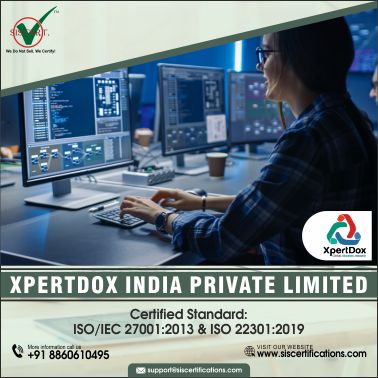 Sincere congrats to XPERTDOX INDIA PRIVATE LIMITED for obtaining an IAS-accredited ISO/IEC 27001:2013 and ISO 22301:2019 for their computer, real estate, renting and business activities. They have demonstrated their dedication to Information Security Management Systems (ISMS) and Business Continuity Management Systems by achieving this success.
The scope of this management encompasses that XpertDox uses advanced data analytics and proprietary natural language processing to structure, parse and map information from multiple diverse data sources. Its proprietary search engine and mappings improve access to clinical trials and automate the medical coding process. XpertDox's products include XpertCoding, XpertTrial, and XpertScreen. SoA Details: – XIPL_ISMS_C6.1.3_SOA_.
ISO 27001 standard is internationally accepted for all organizations of different sectors to execute an effective Information Security Management System. It helps organisations to prove to their customers that they securely handle sensitive information. The 27001 standards may be adapted to meet your evolving security requirements and are designed to evolve with your organisation. Responsibility for security and information assets may sometimes become unclear when organisations expand quickly, opening the door to costly human errors and data breaches.
An international standard for business continuity management systems, ISO 22301, offers a useful foundation for enterprises across all sectors. It ensures that despite disruptions, a business can continue with the highest possible output/results and can remove operational hiccups and weaknesses. Business continuity management thoroughly evaluates the impact of the disruption to determine the products and services that are essential for the organization's existence. It seeks to establish what emergency fixes and contingency plans might be required.
Our auditor shares his experience and recalled the procedure as challenging, process-oriented and transformative. He added "the audit process was really amazing with a lot of challenges. I want to thank the whole organisation for their consistent support. We completed the process on time, following all the necessary formalities".
There are various other ISO standards that can be applied for enhanced credibility. These include ISO 9001 for Quality Management, ISO 14001 for Environmental Management, ISO/IEC 20000-1:2018 for IT Service Management (ITSM), and so on.
SIS Certifications, which certified XPERTDOX INDIA PRIVATE LIMITED for their computer, real estate, renting and business activities is accredited by both International Accreditation Services (IAS-IAF) and International Organization for Accreditation Services (IOAS). Several certifications, including and not limited to ISO 22301 BCMS, ISO 37001 ABMS, ISO 41001 FMS, ISO 13485 MD-QMS, ISO 21001 EOMS, ISO 22000 FSMS, ISO 45001 OHSMS, ISO 9001 QMS, ISO 14001 EMS, ISMS ISO 27001, SOC, VAPT, CMMI Level 3, CMMI Level 5, GDPR, SOC 2 Type 2, CE, RoHS, KOSHER, HALAL, Product Certifications, and training comes under the aegis of its services.