SIS Certifications Awarded ISO 27001:2013 to World Television Limited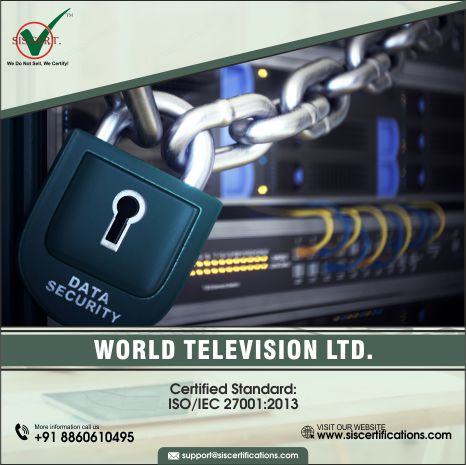 Congratulations to "World Television Ltd." for successfully achieving the IAS-accredited ISO/IEC 27001:2013 certification for better information security. SIS Certifications felt immense pleasure to award you with the ISO certificate that will boost the trust of your customers, clients, and stakeholders in the organization.
The scope of the organization covers WTV Operations and Applications.
"World Television Limited" has been awarded the ISO 27001:2013 accreditation, which demonstrates the company's commitment to achieving and sustaining excellence in information security. Certifications to the ISO 27001:2013 standard provide evidence that a company complies with all the standards that are designed to be of assistance to it.
The Information Security Management System (ISMS) is required in order to comply with the requirements of the ISO/IEC 27001 standard. This information security management system (ISMS) is a governance system that includes a systematic set of actions to manage information risks. In order to handle the specific information risks that the business is up against, an organization that has adopted ISO/IEC 27001 has the option of selecting information security controls from the menu and also adding additional controls from the la carte list.
Our lead auditor, Ms. Sharmista More, and auditor Mr. Ajayendra Vats share views about the certification experience as, "Confident, incredibly harmonic, and professional to the highest degree." As per them, "We were able to complete the certification process on schedule because of their firm's remarkable and relentless audit strategy and our shared appreciation for the audit's importance."
Credibility can be further bolstered by a variety of other ISO standards. Among them is the International Organization for Standardization (ISO) 22301 for Business Continuity Management and ISO 41001 for Facility Management Systems, among many more.
SIS CERTIFICATIONS, which certified "World Television Limited. London, England" for strengthening their information security, is accredited by both International Accreditation Services (IAS–IAF) and International Organization for Accreditation Services (IOAS). Several certifications, including and not limited to ISO 9001, ISO 14001, ISO 22301, ISO 21001, ISO 37001, ISO 41001, ISO 45001, ISO 50001, ISO 13485, ISO 22000, HACCP, ISO 27001, IATF 16949, CE, RoHS, KOSHER, HALAL, Product Certifications, and training comes under the aegis of its services.