SIS Certifications awarded ISO 9001:2015 and ISO 14001: Certification to Seaga India Pvt Ltd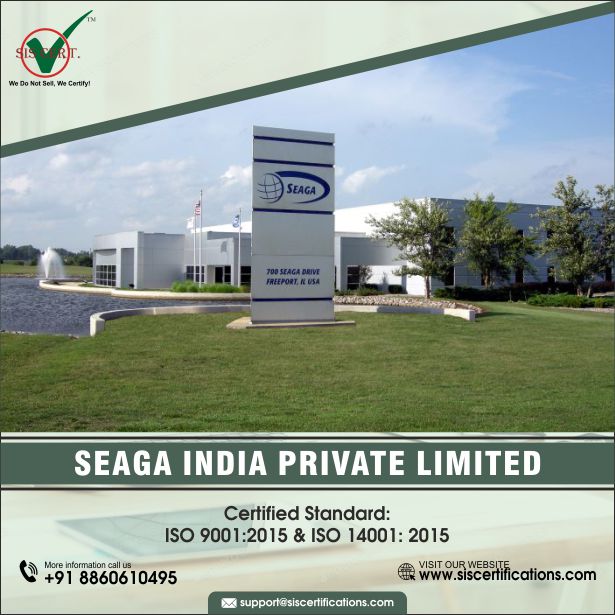 Heartiest congratulations to Seaga India Private Limited for successfully achieving IAS-accredited ISO 9001:2015 and ISO 14001:2015 for the manufacturing of automatic merchandisers and their design. Now they have manifested assurance towards Quality Management Systems (QMS) and Environmental Management Systems (EMS).
The scope of this management system involves the Design, Manufacture, Supply and Service of Refrigerated and Ambient Automatic Retailing Machines, Industrial Vendors and Lockers, Smart Coolers, Change Machines and After-Sales Parts Supply.
ISO 9001:2015 assures the best quality products and services to their employee as well as clients. The quality management system provides assurance that the client is getting a good quality product and service. It serves as a benchmark for all quality management systems and serves as evidence of an organization's adherence to regional, national, and global quality standards. ISO 14001:2015 ensures an integrated approach to the effects on the environment. It helps to reduce environmental risks and prevents incidents to employees. ISO 14001:2015 increases staff understanding of environmental issues. Environmental protection efforts will be better coordinated, resulting in quicker and more efficient results with less work.
Our Lead auditor – Mr Ajayender Vats accompanied by auditor Mrs Umang Maheshwari performed the audit process and according to them, the certification experience was "process-oriented and optimistic". "The audit process was compulsive with mutual cooperation and provided valuable insights into the effectiveness of their internal processes and wants to thank the whole organisation for their consistent support.
There are various other ISO standards that can be applied to enhance credibility. These include ISO 22301 for Business Continuity Management Systems, ISO 14001 for Environmental Management Systems, ISO 45001 for Occupational Health and Safety Management Systems and many others.
SIS CERTIFICATIONS, which certified the "SEAGA INDIA PRIVATE LIMITED" for the manufacturing of automatic merchandisers is accredited by both International Accreditation Services (IAS-IAF) and International Organization for Accreditation Services (IOAS). Several certifications, including and not limited to  ISO 9001 certifications, ISO 14001 certifications, ISO 27001 certifications,  ISO 21001 certifications, ISO 37001 certifications, ISO 41001 certifications, ISO 27701 certifications, ISO 45001 certifications, ISO 50001 certifications, ISO 22000 certifications, ISO 22301 certifications, ISO 13485 certifications, HACCP,  IATF 16949, GDPR, SOC, CE, RoHS, KOSHER, HALAL, Product certifications, and training comes under the aegis of its services.