SIS Certifications successfully awarded CE Certificate of Compliance to Horiba India Private Limited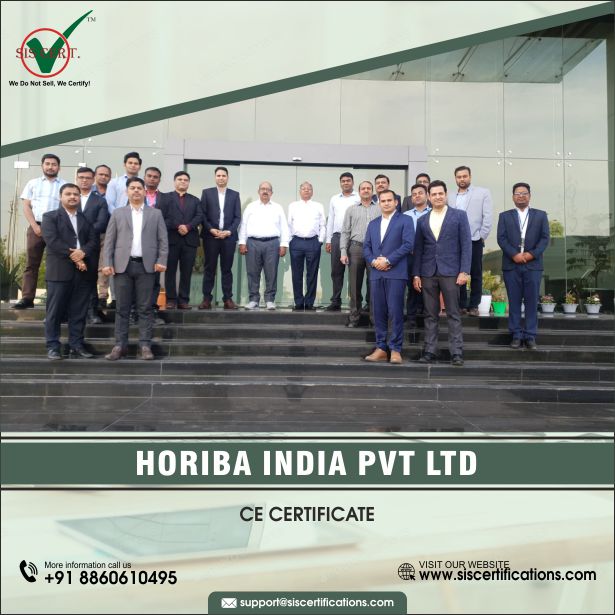 Heartiest congratulations to Horiba India Pvt. Ltd. for successfully achieving CE marking for their wide range of products manufacturing of 1. Abx diluent 20l 2. Abx minidil lmg 10l 3. Abx minidil lmg 20l 4. Abx cleaner 1.0l 5. Minilysebio 0.4l 6. Abx lysebio 0.4l 7. Abx lysebio 1.0l 8. Abx basolyse ii 1.0l 9. Abx mini clean 1.0l 10. Abx minoclair 0.5l 11. Abx minoclair 100 ml. CE marking of products refers to legal requirements that are required to sell the products in the EU.
A product that has the CE marking ensures that Horiba India Pvt Ltd has evaluated it and determined that it complies with EU safety, health, and environmental protection standards. Products made anywhere in the world and marketed in the EU must comply with it. Its sole objective is to promote free trade inside the European Economic Area. Users will feel safer using the goods, which may also result in fewer liability and damage claims by implementing the requirements. CE marking enables to increase in market size and improves product credibility.
Our lead auditor – Mr Praveen Kumar performed the audit and as per him the certification experience was "competent and optimistic." Mr Praveen Kumar says, "The audit process was compulsive with mutual cooperation and provided valuable insights into the effectiveness of their internal processes. I want to express my personal gratitude for believing in us. Thank you for your confidence and support."
There are various other ISO standards that can be applied to enhance credibility. These include ISO 22301 for Business Continuity Management Systems, ISO 14001 for Environment Management Systems, ISO 45001 for Occupational Health and Safety Management Systems, and many others.
SIS CERTIFICATIONS, which certified the "HORIBA INDIA PRIVATE LIMITED" for their wide range of products manufacturing of Abx diluent 20l, Abx minidil lmg 10l etc is accredited by both International Accreditation Services (IAS-IAF) and International Organization for Accreditation Services (IOAS). Several certifications, including and not limited to ISO 9001, ISO 14001, ISO 22301, ISO 21001, ISO 37001, ISO 41001, ISO 45001, ISO 50001, ISO 13485, ISO 22000, HACCP, ISO 27001, IATF 16949, CE, RoHS, KOSHER, HALAL, Product Certifications, and training comes under the aegis of its services.