SIS Certifications awarded ISO 9001:2015 and ISO/IEC 27001:2013 to Unico Connect Private Limited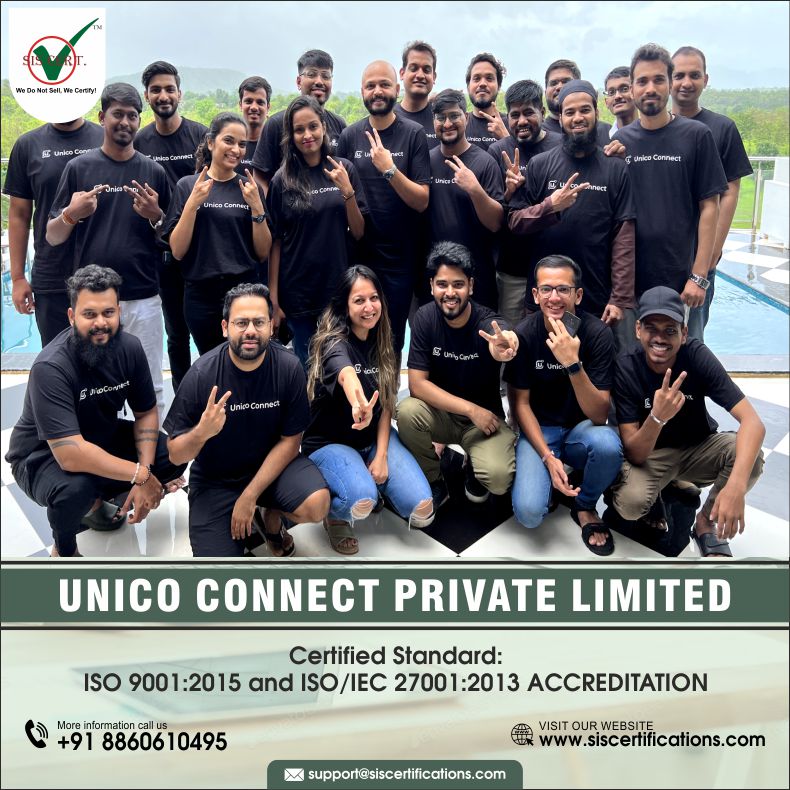 Warmest congratulations to UNICO CONNECT PRIVATE LIMITED for successfully achieving IAS accredited " ISO 9001:2015 and ISO/IEC 27001:2013″. By achieving this goal, they have shown that they are committed to creating their own quality management system and giving employees safe and healthy working environments.
The scope of UNICO CONNECT PRIVATE LIMITED consists of Product Design (UI/UX) for Web Apps and Mobile Apps, Software Development for Web Apps, Mobile Apps, E-commerce, ERP, etc., Tech / IT Consulting, Cloud Hosting Setup and Management, Email Hosting and Management, Digital Marketing, Social Media Management, SEO Services, Graphic Design and Branding and lastly, Staff Augmentation. Statement of Applicability.
ISO 9001:2015 provides assurance that the client is getting a good quality product and service. It improves the company's reputation and increases consumers' and clients' trust in the company. It serves as a benchmark for all quality management systems and serves as evidence of an organization's adherence to regional, national, and global quality standards. ISO/IEC 27001:2013 serves as a clear declaration of your abilities and proves that you follow internationally recognized best practices. It helps organizations and businesses protect their critical information assets and comply with applicable legal and regulatory requirements. A very safe data security management system may be created with the aid of ISO/IEC 27001:2013 certification
Our auditor, Mr Shivam Gupta, described the certification process as "challenging, certain, and smooth". Our organisation was able to offer certification at the scheduled time. Since the audit process was engaging and excellent and fostered mutual understanding. I appreciate that you chose us for the audit.
There are various other ISO standards that can be applied to enhance credibility. These include ISO 22301 for Business Continuity Management Systems, ISO 45001 for Occupational Health and Safety Management Systems, and many others.
SIS CERTIFICATIONS, which certified the "UNICO CONNECT PRIVATE LIMITED" is accredited by both International Accreditation Services (IAS-IAF) and International Organization for Accreditation Services (IOAS).  Several certifications, including and not limited to  ISO 9001 certifications, ISO 14001 certifications, ISO 27001 certifications,  ISO 21001 certifications, ISO 37001 certifications, ISO 41001 certifications, ISO 27701 certifications, ISO 45001 certifications, ISO 50001 certifications, ISO 22000 certifications, ISO 22301 certifications, ISO 13485 certifications, HACCP,  IATF 16949, CMMI Certifications, GDPR, SOC, CE, RoHS, KOSHER, HALAL, Product certifications, and training comes under the aegis of its services.