Durlum India Pvt Ltd obtained ISO 50001:2018 under the Direction of SIS Certifications Pvt. Ltd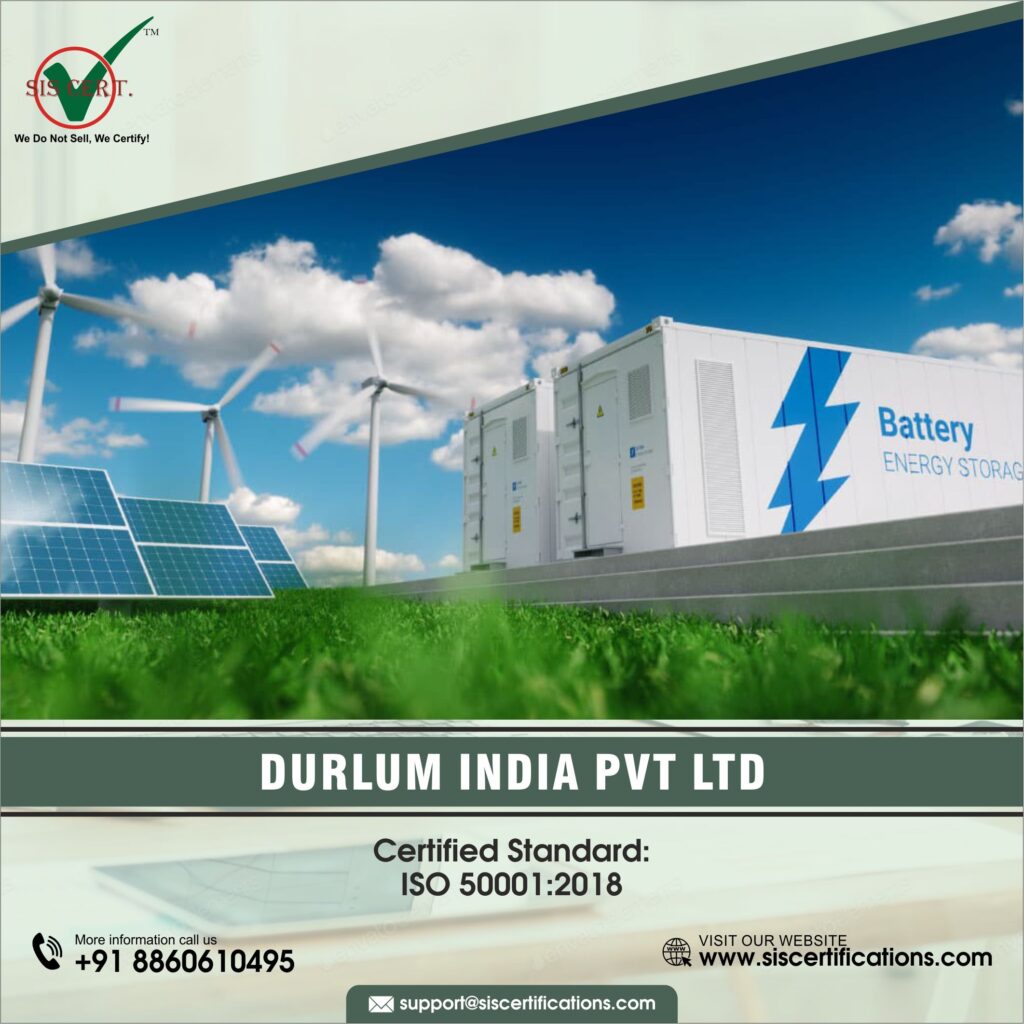 It gives immense pleasure to congratulate and announce that DURLUM INDIA PVT LTD successfully achieved ISO 50001:2018 accreditation for their sales and manufacturing of metal ceilings, functional ceilings and wall cladding. At this point, they have established assurance towards the Energy Management Systems.
The scope of DURLUM INDIA PVT LTD covers the Planning, Development, Manufacturing and Sales of Metal Ceilings, Functional Ceilings and Wall Cladding.
Organisations may find energy-saving possibilities and put plans in place to enhance energy performance with the aid of ISO 50001. Durlum India Pvt Ltd may improve its energy efficiency, eliminate energy waste, and optimise energy usage by setting energy objectives and targets, which would result in cost savings. Through enhanced energy management, implementing ISO 50001 can lead to considerable cost savings.
Durlum India Pvt Ltd may lower energy expenses and boost its bottom line by methodically tracking and analysing energy consumption, finding areas of waste, and putting energy-saving measures in place. Organisations can better comply with energy-related laws and regulations with the support of ISO 50001. Durlum India Pvt Ltd can guarantee adherence to applicable environmental laws and regulations as well as compliance with energy efficiency requirements and performance benchmarks by putting the standard into practice.
Obtaining ISO 50001 accreditation shows Durlum India Pvt Ltd's stakeholders, such as clients, partners, and investors, its dedication to energy management and sustainability. It may strengthen the company's reputation, foster trust, and help it stand out from the competition.
Our lead auditor performed the certification process and the certification experience, according to our lead auditor, was "competent and optimistic." "The audit process was compulsive with cooperation and provided valuable insights into the effectiveness of their internal processes."
There are various other ISO standards that can be applied to enhance credibility. These include ISO 22301 for Business Continuity Management, ISO 14001 for Environment Management Systems, ISO 45001 for Occupational Health and Safety Management Systems, and many others.
SIS CERTIFICATIONS, which certified the Durlum India Pvt Ltd is accredited by both International Accreditation Services (IAS-IAF) and International Organization for Accreditation Services (IOAS). Several certifications, including and not limited to ISO 9001, ISO 14001, ISO 22301, ISO 21001, ISO 37001, ISO 41001, ISO 45001, ISO 50001, ISO 13485, ISO 22000, HACCP, ISO 27001, IATF 16949, CE, RoHS, KOSHER, HALAL, Product Certifications, and training comes under the aegis of its services.