ZOE Gordon and Co. Limited is Certified as ISO 9001:2015 Compliant by SIS Certifications Pvt. Ltd.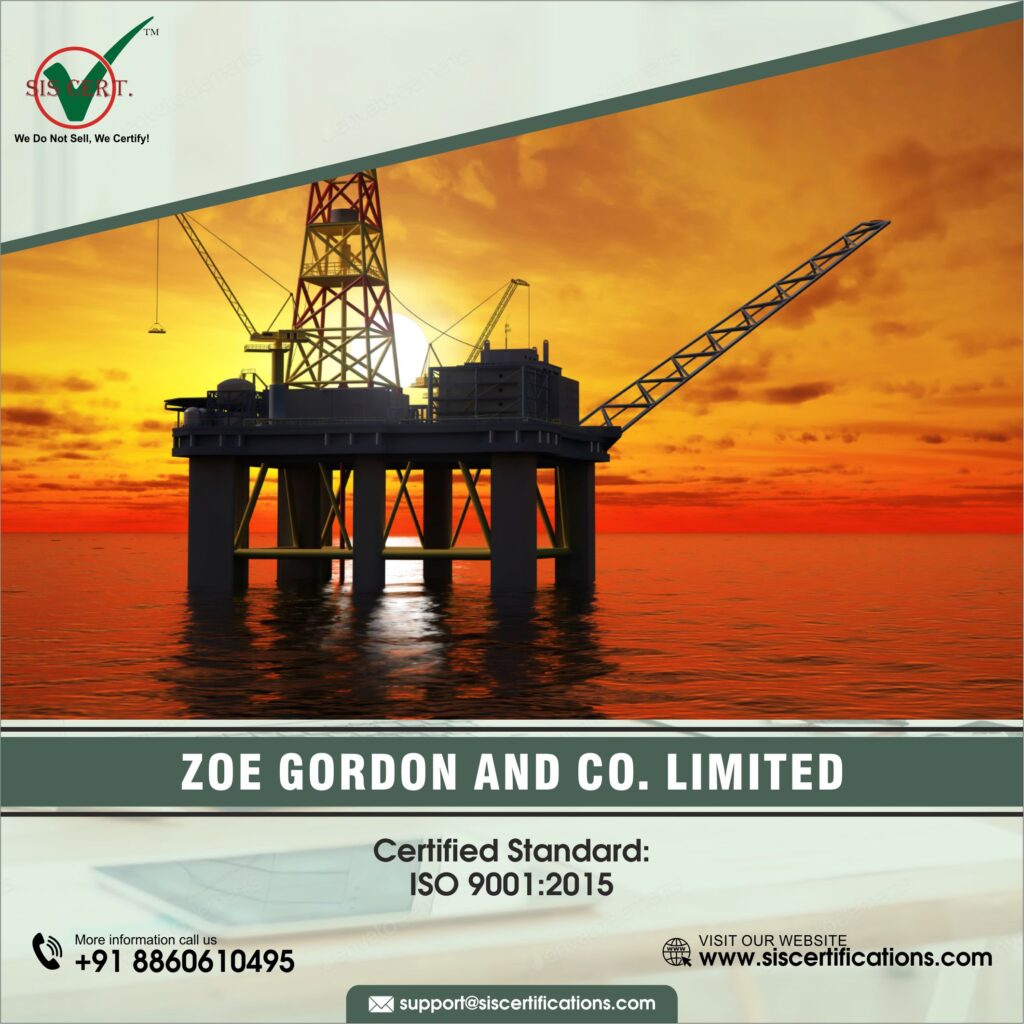 It gives immense pleasure to congratulate and announce that ZOE GORDON AND CO. LIMITED achieved ISO 9001:2015. Now they have proved their assurance to Quality Management Systems.
The scope of this management covers "Procurement Solutions, Marine Logistics Services, Engineering, Procurement, Construction and Installation (EPCI), Maintenance Services, Shipping, Chemicals, Personal Protection Equipment (PPE), Heavy lifting Equipment, Dredging, Petroleum Products Storage and Supply".
The reputation of ZOE GORDON AND CO. LIMITED is enhanced by the ISO 9001:2015 accreditation of its quality management system, enabling it to compete on par with its competitors. It enhances the productivity and efficiency of its employees as it oversees the business process at every level to eliminate undesired results. The quality management system provides assurance that the client is getting a good quality product and service.
The internal administration of the process and activities becomes simple when a quality management system is in place and all the processes are well integrated and coordinated. Better coordination and connections between the activities and processes are ensured by ISO 9001:2015 certification.
Our lead auditor carried out the auditing procedure. The auditing procedure was praised for being exceptional and robust. The management of ZOE GORDON AND CO. LIMITED. was extremely helpful and skilled, and he remarked that it is a great joy to assist the organisation. He also expressed Thanks for placing their trust in them.
There are various other ISO standards that can be applied to enhance credibility. These include ISO 22301 for Business Continuity Management, ISO 14001 for Environment Management Systems, ISO 45001 for Occupational Health and Safety Management Systems, and many others.
SIS CERTIFICATIONS, which certified the "ZOE GORDON AND CO. LIMITED "for their services is accredited by both International Accreditation Services (IAS-IAF) and International Organization for Accreditation Services (IOAS). Several certifications, including and not limited to  ISO 9001 certifications, ISO 14001 certifications, ISO 27001 certifications,  ISO 21001 certifications, ISO 37001 certifications, ISO 41001 certifications, ISO 27701 certifications, ISO 45001 certifications, ISO 50001 certifications, ISO 22000 certifications, ISO 22301 certifications, ISO 13485 certifications, HACCP,  IATF 16949, GDPR, SOC, CE, RoHS, KOSHER, HALAL, Product certifications, and training comes under the aegis of its services.