Panda 555 Asociados S.A.C. is Certified as ISO 50001:2018 Compliant by SIS Certifications Pvt. Ltd.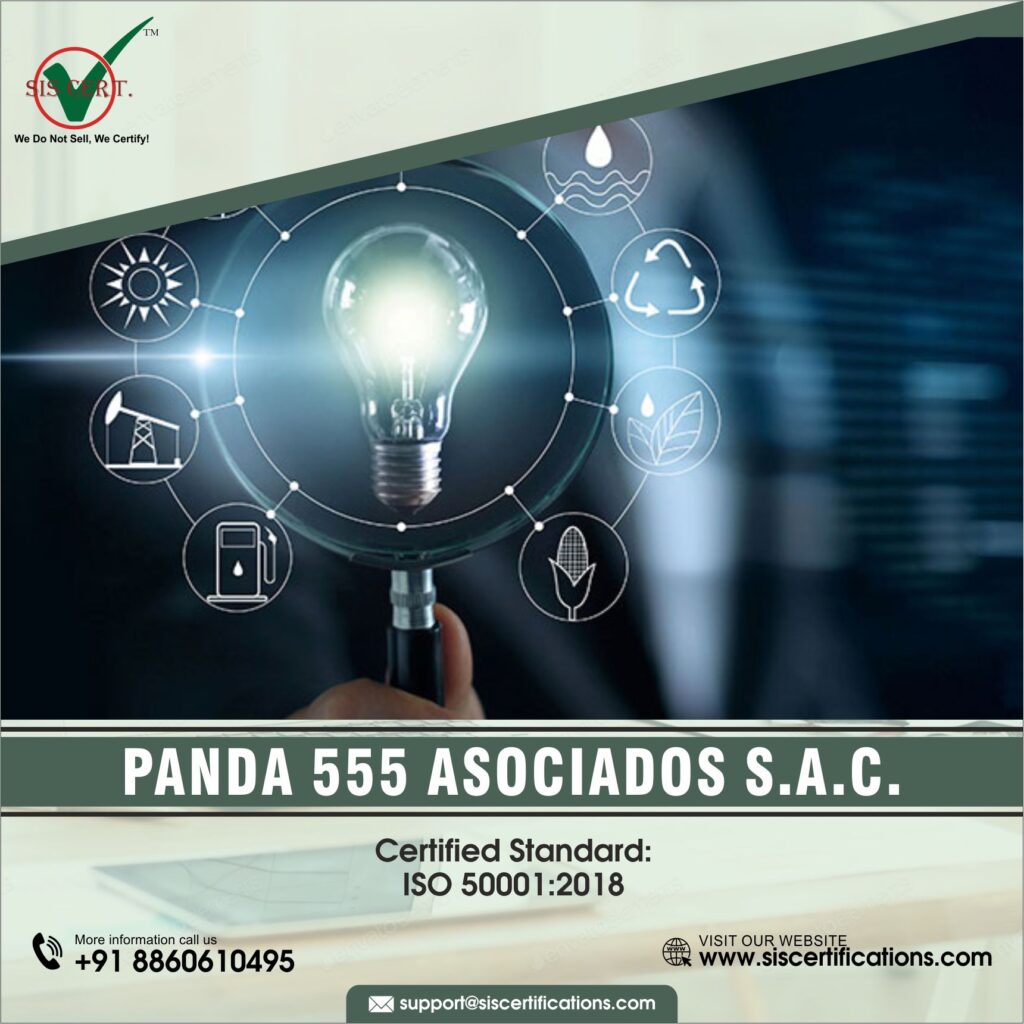 The warmest congratulations to the PANDA 555 ASOCIADOS S.A.C. for successfully achieving IOAS-accredited ISO 50001:2018 for the exploration, production and marketing of oil and gas. They have proven their adherence to Energy Management Systems (EnMS).
The scope of this management includes "Production and Marketing of Ready-Mix concrete, as well as the Execution, Construction, and Improvement of different public and private works such as Civil Works; Sanitation works; Building works such as Educational Infrastructure; Road infrastructure works such as bridges."
ISO 50001 is a global standard for energy management systems that helps organizations to reduce their energy consumption and save money. For PANDA 555 ASOCIADOS S.A.C., adopting this standard can bring many benefits such as improved efficiency, better resource management, reduced environmental impact, and improved customer satisfaction.
Furthermore, it can also help these companies to increase their competitiveness in the market by enabling them to develop innovative products and services. By implementing ISO 50001, PANDA 555 ASOCIADOS S.A.C. can ensure that they are meeting all the requirements for sustainable operations while still being able to innovate.
PANDA 555 ASOCIADOS S.A.C. can guarantee adherence to applicable environmental laws and regulations as well as compliance with energy efficiency requirements and performance benchmarks by putting the standard into practice.
As per our Lead Auditor, the organization demonstrated a strong commitment to maintaining and continuously improving its management system. The audit revealed a well-documented and organized system that supports efficient operations. Their dedication to compliance was evident throughout the audit.
Various other ISO standards can be applied to enhance credibility. These include ISO 22301 for Business Continuity Management, ISO 14001 for Environment Management Systems, ISO 45001 for Occupational Health and Safety Management Systems, and many others.
SIS CERTIFICATIONS, which certified the "PANDA 555 ASOCIADOS S.A.C." is accredited by both International Accreditation Services (IAS-IAF) and International Organization for Accreditation Services (IOAS).Several certifications, including and not limited to ISO 9001, ISO 14001, ISO 22301, ISO 21001, ISO 37001, ISO 41001, ISO 45001, ISO 50001, ISO 13485, ISO 22000, HACCP, ISO 27001, IATF 16949, CE, RoHS, KOSHER, HALAL, Product Certifications, and training comes under the aegis of its services.