SIS Certifications Awarded ISO 9001:2015 Certification to Insight Software, LLC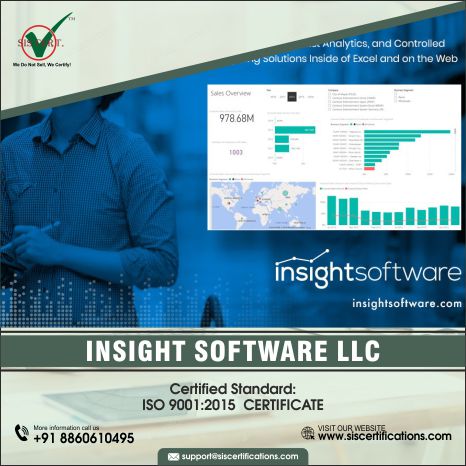 'No business is falling behind to earn ISO certification. Having an ISO certification shows that you are meeting global requirements.'
An enormous round of applause and heartfelt congratulations are in order for "Insight Software LLC," which has recently been honoured with ISO certification. The organization will now have more certainty in providing quality products and services. SIS Certifications felt a great pleasure to present Insight Software with the ISO certification that will increase public confidence in their company.
The scope of the organization covers The Product Lines and Software Solutions Included within the Organization's Quality Management System – SIMBA, Source Connect, Source Connect Cloud, Angles for Oracle, And Angles for SAP.
ISO 9001:2015 certification for "Insight Software, LLC" demonstrates the company's dedication to Quality Management and customer satisfaction. ISO 9001:2015 certification verifies that an organization follows all the guidelines set out to help it succeed. Working with a firm that has earned ISO 9001:2015 certification will be highly valued by its customers. By proving that its products or services are up to ISO 9001 standards, a company may get respect and visibility across the world. Using the trustworthiness of ISO 9001, the company may improve its chances of winning bids and contracts and, by increasing productivity, can enhance customer happiness and loyalty.
Our lead auditor, Ms. Sharmista More, shares views about the certification experience as "Outstanding, Competent, and Constantly Developing." As per her, "I am pleased that I have completed the audit in the allocated time. The kind and helpful attitude of the personnel made for a smooth audit."
Credibility can be further bolstered by a variety of other ISO standards. Among them is the International Organization for Standardization (ISO) 22301 for Business Continuity Management, ISO 27001 for Information Security Management Systems, and ISO 41001 for Facility Management Systems, among many others.
SIS CERTIFICATIONS, which certified "Insight Software, LLC, Hyderabad, India" for strengthening its quality regarding products and services, is accredited by both International Accreditation Services (IAS) and International Organization for Accreditation Services (IOAS). Several certifications, including and not limited to ISO 9001, ISO 14001, ISO 22301, ISO 21001, ISO 37001, ISO 41001, ISO 45001, ISO 50001, ISO 13485, ISO 22000, HACCP, ISO 27001, IATF 16949, CE, RoHS, KOSHER, HALAL, Product Certifications, and training comes under the aegis of its services.