SIS Certifications awarded with ISO/IEC 17021-1 by IAS for their tremendous services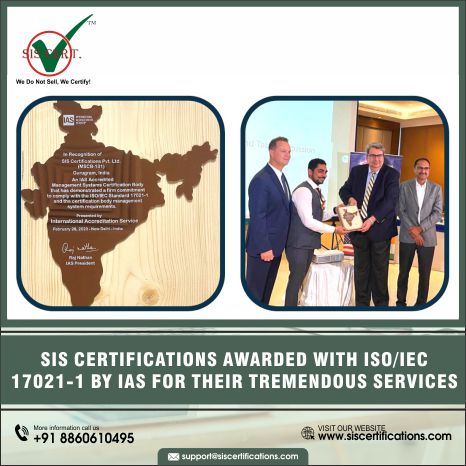 It makes SIS Certifications Pvt. Ltd. immensely proud to get recognized from International Accreditation services as compliant with ISO/IEC 17021-1 standard. As a result of this acknowledgment, SIS Certifications Pvt. Ltd. has established itself as a brand in the ISO industry.
ISO 17021 is must for certification bodies to ensure that the certification process is conducted consistently and fairly. ISO 17021 came into existence in response to the requirement for a universally recognised standard that would make it easier to accept certifications issued by organisations that carry out conformity evaluations at the national and international levels, thereby promoting international trade This action was made in response to a demand for a management certification standard that could be used globally.
The dedication of SIS Certifications Pvt. Ltd. to preserving IAS's long-standing goal has been shown time and again.
SIS Certifications Pvt Ltd presented a testimonial in the honour of IAS's dedication to the growth of the organization and expressed the gratitude for reaccreditation of ISO/IEC 17021-1 standard that is a badge of excellence and dedication to quality for them.
With "One Test, One Inspection, One Certification Globally" as its guiding philosophy, the purpose of IAS is to provide the highest-quality accreditation services to anybody concerned with public safety and sustainability. IAS smoothly issued the respective certificate. They are really working hard to expand certification programmes for organisations who want to demonstrate their dedication to professional excellence.
The International Accreditation Service (IAS) is devoted to delivering accreditation programs and related services that fulfil the needs and expectations of its clients and are in line with ISO/IEC Standard 17011.