SIS Certifications awarded ISO 9001:2015, ISO 14001:2015 and ISO 45001:2018 Certification to Naari Pharma Pvt Ltd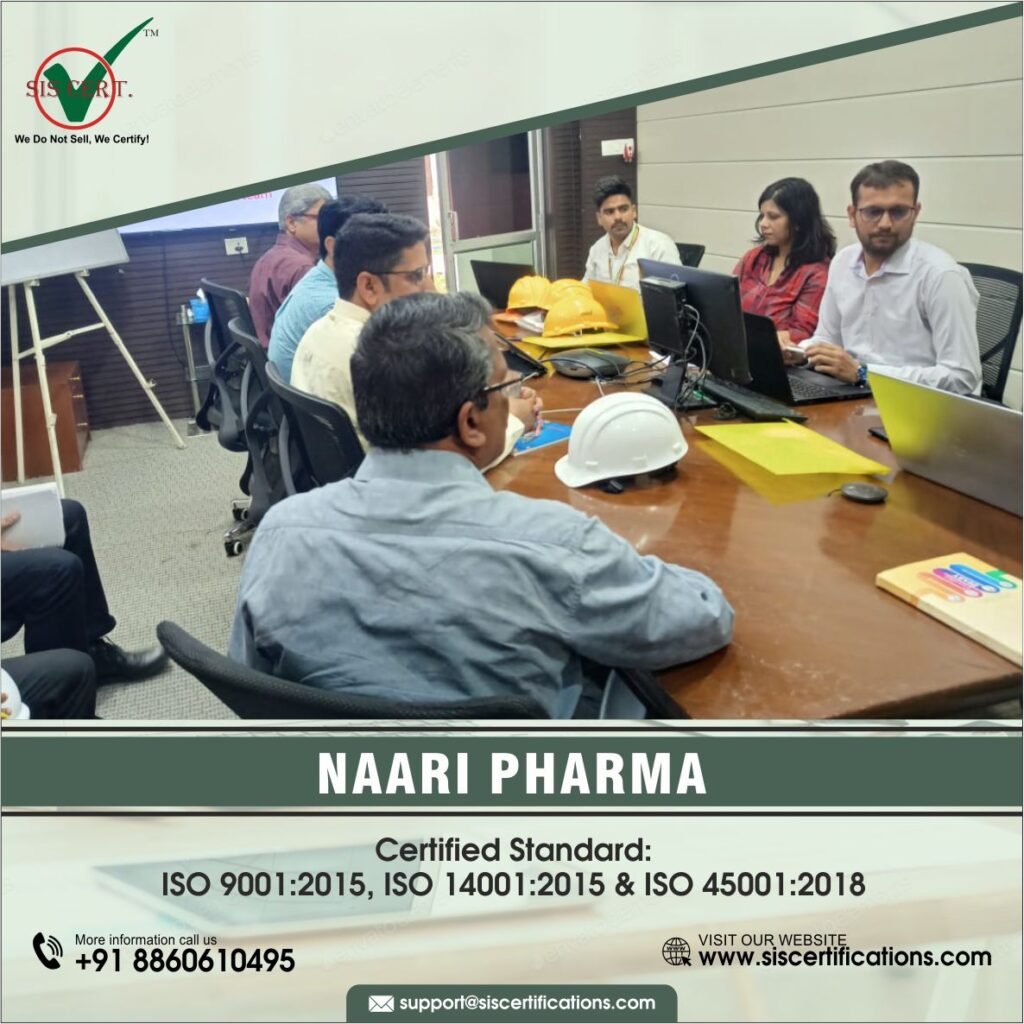 A sincere congratulations to NAARI PHARMA PRIVATE LIMITED for successfully getting certified to  "ISO 9001:2015, ISO 14001:2015 and  ISO 45001:2018" for their manufacturing and supply of pharmaceuticals products. They have demonstrated their dedication to accuracy, consistency, and top-notch client satisfaction with this accomplishment.
The scope of this management comprises Research, Development, Manufacture and Supply of Tablets and Capsules.
ISO 9001 assures the best quality products and services to their employee as well as clients. The quality management system provides assurance that the client is getting a good quality product and service. ISO 14001 is a helpful management tool from which to achieve a level of environmental performance. Implementing an EMS, an organisation may provide the impression that their company cares about the environment to their customers, which will probably result in increased sales. Organizations can identify the environmental issues that concern them with the help of ISO 14001.
It provides companies with guidance on how to manage, monitor, and control these problems as well as identify risks and opportunities that may help or hinder the attainment of their environmental objectives. ISO 45001 will improve OHS performance and increase organisational resilience through proactive risk avoidance. The protection of employees' health and the avoidance of their passing, injuries, or disabilities are the main priorities. Yet, by getting an ISO 45001 accreditation, businesses demonstrate their concern for this issue to outside parties. It prevents work accidents and occupational diseases.
The certification experience was "process-oriented and positive," according to our Lead auditor, Mr Anupam Kumar Singh, who oversaw the audit process. "The audit process was conducted with mutual collaboration and gave useful insights into the efficacy of their internal systems." They applaud the whole organisation for their persistent assistance.
There are various other ISO standards that can be applied to enhance credibility. These include ISO 22301 for Business Continuity Management, ISO 50001 for Energy Management, and many others.
SIS CERTIFICATIONS, which certified the "NAARI PHARMA PRIVATE LIMITED." for their Research, Development, Manufacture and Supply of Tablets and Capsules., is accredited by both International Accreditation Services (IAS-IAF) and International Organization for Accreditation Services (IOAS). Several certifications, including and not limited to ISO 9001, ISO 14001, ISO 22301, ISO 21001, ISO 37001, ISO 41001, ISO 45001, ISO 50001, ISO 13485, ISO 22000, HACCP, ISO 27001, IATF 16949, CE, RoHS, KOSHER, HALAL, Product Certifications, and training comes under the aegis of its services.