SIS Certifications awarded ISO 9001:2015 Certificate to UK Logix Security International Co Ltd, Myanmar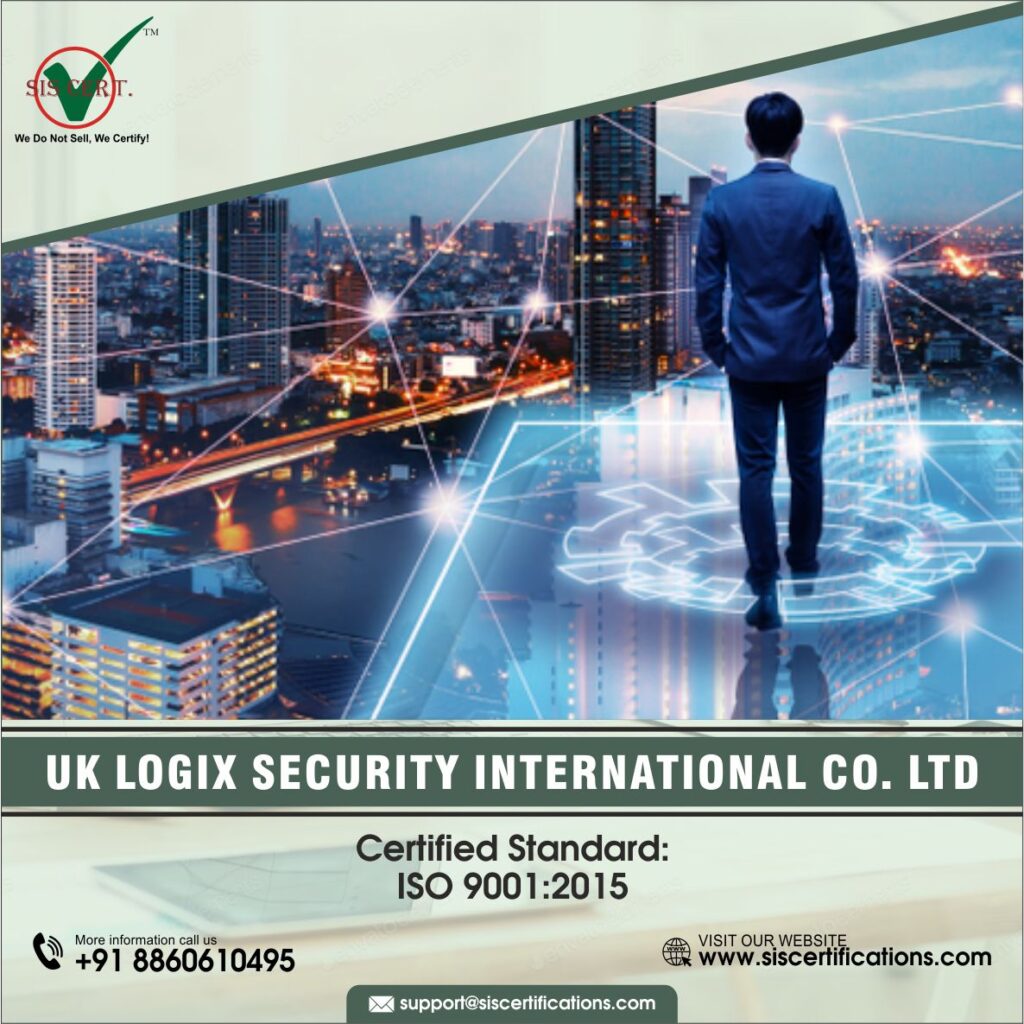 Congratulations to "UK Logix Security International Co. Ltd." for successfully achieving IAS-accredited ISO 9001:2015 certification for assurance toward Quality Management System (QMS).
The scope of the organization covers the Supply of IT-based Security Services.
The ISO 9001:2015 QMS certification guarantees "UK Logix Security International Co. Ltd." effectiveness in upholding the caliber of its Security Service. This will increase public trust in UK Logix Security International Co. Ltd.'s ability to offer its clients and workers the best IT-based security services. The ISO 9001:2015 certification ensures adherence to all laws designed to help organizations create their Quality Management Systems.
The goal of UK Logix Security International Limited is to lead the ICT & Security Service Industry in customer satisfaction. They provide a range of ICT & Security Solutions, including installation, infrastructure, and support services, along with the highest caliber ICT & Security products and services
Our Lead Auditor, Ms. Umang Maheshwari, praised the certification process as being "extremely professional and extremely harmonic. "She appreciates the company's thorough and great assistance with the audit procedure because of which she was able to complete the process in time
Various other ISO standards can be applied to enhance credibility. These include ISO 22301 for Business Continuity Management, ISO 14001 for Environmental Management Systems, ISO 45001 for Occupational Health and Safety Management Systems, and many others.
SIS CERTIFICATIONS, which certified the "UK Logix Security International Co. Ltd" for their Field Service Management Services in IT-based Security Services, is accredited by both International Accreditation Services (IAS-IAF) and International Organization for Accreditation Services (IOAS). Several certifications, including and not limited to ISO 9001, ISO 14001, ISO 22301, ISO 21001, ISO 37001, ISO 41001, ISO 45001, ISO 50001, ISO 13485, ISO 22000, HACCP, ISO 27001, IATF 16949, CE, RoHS, KOSHER, HALAL, Product Certifications, and training comes under the aegis of its services.