State Bank of India achieved ISO 27001:2013 under the Guidance of SIS Certifications Pvt. Ltd.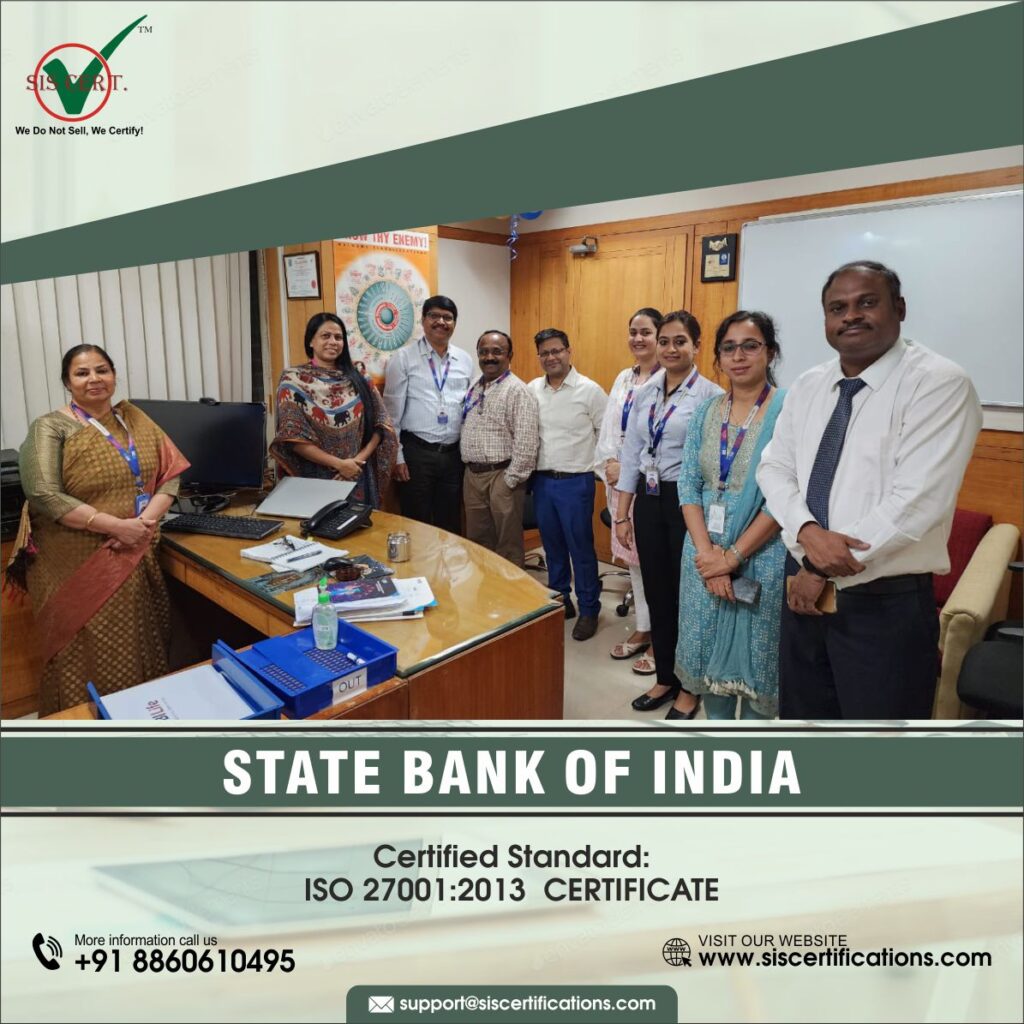 SIS Certifications congratulates "The State Bank of India Information Security Department (ISO & CS Wings)" for successfully achieving IAS-accredited ISO/IEC 27001:2013 for their information security. ISO/IEC 27001:2013 manifests their ability to protect information assets and provide data security.
The scope of "The State Bank of India Information Security Department (ISO & CS Wings)" covers The Information Security Management System applies to the Operations of the ISO (Information Security Operations) & CS (Cyber Security) Department of ISD.
ISO 27001:2013 serves as a clear declaration of the State Bank of India Information Security Department's abilities and proves that they follow internationally recognised best practices. It helps them protect their critical information assets and comply with legal and regulatory requirements. A very safe data security management system may be created with the aid of ISO 27001 certification. By deploying, they'll be able to better grasp their own security environment and the newest digital defence strategies. It helps to reassure their customers, workers, investors and other stakeholders of your commitment to cyber security.
The certification experience was "process-oriented and positive," according to our Lead auditor, Ms Sharmista More, who oversaw the audit process. "The audit process was conducted with mutual collaboration and gave useful insights into the efficacy of their internal systems." she appreciated the whole organisation for their persistent assistance.
There are various other ISO standards that can be applied to enhance credibility. These include ISO 22301 for Business Continuity Management Systems, ISO 22000 for Food Safety Management Systems, ISO 45001 for Occupational Health and Safety Management Systems, and many others.
SIS CERTIFICATIONS, which certified the "STATE BANK OF INDIA INFORMATION SECURITY DEPARTMENT (ISO & CS WINGS)." is accredited by both International Accreditation Services (IAS-IAF) and International Organization for Accreditation Services (IOAS).Several certifications, including and not limited to ISO 9001, ISO 14001, ISO 22301, ISO 21001, ISO 37001, ISO 41001, ISO 45001, ISO 50001, ISO 13485, ISO 22000, HACCP, ISO 27001, IATF 16949, CE, RoHS, KOSHER, HALAL, Product Certifications, and training comes under the aegis of its services.