Svarn Infratel Private Limited achieved ISO 9001:2015, ISO 14001:2015 and ISO 45001:2018 under the guidance of SIS Certifications Pvt. Ltd.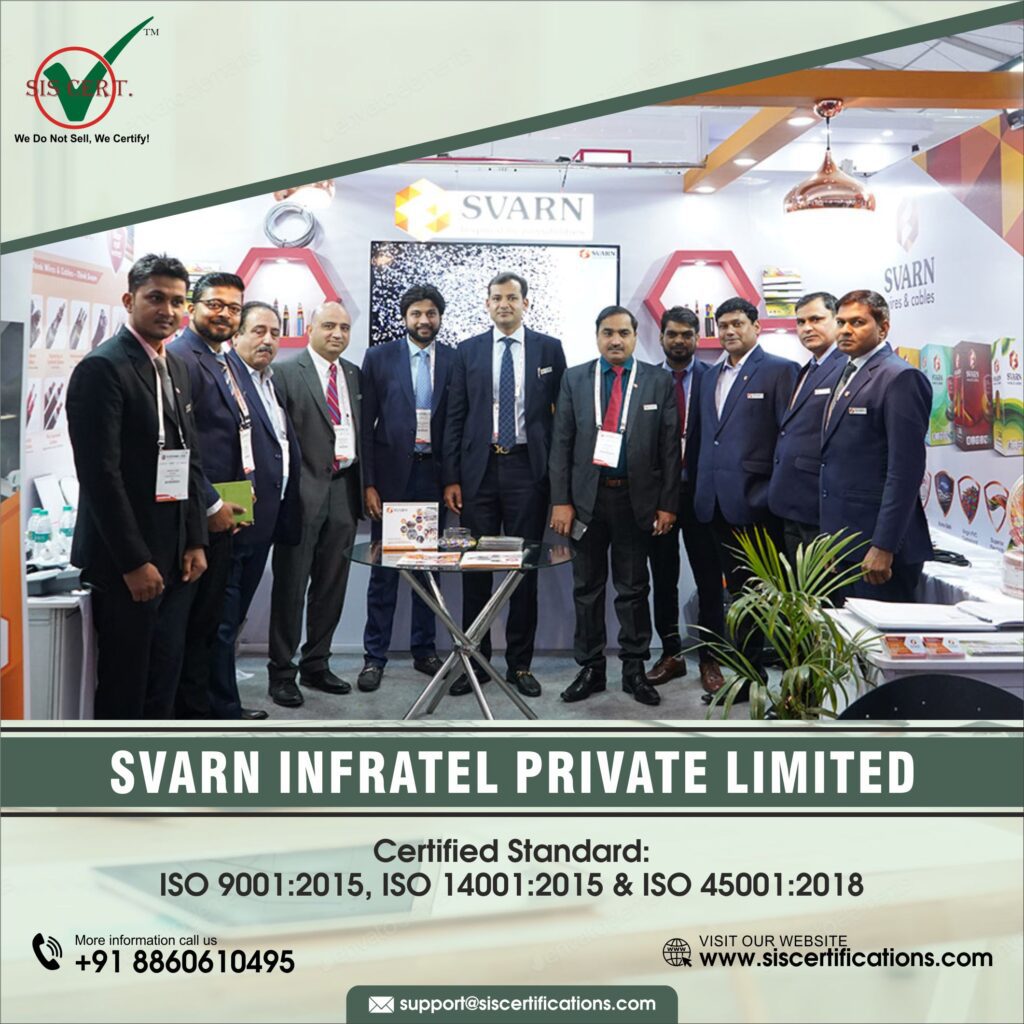 The warmest congratulations to Svarn Infratel Private Limited for successfully achieving IAS-accredited ISO 9001:2015, ISO 14001:2015, and ISO 45001:2018 for their manufacturing and supply of sheet metal enclosures, electrical control panels etc. This accomplishment has demonstrated their dedication to accuracy, consistency and top-notch client satisfaction.
The scope of this management encompasses the Design, Development, Manufacture and Supply of Sheet Metal Enclosures, Electrical Control Panels, Components and Various Types of Metal Fixtures/Display Units.
ISO 9001:2015 is essential for any organisation wishing to develop a quality management system (QMS). Implementing ISO 9001:2015 may assist Svarn Infratel Private Limited guarantees that the organisation consistently fulfils client demands and expectations, as well as increasing customer satisfaction. It may also aid in the improvement of internal processes and the development of operational efficiency, resulting in increased profitability and growth. ISO 14001 is a helpful management tool from which to achieve a level of environmental performance. Implementing an EMS, Svarn Infratel Private Limited may provide the impression that their company cares about the environment to their customers, which will probably result in increased sales. Organizations can identify the environmental issues that concern them with the help of ISO 14001. ISO 45001 will improve OHS performance and organisational resilience by promoting proactive risk avoidance. The key goals are to protect employees' health and prevent them from dying, being injured, or being disabled. However, by obtaining ISO 45001 accreditation, Svarn Infratel Private Limited demonstrate its concern and care for this issue. It reduces workplace accidents and infections.
The audit was conducted by our lead auditor Mr Praveen Kumar accompanied by auditors Mr Shivam Gupta and Mr Utpal Sharma. As an ISO lead auditor, I have had the privilege of conducting many audits across various industries. It has been a rewarding experience to be able to help organizations understand and comply with the international standards set by ISO. My role is to ensure that all processes are in line with the requirements of the ISO standard and that any non-conformances are addressed. After an audit, I got a sense of satisfaction knowing that I have assisted Svarn Infratel Private Limited to become more efficient and compliant.
Various other ISO standards can be applied to enhance credibility. These include ISO 22301 for Business Continuity Management, ISO 37001 for Anti-bribery management systems, ISO 27001 for Information Security Management Systems, and many others.
SIS CERTIFICATIONS, which certified the Svarn Infratel Private Limited, is accredited by both International Accreditation Services (IAS-IAF) and International Organization for Accreditation Services (IOAS).  Several certifications, including and not limited to  ISO 9001 certifications, ISO 14001 certifications, ISO 27001 certifications,  ISO 21001 certifications, ISO 37001 certifications, ISO 41001 certifications, ISO 27701 certifications, ISO 45001 certifications, ISO 50001 certifications, ISO 22000 certifications, ISO 22301 certifications, ISO 13485 certifications, HACCP,  IATF 16949, GDPR, SOC, CE, RoHS, KOSHER, HALAL, Product certifications, and training comes under the aegis of its services.