SIS Certifications awarded ISO 9001:2015, ISO 14001:2015, ISO 13485:2016 & CE MARK Certificates to Vanguard Diagnostics (P) Limited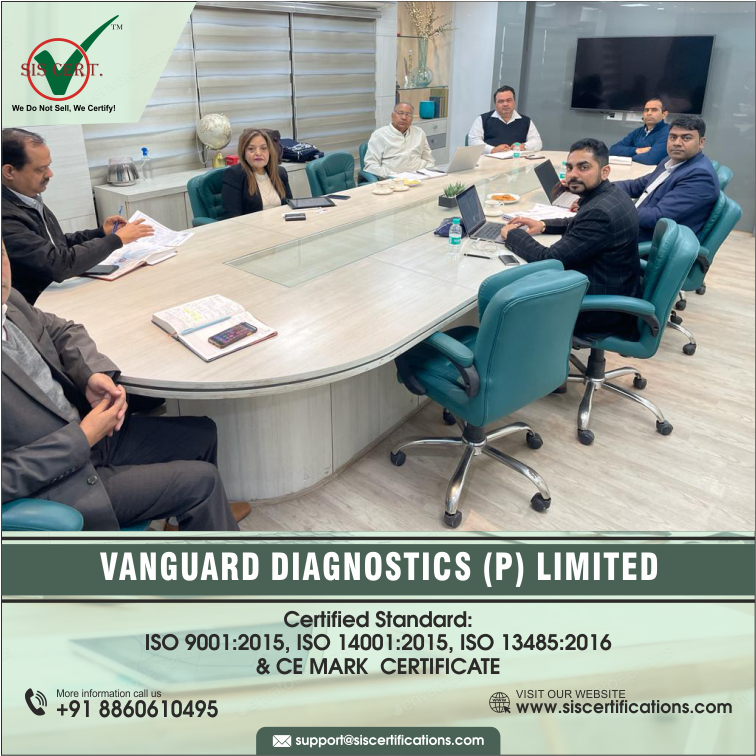 Congratulations to "Vanguard Diagnostics (P) Limited" for successfully achieving IAS-accredited ISO 9001:2015, ISO 14001:2015, IOAS-accredited ISO 13485:2016 & Self-accredited CE MARK certifications, for providing better healthcare services and high-quality of diagnostic Reagents & Kits.
The scope of the organisation covers the Manufacture and Supply of Diagnostics Reagents & Kits.
"Vanguard Diagnostics (P) Limited" is certified to ISO 9001:2015 which ensures its effectiveness in maintaining the quality of both diagnostic products and management systems. This will bring confidence among the community that "Vanguard Diagnostics (P) Limited" assures the best quality diagnostic products and services to their employees as well as clients. ISO 14001:2015 is proof of compliance with all the legislations that are aimed to assist organizations in developing their own Environmental Management Systems and ISO 13485:2016 provide the quality of medical devices. Similarly, CE MARK ensures the compliance of diagnostics products from the "official journal of the European Union".
Our lead auditor Mr. Arunendra Dvivedi and auditor Mr. Praveen Kumar, share views about the certification experience as, "Confident, extremely harmonious, and highly professional". As per them "The audit procedure at their firm has been excellent and tenacious with mutual understanding, this allowed us to finish the certification procedure within the given timeframe."
Ms. Veena Kohli CEO / Founder of "Vanguard Diagnostics (P) Limited" has end-to-end expertise in the fields of medical diagnostics, life sciences, chemicals, and animal healthcare; she has more than 30 years of expertise and is Vice President and Head of the Global Diagnostics Business Unit at Avantor Performance Materials, a US-based Diagnostics, and Fine Chemicals organization.
Various other ISO standards can be applied to enhance credibility. These include ISO 22301 for Business Continuity Management, ISO 41001 for Facility Management Systems, and many others.
SIS CERTIFICATIONS, which certified "Vanguard Diagnostics (P) Limited (New Delhi), India" for their manufacturing of diagnostics products and healthcare services, is accredited by both International Accreditation Services (IAS – IAF) and International Organization for Accreditation Services (IOAS). Several certifications, including and not limited to  ISO 9001 certifications, ISO 14001 certifications, ISO 27001 certifications,  ISO 21001 certifications, ISO 37001 certifications, ISO 41001 certifications, ISO 27701 certifications, ISO 45001 certifications, ISO 50001 certifications, ISO 22000 certifications, ISO 22301 certifications, ISO 13485 certifications, HACCP,  IATF 16949, GDPR, SOC, CE, RoHS, KOSHER, HALAL, Product certifications, and training comes under the aegis of its services.